IRISH cinema never saw a year that had more to celebrate than 2015.
Though it might be clichéd to use the term, "our best year ever," for anyone interested in Irish film themes, this was, well, our best year ever.Throughout 2015 Irish figures excelled in every area of cinema creativity. Almost weekly our actors, directors, screenwriters and cinematographers elevated the film-making craft. From the upper echelons of Hollywood, where Fassbender, Farrell and any of the
Throughout 2015 Irish figures excelled in every area of cinema creativity. Almost weekly our actors, directors, screenwriters and cinematographers elevated the film-making craft. From the upper echelons of Hollywood, where Fassbender, Farrell and any of the Gleesons drew praise, to indie Irish cinema, where Aidan Gillen, Moe Dunford, Killian Scott, Peter Noonan, Barry Ward, Martin McCann and the exceptional Jack Reynor all impressed.
All year there were interesting, insightful, enjoyable and entertaining movies to see, with several promising developments. Even while we lost the legendary Maureen O'Hara, the last doyenne of classical Hollywood, we saw the rise of Saoirse Ronan to Oscar-nomination status.
Advertisement
In the field of documentaries Irish names and stories consistently appeared with narratives that engaged, enraged, amused and unsettled.
Alex Gibney, Loic Jourdain, Alex Fegan, Damon Gameau, Michelle Devlin and Claire Hackett all intrigued audiences with their revelations and insights.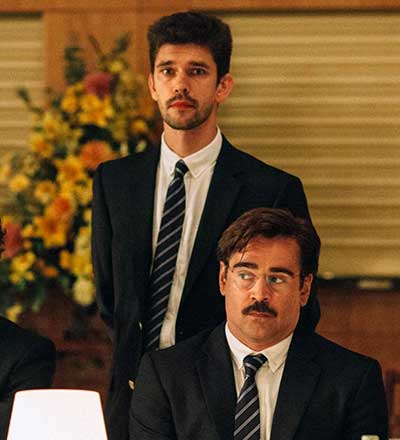 Two movies from the US especially illustrated Irish-American influences on the law and the media. Precinct Seven-Five exposed the astonishing corruption of Officer Michael Dowd, a New York cop who ran a private gangster racket for over a decade. The movie was among the best crime thrillers of the year, and none of it fiction.
The movie was among the best crime thrillers of the year, and none of it fiction. Best of Enemies recalled the splenetic TV duels between refined cultural commentators Gore Vidal and William F. Buckley Jr. On the air Buckley called Vidal "a queer", while Vidal called Buckley a "crypto-Nazi".
At festivals everywhere Irish cinema took its place among the finest offerings. In January, Sundance premiered John Crowley's Brooklyn (see below), as well as Gerard Barrett's Glassland and Corin Hardy's The Hallow. At Cannes, Colin Farrell starred in the socially-dystopian parable
At Cannes, Colin Farrell starred in the socially-dystopian parable The Lobster, which won the Jury Prize.
At Toronto, the People's Choice Award was won by Lenny Abrahamson's Room (see below). The Galway Film Fleadh noted the achievement of MND patient Simon Fitzmaurice, whose award-winning My Name is Emily he directed from his specialised wheelchair.
Advertisement
The more offbeat Cork Film Festival foregrounded Richard Dormer in the unnerving European portmanteau piece 11 Minutes. Like Richard Harris years ago, Dormer enriches any movie he appears in.
The London Film Festival included several strong movies with an Irish presence. Among these was Suffragette, in which Carey Mulligan and Brendan Gleeson engage in mental/moral arm wrestling.
Then there was Chris O'Dowd as venerable sports journalist David Walsh in The Program, exposing Ben Foster's disgraced cyclist Lance Armstrong. The Walsh role is a profound step-up for O'Dowd: "I used to believe in this sport," he says, "and he's killing it." Meanwhile, Kelly O'Connor's Irish Film Festival London reached its fifth anniversary and has become a fixture in the Irish cultural calendar.
Three documentaries distinguished themselves at Galway for their quirky and unexpected tales. Alex Fegan's much-vaunted Older Than Ireland interviews a number of centenarians for their thoughts on life, love and longevity. "I think God forgot about me," remarks the cigarette-puffing Bessie Nolan.
Gary Lennon's visually stirring A Doctor's Sword tells the neglected story of Dr. Aidan MacCarthy from County Cork. MacCarthy was an allied war veteran at Dunkirk, Singapore and Nagasaki. He returned from a Japanese POW camp with a ceremonial samurai sword. Lennon's movie traces the mystery of the sword's provenance and describes how it came to be a peace symbol.
Advertisement
Lastly, Joe Lee's Fortune's Wheel remembers the eccentric Bill Stephens, a lion tamer famous in Dublin during the 1950s. Bill was a showman and would insert his head inside the lion's jaws. Alas, tragically, Bill eventually pushed his luck too far and bit off more than he could chew.
Any of the stuff referenced above would cheer the heart of an Irish film enthusiast. But if proof were still needed that Irish film expertise has won its own distinct measure of glory, we need look no further than the phenomenon of Games of Thrones. According to Richard Williams, CEO of Northern Ireland Screen, the production of the feted fantasy drama at Titanic Studios generates £23 million for the Ulster economy. "It's rare nowadays to meet someone who 'hasn't' been an extra in Game of Thrones," Williams jokingly boasts.
However, before sprinting ahead with any idea that Irish cinema has hit its Renaissance, we should first entertain some caveats.
Too many Irish films unnecessarily disappoint. Too many scripts are reckoned to be finished when they've just a first draft.
For instance, precious funds were wasted on making the likes of Mrs. Brown's Boys D'Movie. Expanding Brendan O'Carroll's popular 30-minute TV sit-com to the 90-minute big-screen format just shows d'hey don't know what d'here doing.
Also, the prestigious talents of Messrs Brosnan and Neeson were again discarded on so-called "geriaction movies". Although at least Brosnan gave us the ersatz rom-com Lessons in Love, a movie so bad one can enjoy watching for its sado-masochistic pleasurable pain.
Advertisement
And as for Jamie Dornan's S&M-laced Fifty Shades of Grey – it was fully pumped up but quickly deflated.
Still, it's worth remarking that creative directors and cinematographers like Ivan Kavanagh, Terry McMahon, Frank Berry, Robbie Ryan, Piers McGrail and Tom Comerford made little funding go a long way this year.
Given the quality of output it's no simple matter to select the year's best film. For any other year the sparse, brutal eloquence of Stephen Fingleton's The Survivalist would be unbeatable. Equally so the bold magnificence of Justin Kurzel's Macbeth, in which Michael Fassbender forcefully plays Shakespeare's anti-hero as a megalomaniac drunk on power. (How far Fassbender carried this personification into Steve Jobs is a discussion point.)
Steve Martin's' top three movies of 2015
But the three top movies of 2015 stand out because of their originality. Each is an impressive adaptation from a successful book, something that doesn't occur often.
1. Abrahamson's Room is taken from Emma Donoghue's Booker-nominated novel and is remarkable for the screen chemistry between Brie Larson and seven-year-old Jacob Tremblay. As the mother and child trapped in their kidnapper's lock-up they astound and confound the audience by creating a universe within their prison. Abrahamson captures the confines of the room as expressively as Sidney's Lumet's classic 12 Angry Men (1957).
Advertisement
2. Todd Haynes' adaptation of Patricia Highsmith's Carol elegantly follows his Far From Heaven (2002) in revealing the troubled sexual mores of 1950s America. Cate Blanchett and Rooney Mara (blending the young Sinead O'Connor with Audrey Hepburn) are captivating as the lesbian couple defying convention. This is the best we've yet seen from Mara. She almost steals the movie from the imperious Blanchett in the title role.
3. But the Irish film of 2015 must be Brooklyn, taken from Colm Toibin's acclaimed novel. Adapting the screenplay Nick Hornby gives us a homely tale on an epic scale, expressing the emotional sweep of emigration – hardship, homesickness, hope.
As Toibin's intrepid heroine Ellis Lacey, Saoirse Ronan matures before the viewer's eyes (in one scene, literally so). She is given fine support from Domhnall Gleeson and Emory Cohen as the men who split her emotions. Great stuff also from Julie Walters and Brid Brennan. But Ronan beautifully bears the full weight of the movie, in what is the stand out work from an Irish actor this year.