THE broadcaster Gerry Anderson has been posthumously inducted into the PPI Radio Awards Hall of Fame.
Gerry's daily morning show on BBC Radio Ulster, presented alongside sidekick Sean Coyle, was one of the most innovative, quirky and entertaining radio broadcasts in these islands.
Gerry was often described as an Irish Kenny Everett, although in truth the Derry man was surreal where Everett was zany.
Here we recall a dozen esoteric moments from the Gerry Anderson Show that exemplify the presenter's own description of his programme: "Strange and quiet blether."
Podcasts of the show are still available on the BBC's Remembering Gerry.
1. Stroke City
If for nothing else, Gerry will go down in the annals of broadcasting as the author of the designation 'Stroke City' for Derry. It originated from the BBC term 'Derry-stroke-Londonderry', used in a forlorn effort to appease both sides of the religious divide.
Gerry, a Catholic from a working class background and educated by the Christian Brothers, would regularly offer his own view on the religious niceties that pertain in the North.
On one occasion he dated a young Protestant lass from Donegal. During a visit to her home, the woman's granny, described a particularly bad silage smell from a nearby farm with the words: "It smells for all the world like a busload of wet Catholics."
For some reason, Gerry mused, the romance never really got off the ground.
2. Mother Teresa
Gerry could be exasperated by the religious strife in the North.
One day he said: "All you need to know about Northern Ireland is that Mother Teresa was given 24 hours to get out of the country  - and she did."
And that was more or less true.
3. Life in the North
Gerry once announced to listeners: "Ach, we've no imagination here. All we do is sit at home watching Blind Date hoping nobody'll throw a pipe bomb through the window."
As a description of life in the North circa the 1980s, it wasn't far off the mark.
4. First time caller
The sectarian strife in the North seldom got Gerry down for long. To a caller called Ennis Cunningham, the presenter confided: "You sound like a lake in Co. Fermanagh."
5. Meeting Alex Higgins
Gerry and co-presenter Sean Coyle met snooker player Alex Higgins for the first time at a charity do. Sean, an adept mimic, was scheduled to do a pastiche of Alex at the table.
The snooker player – all twitches, nervous tics, swift movements, and then thunderous delivery of the balls into the pockets – was easy enough to mimic.
"But," said Sean, "I just thought I'd check with Alex it was OK. Because he'd head-butted someone the previous week for mimicking him."
Nonetheless, Alex gave Sean permission to go ahead.
Sean had just begun his act when Higgins himself appeared at the table, and began mimicking Sean Coyle mimicking him. A surreal moment; but more was to follow.
Alex jumped on Sean's back, piggy-back style, seized the cue from him, and began potting balls. Sean then cantered round the table, Higgins still atop, firing off shots until the table was cleared.
As Gerry later said, it was incidents like that which made him proud to say he was from the Six Counties.
6. Gerry and the horses
Gerry Anderson's producer at Radio Foyle, the former Undertones bass player Michael Bradley, was a friend of the presenter for more than 35 years.
He once found himself outside a betting shop in Melbourne with Sean Coyle and Gerry — in Australia to record a series of special shows. They'd just placed one hundred dollars each-way on a horse called Mirabeau's Phantom, running in the sixth race at Flemington.
A docker they'd interviewed the previous day had given them the tip. "Sixth horse, sixth race," he'd confided.
As they stood in the sunshine, waiting for the result, Gerry turned to Michael and said: "You know, of course, that we're using BBC money to put a bet on a horse?"
Fortunately the docker was as good as his word — the horse won, and the BBC's money was safe.
But Gerry certainly enjoyed a flutter. He told his listeners: "I know they say money doesn't make you happy – but it always worked for me."
7. Gerry's requests
Gerry would rarely play requests; just as rare was music punters might actually want to hear, such as Kenny Rogers or Susan McCann.
Far more likely was music that ranged from the Pygmy people of central Africa to the nose flute players of Afghanistan.
Yet the interaction between the presenter and his sidekick Sean Coyle, assured a huge listenership.
Daniel O'Donnell was one artist who was ribbed gently on the show — but of course his records were seldom played.
When a listener called in offering two £35 tickets to see Daniel in concert in Derry, the presenter dismissed it, saying: "Are you out of your mind? We wouldn't even have Daniel here in the studio for free."
8. Gerry and poetry
Fellow Derryman Seamus Heaney was a favourite target of Gerry's. The Nobel prize winner's poetic style would be mercilessly lampooned.
A note to the milkman would be rendered in lyrical Heaney style thus:
Oh early morning rise
Oh early rising milk parade
Early minstrel of the dawn
Hark to my words my hail stout fellow
And then just, well, carry on
I shall only be away two days this week
So on these days, no milk I'll seek
The days when I shall not be here are Tuesday, Friday – is that clear?
All other days of the coming week, two cartons of milk I verily seek
Long gone is the fear of the small blue tit
Thank you my man, and keep her lit.
Another poem rendered into Heaney style on the show concerned one Michael Finnegan.
The original lines are:
There was an old man called Michael Finnegan
He grew whiskers on his chin-egan
The wind came up and blew them in again
Poor old Michael Finnegan, begin again
Heaney-esque, this became:
Old Finnegan eschews the razor, and indeed relishes the follicle issue of his manliness
Alas, a vengeful tempest arises unseen; Finnegan is once again rendered clean of face
Bugger that for a game of soldiers, he says
And sets out to commence the Stygian endeavours of facial hair once more.
9. Gerry's show as a public forum
The public announcements on The Gerry Anderson Show were always genuine (as far as could be ascertained by the researchers), but somehow they always seemed slightly out of kilter.
Like the lady who phoned in to say "I was up in the Mournes and found a pigeon ring — I think it's about 20 years old. So if anyone's lost one, could they please get in touch."
Nobody, neither human nor pigeon, ever claimed the lost ring.
Another announcement came from a Co. Down lady who contacted the programme in response to a request from a listener for banjo lessons: "If you call into the Chickadee in Donaghadee and ask for Margaret, you'll get the banjo lessons you're looking for."
Gerry was quick to point out that this wasn't secret code for anything more nefarious than banjo lessons, nor some private joke of unfathomable complexity.
It was a genuine, altruistic offer for banjo teaching.
"If you can call anything to do with banjos altruistic, I suppose," added Gerry.
10. Gerry and an ill-advised quip about the British Army
Gerry lived through some of the worst times in Derry during the Troubles.
In public he was largely apolitical — he always referred to Talkback, the political programme that followed his, as "The crazies" — but he did subscribe to the view that the British Army roadblocks made everyone's life a misery.
On one show he said: "See me, see the Army. I hate them."
In the wake of this he was accused of being, amongst may other expletive-filled epithets (that usually ended with the word 'Taig'), a 'card-carrying crypto-Marxist republican slimeball'.
Unsurprisingly, he also received a death threat — one that specified that he was to be assassinated while presenting a live programme on television.
Gerry later gave an account of the show (no assassination attempt, in the event, took place) but he was, he said, 'reduced, to a gibbering amoeba though fear'.
11. Gerry and Elvis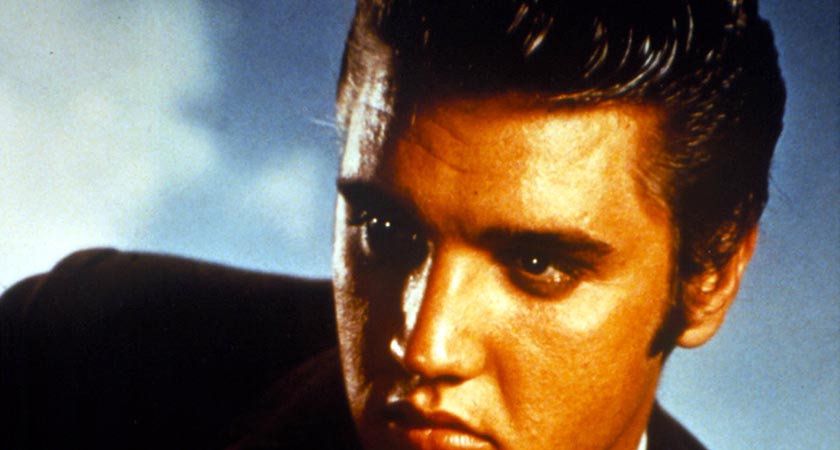 In 1963, having taught himself the guitar, Gerry moved to Manchester where he worked in the clubs, playing mostly middle of-the-road pop music.
Throughout the late 1960s Anderson was heard on drums and bass with the showband The Chessmen.
In 1971 he left to join the hugely influential Canadian band Ronnie Hawkins and the Hawks. The Hawks eventually morphed into The Band, who gave us The Night They Drove Old Dixie Down.
During his rock & roll years Gerry hung out with Bob Dylan, loaned money to Phil Lynott in a toilet in Dublin and helped launch The Undertones.
He claimed to have met both Elvis Presley and Brendan Behan (not together). When challenged about the Elvis story by Sean Coyle — specifically to give more details — Gerry replied: "I've decided to keep it for The Late Late Show."
12. The car salesman
Gerry's show was peppered with more characters than a Dickens novel.
One of the listeners' favourites was the Dungiven Car Salesman, who would sell you a lovely wee car with an overhead camshaft driven by one wee woman "who hardly took her out at all".
You needed to ask for Patsy or Fonsie, who'd help you 'keep 'er lit'.