WHERE do you live? Clapton, London.
I moved to this area because… The rent was cheap! But it isn't anymore and I'm still here. Clapton, and in a broader sense Hackney, has become home over the past five years but when I moved here it certainly wasn't a sought-after neighbourhood. It's incredible how in a relatively short space of time Lower Clapton Road has transformed from being historically known as the 'murder mile' to the increasingly gentrified strip it is now.
One of the best things about living here is… The sense of community. Everyone congregates around the local corner shop Palm 2 (152-156 Lower Clapton Road, E5 0QJ), which also has a sister Organic Shop (191 Lower Clapton Road, E5 8EG) across the road opposite Clapton Pond.
Between the two you can get pretty much everything you need to live on and the owner Abdullah is always good for a friendly chat.
The Organic Shop also has a small café hidden away at the back, with outside seating, that's great for a healthy lunch. Both shops often randomly have live music, from buskers outside Palm 2 to summer Blues and Jazz gigs in the Organic Cafe.
One restaurant I love to go to is… Sodo on Upper Clapton Road (126 Upper Clapton Road, E5 9JY) is a new sourdough pizza place that I've got a soft spot for. A small menu but everything on it is amazing, believe me — I've pretty much tried everything on it at least once!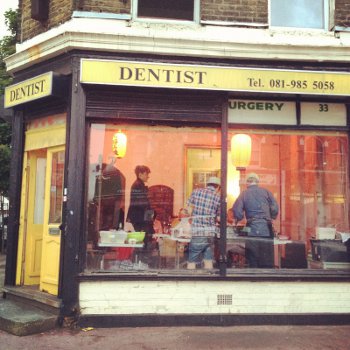 An insider tip on my area would be… The Dentist (33 Chatsworth Road, E5 0LH, pictured right) is a commercial shop front that has been turned into a pop-up music venue and bar.
They've hosted some amazing live events over the past year and have managed to attract quirky international acts such as Orchestre du Monplaisant and Malphino while also staging the comeback show of local favourites the Smokey Angle Shades.
My local is… Biddle Bros on Lower Clapton Road (88 Lower Clapton Road, E5 0QR) and I love it because… It's a small cosy pub with a welcoming atmosphere, populated mainly by regulars, which also occasionally has live events on in the back room. Keep an eye out for the parrot perched at the bar…
On my downtime I love to go to… Hackney Marsh and wander across the canal through the Middlesex filter beds nature reserve. It's a beautiful walk along the River Lea all the way up to Walthamstow Marsh and Springfield Park. I've used lots of locations en route for photo shoots and music video filming!
Best place to go for a first date would be… The Hackney Picturehouse (270 Mare Street, Hackney, E8 1HE). Cinema, bar and restaurant all in one. What more could you want?!
One place not many people know about but I love is… Jamboree in Cable Street Studios (566 Cable Street, Poplar, E1W 3HB) beside Limehouse. This used to be a members only club but for quite a while now has been a fully licensed music venue.
If you're visiting or living in London this really is a place you have to go to at least once.
They have live music every night — everything from Cajun, Americana and World Music to Gypsy and Celtic Folk. On their regular Monday 'Red Sky at Night' event there's a live artist painting musicians and regulars with the artwork displayed on the walls of the venue. Well worth travelling to for an adventure.
If you try one thing in Clapton try… the chips from the Mermaid (189 Lower Clapton Road, E5 8EG) after a night out. They've saved me on more than one occasion!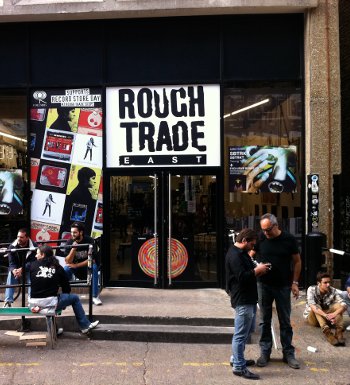 The place that I love to bring visitors is… Broadway Market (Mare Street and East of Kingsland Road, E8 4QB) beside London Fields is a cool place to spend a Saturday afternoon, especially on a nice day.
My favourite shops are… Shop on the Square (Clapton Square) is a quirky little gift shop selling cards, vinyl and other random items. If you're stuck for a present for someone go there. For any true music fan Rough Trade East (right) off Brick Lane is a must and if you're interested in analogue photo and film equipment, drop in for a chat with 'The Doctor' at Umit & Son on Lower Clapton Road beside Hackney Baths.
If there was soundtrack to my area it would be something by… Pat Dam Smyth because he lives in the same house as me! Check him out, he's an amazing songwriter and musician. We're both playing Green Man Festival later this year so if you're stuck for something to do that weekend come hang out with us in Wales.
Yngve Wieland is the frontman and chief songwriter of Yngve & the Innocent, an Americana-influenced outfit from Co. Sligo. Their debut album, The Sadness of Remembering, is out now.