RÓISÍN MURPHY — the name gives it away.
Although she found fame in Sheffield dance-pop duo Moloko before settling in London, where she is now an established solo artist, the 42-year-old singer spent her childhood in Arklow, Co. Wicklow.
And although much has happened in the 30 years she has spent in England, her frank, direct Irishness radiates down the phone in an accent only slightly coloured by her years in the north of England.
Famously steeped in dance music and the Sheffield party scene (she snared her ex-boyfriend and Moloko cohort Mark Brydon at a party with the line, 'Do you like my tight sweater?', which became the title of their first album), these days she's an early riser, answering a 9am phone call with a disarmingly chirpy, 'Good morning!' But, as she is quick to remind me, her massively successful recent return to the limelight has been fraught with extra responsibilities.
"I've got two small kids so I've been up a while," she explains. I've been getting them ready for school, reading, homework — all sorts of shenanigans we have to do in the morning these days.
Murphy's Mercury-nominated latest album Hairless Toys represents a triumphant comeback, having been released eight years after her previous one, Overpowered. That's time that she deliberately planned to take out to have her children, and she says the combined roles of professional musician and mother-of-two are working out well.
"Well, coming home to a house with kids in it is much more fun than what it used to be," she says. "Coming back from madness on tour to a lonely flat on your own is not that relaxing, actually. Funny enough, if you've had a stressful day and you come home and the two kids are there and they're lovely, it's an extremely good de-stresser.
You've got to stop thinking about all the things you've been thinking about when you were working. You just sort of fall into them, and it's extremely handy to have."
The names of Murphy's children (whose fathers are English and Italian respectively) — Clodagh (5) and Tadgh (3) — speak volumes for the importance she attaches to her Irish background.
In fact, the story of how she got from Arklow to London, via Manchester and Sheffield, is a fascinating one, and a testament to her strength of character and force of will as much as her talent for singing and performing.
She recalls "a really good, fun childhood" in Arklow, a big, boisterous family where the children were at the centre of everything, there was music all around and lots of parties where "everybody had a song" — and prosperity to boot.
But with the '80s came hard times and job losses. As Murphy recalls, "people were borrowing money for coal." The decision was made for the family to move to Manchester, and 12-year-old Róisín was, as she puts it, "absolutely enthralled to go". "It was a fantastic thing that happened to me, it really was," she says. "My brother was a bit older and I think he found it a bit more difficult, but I was 12 and I was just ready to take on something bigger."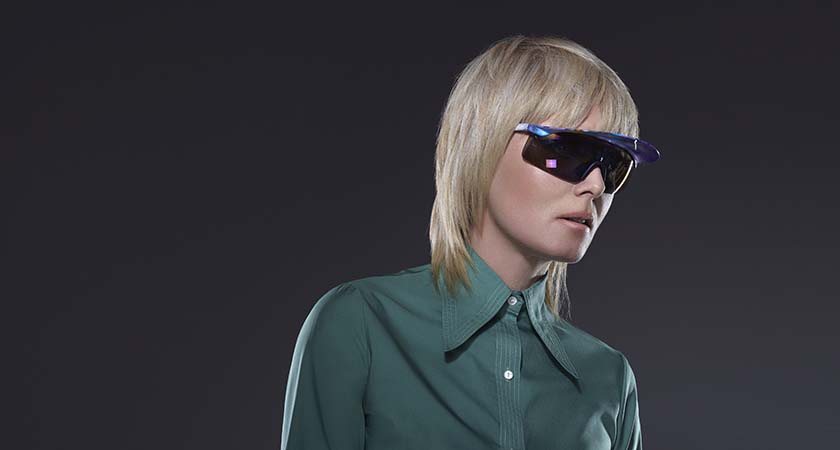 In Manchester she found her tribe — kids interested in alternative music (Sonic Youth being a particular favourite), films and books. It was a world that didn't exist in her home town. "I would have had to stick with the pack a bit more in Arklow but I was able to break off from the pack in Manchester and that really suited me.
I would want it for any young teenager, really, the ability to do that, because I think it's very healthy. You don't have to rely on the status quo in a bigger place as much as you have to do in a smaller place. It was great for me, I was able to thrive."
A confident child ("my family told me I was great for no bloody good reason whatsoever," she laughs) she thrived to the extent that when her parents' marriage broke down after three years in Manchester, she insisted she was staying for, she admits, fairly shallow reasons. And with very little opposition from her parents. "There was a bit of a discussion, but I think ultimately they were hard decisions made in hard times," she says.
"It sounds really shallow but there was no way I was going to go back and hang around with a lot of people who were into heavy metal at that point. It just wasn't going to happen!" And so the die was cast — she stayed and was able to claim housing benefit, which gave her independence (she grimly notes that this would be impossible at that age now), and she had a close circle of artistic friends with parents who would look out for her and cook for her.
After sixth form college, she moved to Sheffield where she met Mark Brydon, formed Moloko and became a pop star with hits like Sing It Back and The Time Is Now, before settling in London in the early 2000s. But she is still close to the Arklow Murphys.
"There's a great love between us," she says. "We're pretty crazy about one another. You know, that happened to my family and that was a big rupture; a shock. But we got over it. We don't expect each other to be perfect and I think that's a really healthy thing — not to expect your parents to be ideal is a big part of growing up and living in the real world.
"It happened to me quite young and I'm glad it happened to me. I hope mine don't end up being 25 and still expecting me to be perfect because they'll be out of their minds if they do." Murphy's current tour brought her back to Manchester on November 25 and to London two nights later, while next February she will perform at the beautiful Olympia Theatre in Dublin. Not surprisingly, she's looking forward to going home.
"Oh my god, sure half of the bloody crowd are me family anyway!" she laughs. "Epic is the guest list. If it sells out quickly it's not because it's sold out, it's because all my family are there straight off the bat. "It's fantastic, I love to play there. But I have several hometown gigs.
If I play Manchester it's a hometown gig, if I play Sheffield it's a hometown gig, if I play London it's a hometown gig and when I play Dublin it's certainly a hometown gig."
Three decades after leaving a small seaside town in Wicklow for Manchester, Róisín Murphy is as settled as she can be in England. But there's no question where her loyalties lie.
"[Being Irish] means everything to me," she says. "I am Irish and as my father would always say to us, 'Jesus, I'd hate to be English!'. "I love the time I've spent in England, I love English people and I love English culture. We've a lot more in common, actually, than we don't have. But I'm never going to be anything but Róisín Murphy, Irish girl."
Exploitation taken from Hairless Toys is out now. Check out the video below: