ON DUBLIN'S Dalymount Park, a familiar face has appeared on one of its most recognisable walls.
Bohemians football club have welcomed a new addition to their football stadium - in the form of a new mural honouring the late Bob Marley.
Marley arrives as a friend to Thin Lizzy frontman Phil Lynott in Dalymount Park, who has been a resident of the gates since April 2017.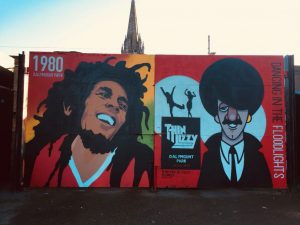 The mural was designed and painted by local artist Niall O'Lochlainn, it has emerged.
It comes as the late reggae singer played in Dalymount Park in 1980.
Marley was known to be a major fan of football before his death.
"Every little thing... is gonna be alright." ⚫️🔴 🇯🇲

New Bob Marley mural went up in Dalymount today beside Philo... Marley played Dalyer in 1980.

It was designed and painted by top local head Niall O'Lochlainn and paid for by the Gypsies Supporters Trust. ✊🏼 pic.twitter.com/O3olSeTLrL

— Bohemian FC 🔴⚫ (@bfcdublin) February 13, 2018