THEY spoke about Mick Meaney in the House of Commons in 1968. 
Sitting MPs leaned forward from their benches to hear about the Irish man buried alive in Kilburn.
They heard that he was trying to break the world record of 45 days entombed underground.
That the benchmark had been set by an American adventurer called Digger O'Dell.
That O'Dell was now locked into a dangerous head-to-head with Meaney as he tried to break his own record and the Tipperary man's resolve.
They might have heard that a charismatic Kerry publican called Butty Sugrue set up the stunt. That his stoking of the story was attracting thousands of spectators to the burial site in a builder's yard.
The MPs might have leaned forward even further to hear that Mick was communicating with the outside world through a pipe and that Sugrue put a telephone down there so he could speak to US boxing icon Joe Louis.
Henry Cooper visited his graveside and the Gorgeous Gael Jack Doyle sang as his coffin was lowered into the ground.
They listened to all that about the married father from Ballyporeen and how his stunt sent the BBC scrambling for a satellite link-up. In the House of Commons in 1968, they wondered should they bring him up.
Mary Meaney opens the door of her home and tentatively offers a welcome. It's late summer in Mitchelstown, Co. Cork. The only sound is that of crows cawing in fields that surround the housing estate.
Mary is Mick's daughter. She was a small child when her father took on the challenge of trying to make it into the Guinness Book of Records. Her father never told her mother what he was planning to do. "He knew the answer would have been NO!" she laughs. So her mother found out through a radio report.
She'd be stood out the front of the house smoking, waiting for her husband to come back from the world of the dead, as you would.
She talks about her father's inventive mind. How he longed for a life of adventure beyond Mitchelstown and his birthplace of Ballyporeen. He had dreams of being a boxer. His hero was the iconic world champion Joe Louis. But a workplace accident left him with a hand-injury and who knew that he would find fame in a muddy trench.
"They called him the human JCB back then," she says. "He could literally lift up a tree and throw it over his shoulder. Incredible strength. The strength of 10 men.
"But when he couldn't become a boxer he said he'd find another way. As he said himself being buried alive was all the rage at the time and I reckon he said: 'I'll do that, I'll get into the Guinness Book of Records and I'll be world famous. "All he had to work with really was his own belief and the faith that he would be alright. "He took a chance."
Everyone in Kilburn knew Butty Sugrue. He famously pulled a bus across Westminster Bridge with his teeth. He could lift a full barrel of beer up over his head and had made his name as a circus strongman. They said when he bought a new shirt he'd just pull the sleeves off it to make it fit.
Butty possessed physical charisma and had an eye for an opportunity. The type of person who could try and recreate Killorglin's famous Puck Fair on the Killburn High Road; who four years later would bring Muhammad Ali to Ireland.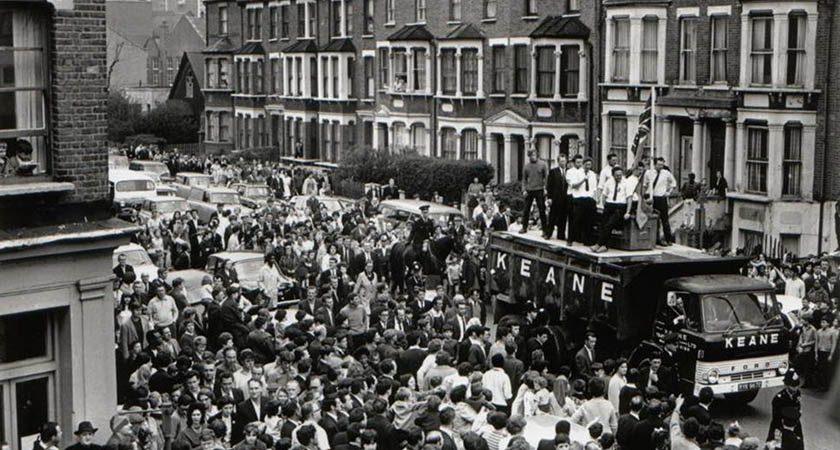 In 1968, in a pub lounge in Kilburn, Butty fell into conversation with Mick Keane from Cork. The Kerry man needed a site to bury Mick Meaney and Keane's yard was just the place. Mick had already begun his preparations. He was sleeping in a coffin laid out upstairs in The Admiral Lord Nelson pub.
He'd dig his own grave and in a clever stroke of publicity, Butty organised a 'Last Supper' and invited the Press. When the time came, Mick was sealed into an oversized coffin — made by Rick Whooley from Cork — and passed out a window of the pub and onto the back of a flatbed lorry.
Kilburn was teaming with thousands of curious spectators and they followed Keane's lorry to the burial site. At the same time and on the other side of the Atlantic, the American Digger O'Dell was preparing to be buried also. The BBC organised a satellite link-up so they could interview both men.
But they were forced to pull the link when the two started exchanging expletives. "I remember it was pretty hot," says David Keane, the son of the late contractor who helped Butty set up the stunt.
"I remember it was a Sunday, we had relatives over and all of a sudden we were like: 'What's that?' It was on before Songs of Praise and I think the guy got under Mick's skin."
Meaney bedded down for the challenge and the days took on a surreal rhythm. He'd wake in the morning at 7am in time for Butty to direct him through a series of exercises. Newspapers and breakfast were then passed down through a pipe. The toilet took the form of a hatch on the base of the coffin which opened onto bags of lime.
And a stream of people queued throughout the day to talk to Meaney down the pipe, in their hundreds. But if there was joy in the challenge there was danger too. Enough to turn the subject of Mick's safety into a discussion in the House of Commons.
As Mick closed in on the record, conspiracy theorists speculated if he was in the coffin the entire time. Or was escaping to the Lord Nelson at night?
"He was in there the whole time," says David Keane.
I can tell you that because I was there the day he was dug up and it was chaos, just this extraordinary thing.
It's early afternoon on the main street in Mitchelstown. Outside Gerry Whelan's bar two punters stand smoking. Inside, framed Cork moments speckle the wall. In the far corner by the counter an old picture hangs. It's the late Mick Meaney. Gerry Whelan's was his local before he passed away and they all knew him as the 'underground champion'.
Today, his live burial, a story that grabbed international attention, has been resurrected by a different news report. Punters are talking about an English escapologist who nearly lost his life in Nottingham after passing out beneath six feet of earth. It was an escape the great Harry Houdini tried, failed but survived.
"Mick would have been impressed," says Donie, entering from outside with an exhale of smoke. "I was there in London when he won the title, I think.
"I remember he was the proud out when he came back with the title because he done it and that was it."
"Didn't he sing with Luke Kelly to get the fare home?" says the landlady. Donie laughs. "NO" she says with mock outrage.
He sang with Luke afterwards. He did!" An older man listening at the bar signals to the picture. "Would you want any nerve at all?" he says quietly. "Didn't Paddy meet him talking to him down the pipe," says the landlady. "It's a pity Paddy isn't here, he'd fill you in," she follows. "But he had everything down there," says Donie mischievously.
Those stood around the bar pull expressions of disbelief. "No, didn't he have his own things down there like. He had a toilet down there and the whole lot. He had a light down there, you know what I mean like!"
Check out this video of Mick Meaney's momentous feat: 
Mary Meaney remembers her father returning home from London. She saw him walking towards the family home and he lifted her high into the sky. He had been promised a pot of money and a world tour if he broke the record.
Neither materialised. And while his feat was recognised as far away as Germany, his daughter says the Guinness Book or Records failed to acknowledge his achievement — 61 days buried alive in Kilburn. "He was a very contented man," she says.
"He loved his family and his job at the council but a part of him forever stayed buried alive in Kilburn. "Once he tasted world fame like that he couldn't let it go. The word now is to reinvent but he couldn't."Still, his reputation went before him and his tale found favour in some unlikely places.
"There's a story about a guy from Cork who was caught in the middle of a robbery in Jamaica," explains Mary. "Whatever happened during the hold up, the robber asked him where was he from? The guy told him he was from a place called Mitchelstown in Cork. The robber looked at him and asked: 'Do you know Mick Meaney?' And they were off.
"He must have worked with my dad on the sites in London and knew his story. So then he decided to let him go!"
Mick Meaney — Buried Alive airs on RTÉ Radio 1 at 2pm on Saturday December 12 or listen here