WHEN eccentric Cereal Killer Café owners Alan and Gary Keery produced a suitably bonkers cookbook they opened our eyes to the wonderful world of quirky cooking. 
Whether savoury Nut Meatballs tickle your taste buds or a sweeter Granola Tart is more to your fancy there is something for everyone in this bible of mouth-watering yumminess.
Here's how to make the showstopping Rainbow Pop Celebration Cake.
Ingredients
• 35g unsalted butter
• 245g white marshmallows
• Several food colourings – red, orange, yellow, green, blue, indigo, violet
• 280g Rice Krispies
For the frosting


• 300g unsalted butter
• 1 x 454g or 2 x 213g tub marshmallow fluff
• 500g icing sugar
• Hundreds and thousands, to decorate
METHOD
OK, each layer here needs to be made separately, so melt a large knob of butter (5g) and 35g marshmallows together in a pan with 1 teaspoon of food colouring. (Make sure you get the good food colouring from the baking store, as the ones from the supermarkets are good but might not be as vibrant and will tone down the scale of the celebration – meaning less presents.)
Add 40g Rice Krispies and mix well. Press the coloured cereal into a 22cm round cake tin with the back of a metal spoon.
This can be quite messy as the marshmallow is very sticky and has the consistency of spider webs, so cover the mixture with baking paper before smoothing over the paper.
Repeat this process with every colour of the rainbow.
If you have only one cake tin you can keep the layers separate with pieces of baking paper.
Make sure you keep the layers in the fridge as you make each one.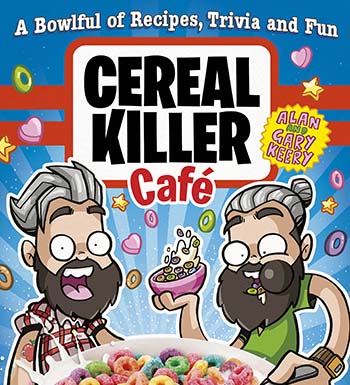 To make the frosting, beat the butter with an electric mixer until soft, then add the marshmallow fuff and beat further.
Next, add half of the icing sugar and mix until smooth, then add the remaining icing sugar.
Use a small amount of the icing to cement the layers together; remember to do them in the correct order according to the colours of the rainbow.
(That is not the rhyme: 'red and yellow and pink and green, purple and orange and blue, I can sing a rainbow, sing a rainbow, sing a rainbow, too', 'cause these are not the correct colours. This is one of the first things we learn in life which isn't true, and this is why we have trust issues!)
The correct order is: red, orange, yellow, green, blue, indigo, violet (Richard of York ave battle in vain).
Once you have built your cake, spread the frosting over the top and sides of the entire cake but leave some to add to your piping bag to finish off.
If you need to smooth the frosting you can run a metal knife under very hot water, dry it with a cloth and use the back to smooth it down.
Finish off by piping the remaining frosting around the corners and decorate with wee swirly bits.
Scatter some hundreds and thousands, because once I presented this and was asked why I had made a mashed-potato cake!
So there you have it! Whether you are celebrating a birthday, a new job or just because...I'm sure you will agree there is never a bad time to produce this epic creation. Enjoy!
Published in Hardback by Ebury Press October

22, 

2015, Hardback £12.99