MARSHALL MATHERS III is a name, on the face of which, would be more suited to a medieval king, rather than to a scruffy cap-wearing kid from a Detroit trailer park.
Whether you're a fan of Eminem or not, 'king' is in fact now a tag he'd struggle to shake even if he tried.
Labelled 'King of Hip-hop' by the prestigious Rolling Stone magazine, Eminem brought about a monumental shift in how the genre was viewed and received around the world.
Throughout the late-nineties and early-naughties, off the back of an era where white guys were seldom seen in the business, Eminem opened the genre up to people of all ethnicities and backgrounds. He didn't do this alone, of course, but his reach across all sociological divides is unmatched. And for that, he rightly wears the crown.
He had the ability to be funny, dark, tender, angry, and uplifting, often even in the same song, and in turn, he grew into one of the most influential musicians of the 21st century.
He ran his first show in Ireland back in 2003 at Punchestown Racecourse, but is best remembered over here for his unforgettable concert at Slane in 2013 in front of 80,000 people.
After turning 47 this week, we thought we'd explore some of his best and most inspirational lines, lyrics and quotes throughout his career:
'Success is my only motherf***in' option, failure's not' - Lose Yourself
It's true that 'Lose Yourself' is about the character Eminem plays in the movie 8 Mile, but the lyrics in this song almost certainly reflect the desperation he must have felt during the mid-nineties before his career took off.
'Look at me now, I bet you're probably sick of me now' - Cleaning Out My Closet
Talking to his mother, who he has - to put it lightly - a strained relationship with. But this line could easily be extended to everyone who doubted Mathers on his way up the ladder.
'This world is mine for the taking, make me king' - Lose Yourself
Seizing the moment is the prime theme of this track, and this line epitomises that.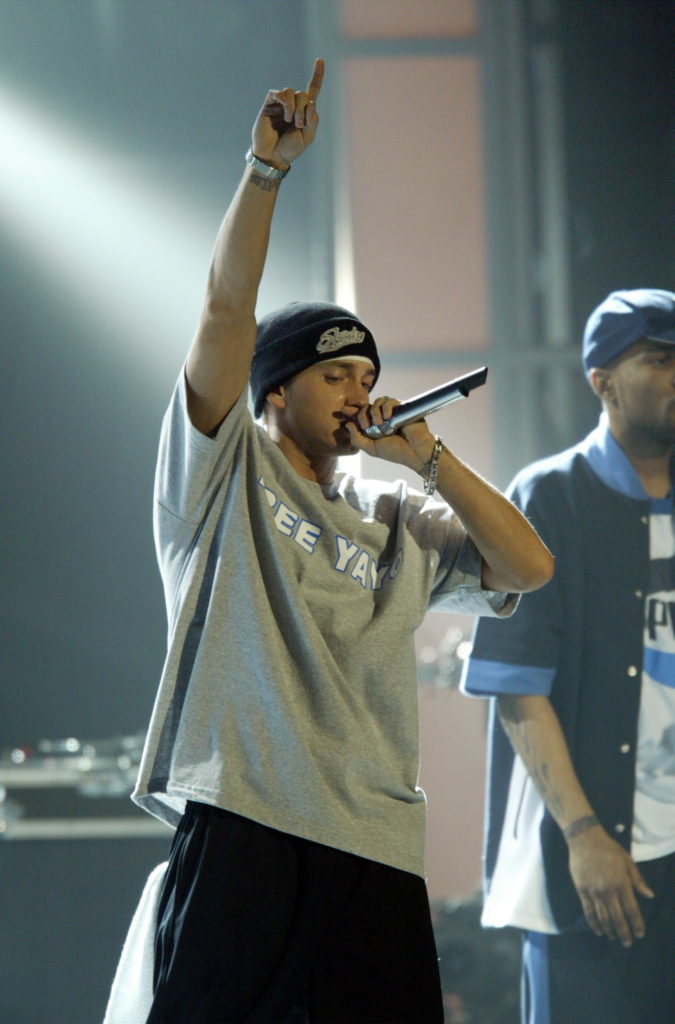 'Loyalty to us is worth more than any award is' - Like Toy Soldiers
Demonstrating that the rap business is far from a means of simply making money and fame. There's a deep, connective element to it.
'The god damn food stamps don't buy diapers, and there's no movie there's no Mekhi Phifer, this is my life' - Lose Yourself
Reflecting on the hardships of raising a family without any money. The harsh and cut-throat nature of living on the poverty line is an absolute reality, not just on TV.
'All I ever wanted to do was just make you proud, now I'm sitting in this empty house, just reminiscing looking at your baby pictures' - Mockingbird
Having made it and earned a fortune, Mathers was still sad. His fame explosion had isolated him from his family, despite the fact that everything he'd strived for was for them.
'Cause sometimes you just feel tired, feel weak. And when you feel weak, you feel like you wanna just give up. But you gotta search within you, and gotta find that inner strength. And just pull that shit out of you. And get that motivation to not give up, and not be a quitter. No matter how bad you wanna just fall flat on your face, and collapse' 'Till I Collapse
A classically uplifting. Classically Eminem.
'When a dude's getting bullied and shoots up his school, and they blame it on Marilyn, and the heroin, where were their parents at?' - The Way I Am
Quite possibly more apt today than when it was originally written.
'Seize the moment, try to freeze and own it squeeze it and hold it, as we consider these minutes golden' - Sing For The Moment
Make every moment count, because you might not get another one, basically.
'God gave you them shoes to fit you, so put them on and wear them. Be yourself man, be proud of who you are. Even if it sounds corny, don't let no one tell you, you ain't beautiful.' - Beautiful
Empowerment is a big focus of Eminem's later albums, and this is one of the most straightforward yet inspirational lines from that period.
'But music is reflection of self, we just explain it, and then we get our checks in the mail.' Sing For The Moment
Rap isn't always as shallow as some of its critics will have you believe.
'Look, if you had one shot, or one opportunity. To seize everything you ever wanted in one moment. Would you capture it or just let it slip?' - Lose Yourself
You are the master of your own destiny, Eminem argues.
'Uh, summa-lumma, dooma-lumma, you assumin' I'm a human. What I gotta do to get it through to you I'm superhuman? Innovative and I'm made of rubber so that anything you say is ricochetin' off of me and it'll glue to you and, I'm devastating, more than ever demonstrating. How to give a motherfuckin' audience a feeling like it's levitating. Never fading, and I know the haters are forever waiting. For the day that they can say I fell off, they'll be celebrating. 'Cause I know the way to get 'em motivated. I make elevating music, you make elevator music' - Rap God 
Not particularly inspirational, but once you realise this verse is sung in 14 seconds, you might change your mind.
Originally Published on: Oct 18, 2019