AN IRISH teenager who spent the festive period busking around Dun Laoghaire, Co. Dublin has donated all her earnings to a homeless charity.
Molli Meaghan-Tresson has been charming locals with her voice, her guitar and boat-load of compassion to boot.
The 16-year-old has been seen performing on Dun Laoghaire's East Pier, and managed to raise €750 - all of which is being donated to charity.
Dun Laoghaire Helping The Homeless - who support rough sleepers in the community and look to get them off the streets - described Molli as "a generous, lovely young girl".
The small community-based group took to Facebook to say:
"Thanks to Molli's donations we'll be topping up on sleeping bags, tents and supplies that'll help make rough sleepers' lives a bit more comfortable.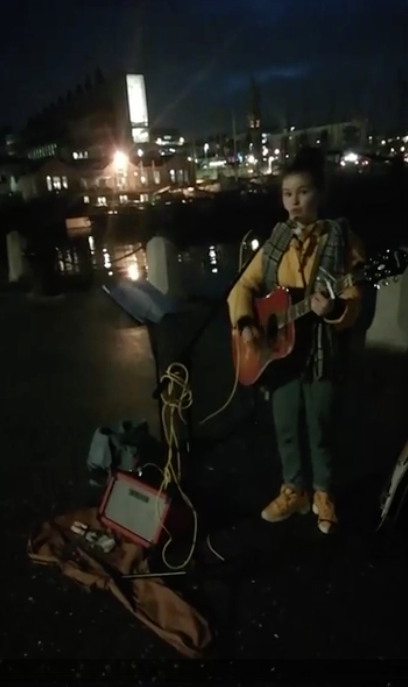 "Well done Molli, you are an incredible young girl and a credit to your parents."
The teenager was accompanied by her father, Sean, during a number of her busking sessions, who was quick to thank locals for their support and donations.
"A big thank you to the people of Dun Laoghaire and the surrounding area who supported Molli Meaghan-Tresson in her efforts busking on the pier," Molli's father said.
"It didn't go the way she had planned due to weather and tonsillitis but she finished up with a total of just over 750 euro.
"Every single cent she made while busking is going to be presented to Dun Laoghaire Helping The Homeless.
"They are an inspirational group from the Dun Laoghaire borough who are doing great work and we hope Molli's efforts will give them a little help in their day to day charitable endeavours. Thank you all again.
"We've a great community and it was great to see such a supportive response from so many people."
Molli's charitable instincts came in 2018 when she first started performing on streets.
When a young homeless man would continuously walk by and compliment her music, she told her father she wanted the money she was making to go people in need.
*What an absolute star!
Click here to watch her performing.