PIERS MORGAN officially broke his silence on Monday following his dramatic departure from Good Morning Britain last month.
The 56-year-old resigned after refusing to apologise for comments he made about Meghan Markle during the fallout from her and husband's explosive interview with Oprah Winfrey.
Morgan said he "didn't believe a word" that came out of Ms Markle's mouth and doubled down during his recent interview with Fox Nation host Tucker Carlson.
He said that the Duke and Duchess of Sussex made 17 claims which have since been disproved, found to be greatly exaggerated, or are simply unverifiable.
But which claims of the couple's claims was he referring to?
Here's what Piers claims the couple are fibbing about:
Meghan and Harry's 'secret' wedding
One of the biggest bombshells (and there were plenty) to emerge from the Oprah interview was Meghan's claim that she and Harry got married in secret before their 'official' ceremony took place a few days later.
But the Archbishop of Canterbury has since come forward to deny this happened, adding that it would have been illegal for such a ceremony to be performed.
Morgan told Carlson: "I knew that couldn't have happened because she said it was just the two of them with the Archbishop of Canterbury, the most powerful churchman in Britain.
"That's illegal. If that had happened just the three of them, the archbishop would have been arrested for breaking the law."
Archie was refused a royal title because of his skin colour
The biggest headlines immediately following the Oprah interview were about Meghan's accusations of racism. She not only claimed that a Royal Family member had "expressed concern" about the colour of her unborn baby's skin, but she also claimed that Archie was refused a royal title because he was mixed race.
But a quick check of the rule-book will tell you that Archie can only receive his official title once Prince Charles becomes King, and not before.
"And she made the allegation that Archie, their boy, had been banned from becoming a prince because of his skin colour," Morgan recapped.
"Now that is completely untrue. It's not just a sense of her lived experience being untrue. It is factually incorrect.
"That boy was never going to be a prince until Prince Charles, Harry's father, becomes king on the death of the queen. And that's going to happen, whatever the skin colour of Archie's mother. That's set in stone. It's been the case for 100 years."
Archie was denied 24/7 protection because he wasn't a prince
A similar claim that appeared to be made with little evidence to back it up.
Not all titled royals are guaranteed security paid for out of the public purse - Prince Andrew paid for his daughters' protection, for example.
The Queen, Prince Philip, Prince Charles and Camilla, Prince William, Kate Middleton and their three children receive round-the-clock security paid for by the Treasury, but minor royals must find other means of paying for protection.
Concerns over Archie's skin colour
Now this may fall into the 'unverifiable' column rather than the 'disproved' column, but nevertheless, asking questions about the appearance of unborn baby, particularly when the mother is mixed race, is commonplace and a perfectly acceptable question.
What matters is the context and the intent. It's possible that a member of the Royal Family did express concern about Archie's skin colour, as Meghan claims, but it's just as possible that Ms Markle - who has made a lot of racism claims in the past few years - misconstrued an honest question for one with racist undertones... it's possible.
As Piers said: "We don't know what the context of that conversation was. Was it as Thomas Markle, her father, said to me the next day as innocent as somebody saying, hey, given her father – Meghan's father is white, her mother's black, what colour would the baby be? I think that's an innocent question unless it's loaded with a sense of derogatory tone or concern, and then it becomes racism.
"We simply don't know, and we don't even know who supposed to have said this, but then Harry was asked the same question, and Harry didn't say it was several conversations when Meghan was pregnant. He said it was a conversation that happened way before at the start of their relationship, years before Meghan said it happened.
Meghan had her passport taken away
"Meghan Markle claimed that she had her passport taken away so she couldn't fly. Yet, miraculously, she took 14 flights, some of them on Elton John's private jet, while she was simultaneously along with Harry lecturing us about our carbon footprint," Morgan said.
Meghan was 'silenced' by the Palace
Oprah asks Meghan during their interview: "Were you silent or silenced?"
"The latter," Meghan responds after a pause. But there's little evidence that this is true, as Piers mentions.
"This idea that Meghan Markle was silenced - Meghan Markle guest edited British Vogue magazine in the middle of her silence. Meghan Markle made 73 public appearances, many of which she spoke at during her extended period of being silenced."
The Royal Family refused to help Meghan with her mental health
Meghan claims she had suicidal thoughts during her time in England, and told Oprah that when she told members of the Palace about her troubles, they said they wanted to sweep it under the carpet, rather than help her because it "wouldn't be good for the institution".
Morgan, who was forced out of his job primarily for doubting Meghan's claims about feeling suicidal told Tucker:  "I just find that impossible to believe that you would have two people in the palace who would be that callous to a woman telling them that she was suicidal.
"But also, there's the position of Prince Harry in all this. He is attached to many of the biggest mental health charities in Britain.
"He makes no secret of his desire that everyone who feels depressed or anxious or has suicidal thoughts to get immediate help, and yet here was his wife who says she was feeling constantly suicidal, and Prince Harry never sought to get her help. And I find that very hard to believe frankly."
Meghan 'never looked Harry up online'
Meghan claimed she "never looked up my husband online" and "didn't do any research into the monarchy".
But according to the authors of Finding Freedom, Meghan looked up Harry via a thorough Google search for their first date.
Meghan had also known Princess Eugenie for several years before meeting Harry and old school friend Ninaki Priddy said Meg was "fascinated" by both the Royal Family and Princess Diana.
The Duchess claimed that she knew next to nothing about the institution she was marrying into until she was in it, and complained about the fact that no one took time out of their day to teach her the national anthem, she had to learn it all by herself.
Morgan noted that such a claim was so "outlandish" that he was well within his right as a journalist to dispute it, particularly as "there are pictures of her draped over Buckingham Palace railings when she was a teenager and so on."
Meghan 'hadn't seen sister for almost 20 years'
Meghan dismissed her estranged half-sister Samantha Markle by saying she had not seen her for "at least 18, 19 years".
But a photograph shows Meghan smiling and with her arm around with Samantha at her graduation in 2008.
That's only 13 years, Meghan.
TV and media careers weren't ever part of their plan
Meghan agreed when Harry said working with TV companies, such as streaming giant Netflix, was not part of the plan when they first planned a move to the US.
It has since been revealed the couple started speaking to Quibi video streaming in early 2019, a year before they announced they'd be stepping back from their Royal duties.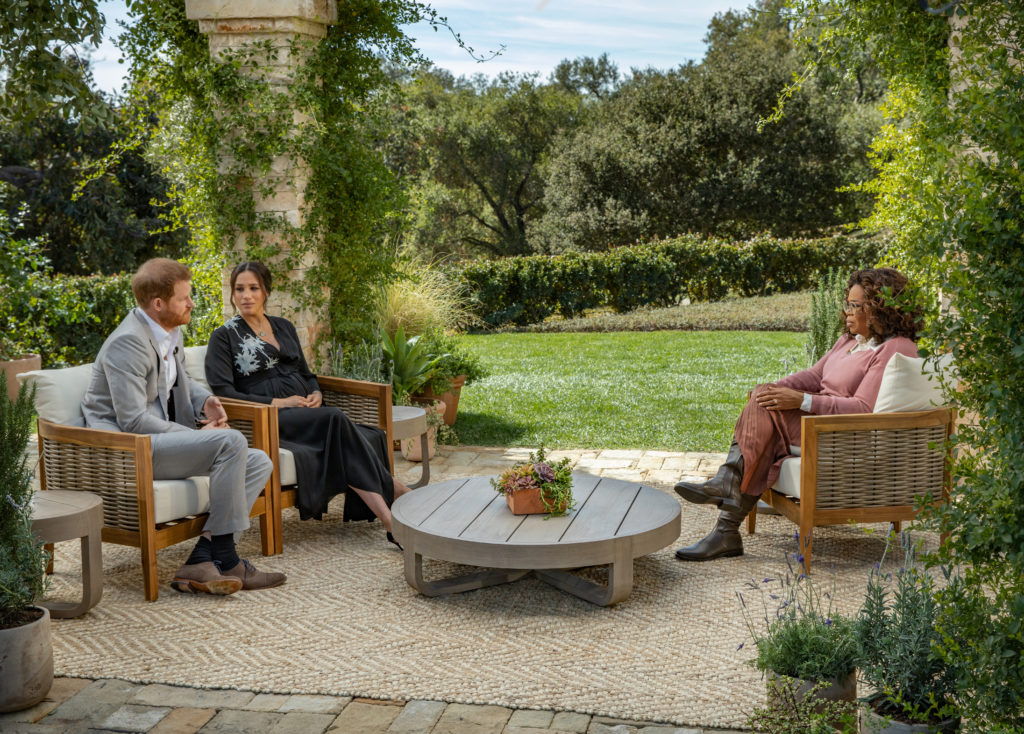 Meghan was banned from lunching with friends
The Duchess said she was banned from going to lunch with friends. Though newspapers have since revealed they turned down many paparazzi photos of Meghan out and about in London.
Royal author Andrew Morton described how Meghan was often seen walking to Whole Foods Supermarket on Kensington High Street.
She had no training in how to be a Royal
Meghan claimed there was no training on how to be a royal – but like all members of the Royal Family, Meghan was sent on SAS training to deal with potential kidnapping.
Finding Freedom revealed she was also given informal training on royal life including exiting cars in a skirt and curtsying.
Holiday parties with the press
Meghan described cosy "tabloid holiday parties", which she claimed were held between royals and the press at the palace. But such parties simply don't exist.
However, occasionally journos are invited in for a pre-tour get-together, not that anyone at the Irish Post would know...
Her press team didn't defend her
Meghan said her press team did not defend her in the news. But official reports show that her press team launched two IPSO complaints – winning one and losing the second.
Papers 'withheld story on her dad to cause maximum harm'
Meghan said the Mail on Sunday withheld a story on her father Thomas Markle setting up fake pap pics for a month and they only published those images in its edition closest to her wedding to cause her harm.
In fact, the newspaper was working on the story for several weeks and only chose to publish it 24 hours after securing final CCTV proof.
Press created drama over Thomas Markle
She also claimed the press created news about Thomas to create drama. But Thomas has demonstrated time and again a willingness to speak to the press and to stay in the news ever since the two last spoke before her wedding.
He is reportedly demanding his own Oprah interview too.
Kate made Meghan cry
Meghan claims Kate made her cry at a bridesmaid fitting before her wedding. But the journalist behind the original story says that it was in fact Meghan who made Kate cry.
Who do you believe?