CONOR MCGREGOR has given fans an update on his condition after he suffered a horror leg break during his UFC 264 fight against Dustin Poirier.
The Dubliner uploaded a long video to his Instagram page, where he revealed he was now getting around using an electric mobility scooter after he broke the lower tibia in his left shin, with brutal replays of the moment showing the severity of the break.
McGregor had been fighting American Dustin Poirier when he fired off a flurry of kicks but stumbled when he stepped back as his ankle went from beneath him.
The MMA fighter says he is now in good spirits after a difficult few days, and said celebrating his birthday on Wednesday helped to lift his mood, thanking fans for sending messages of support.
He showed off his new mobility scooter, which he will have to use for several weeks while his leg heals, and smiled as he cruised around on his new wheels, saying it was important to "keep a positive mindset".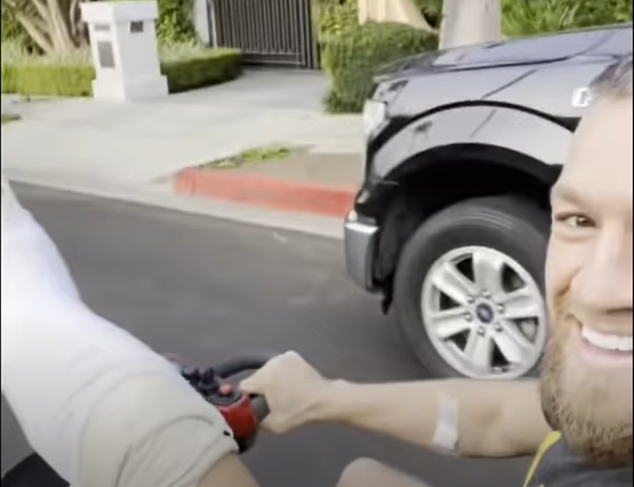 "I had a couple of ups and downs the past few days," he admitted. "I came out of surgery I was feeling very euphoric ... and then I hit a wall, I'm in a lot of pain ... I'm gonna be like this for a while."
"I know there's gonna be ups and downs on this journey that I'm gonna be on," he said, adding that he has "accepted it" and is "motivated to keep going."
The fighter went on to claim that his leg was already injured before he ever entered the ring against Dustin Poirier-- "I had stress factures in my leg going into that cage," he said.
"I have trouble with that ankle anyway."
Despite the loss and the difficult surgery that followed, the Crumlin-born fighter joked that he has "an unbreakable titanium leg now", and as he cruised down the street on the electric mobility scooter that he announced he was like "Arnold Schwarzenegger in Terminator 2".
The fighter is staying in a California apartment near his doctors surgery as he recovers from the freak break, and said he is looking forward to bringing his children over to visit soon.
He signed off telling his fans "I love the bones of yiz all.
"Yiz won't stop us, yiz won't beat the Irish!"