HUNDREDS of Irishmen fighting for the British Army in World War 1 perished in a horrific German gas attack as their countrymen battled to end British rule in Ireland.
The National Archives in Kew has this week released war diaries from the 8th Battalion of the Royal Dublin Fusiliers, which reveal details of the deadly German attack that left 500 Irish soldiers dead.
The diaries provide an account of the days from April 27 to 29, 1916 - the same time as the Easter Rising in Dublin - when the Germans released poison gas into trenches of the predominantly Irish 16th Division at Hulluch in France.
As part of centenary events marking the 100th anniversary of the beginning of World War 1, the National Archives have made this second batch of First World War unit diaries available online.
The 3,987 diaries contain records relating to Infantry Divisions deployed to France and Belgium, from their arrival on the front to the end of the war.
The unit war diaries show both simple yet effective tactics, such as 'dummy soldiers' operated by strings, alongside the introduction of more advanced twentieth century technologies such as the first use of flamethrowers and the first gas attacks.
Lieutenant  Colonel Edward Bellingham from Co. Louth penned the diary which reveals how the Germans poured chlorine gas into the lines which caused soldiers to choke to death or to be so incapacitated that they could not resist an enemy attack.
He wrote on April 27 that "a dense cloud of black gas and smoke between us and sun" settled over the Irish lines followed by a heavy bombardment of the frontline trenches.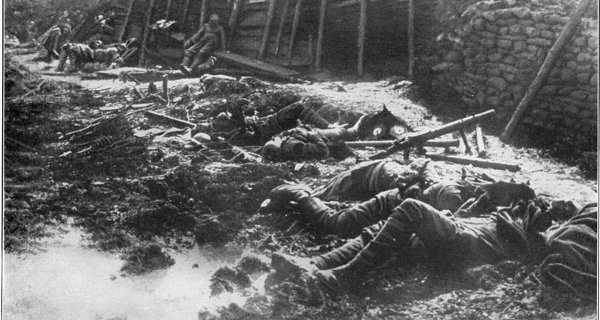 Soon afterwards the Germans entered the Irish trenches where hand-to-hand fighting ensued killing or wounding most of the Irishmen. The list of casualties, included in the diary, stretches to 10 pages with reams of names such as Flynn, Farrell, Finnegan, Dunne, Donohoe, Doyle and Dowling.
The following day was spent burying the dead, but the gas returned on April 29 and settled over the trenches without any wind to move it.
"Scarcely a man could survive the attack," he wrote. "The casualties from gas poisoning were more severe than on the 27th owing presumably to the gas clouds meeting and remaining stationary and concentrated over the trenches."
Tragically, although the men of the 16th Irish Division had respirators, they proved to be faulty. In two days the 8th Battalion lost more than a third of their men.
William Spencer, author and military records specialist at The National Archives said: "This second batch of unit war diaries provides detailed accounts of the actions of the next troops to arrive on the Western Front. They show the advances in technology that made it the world's first industrialised war with many mounted troops going into  battle at first with swords on horseback and ending the war with machine guns and tanks."
Later, on May 1, the Germans hung out placard in front of the Irish lines which read: "Irishmen! Heavy uproar in Ireland. English guns are firing on your wives and children."