AN ALARMING image have surfaced on social media appearing to show a group of Irish teenagers terrorising a goat.
Stills taken from an unnamed Snapchat account show a group of teens pulling the seemingly unhappy animal along by a tethered bit of rope.
A caption across the bottom of the screen reads: "Hahahahahah".
The distressing picture was published on Facebook by Dublin-based animal charity My Lovely Horse.
They were sent the image, taken from a Snapchat account, by a concerned parent who saw the clip on their child's phone.
My Lovely Horse said the incident took place somewhere in the Barry Close region of Finglas and is thought to have occurred in the past day or so.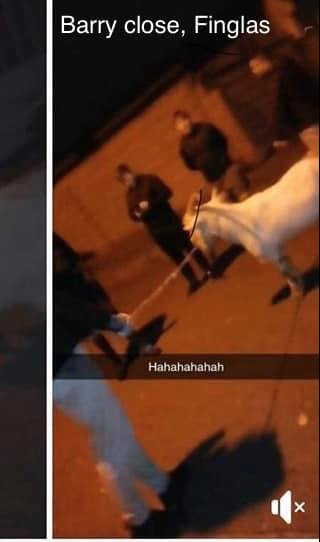 "Last night a screenshot was sent to us by a very distressed parent, this was on a child's Snapchat," the charity wrote on Facebook.
"Kids in Finglas tormenting and abusing this poor goat. It's on video but they didn't get the video just a screen shot.
"Please keep an eye out for this poor goat and if you know anything contact us by pm straight away."
A DSPCA spokesperson has since confirmed to Dublin Live that a call was received at around 3:55pm yesterday to report that a goat had been seen roaming around the Finglas area.
The DSPCA has confirmed that the goat has since been rescued.