SINGER ELLIE GOULDING came to the aid of a driver who was being pushed sideways by a truck down a dual-carriageway in a bizarre incident in London.
Incredible footage shows a Volkswagen GTi being forced down the A40 after being 'T-boned' by a Royal Mail truck.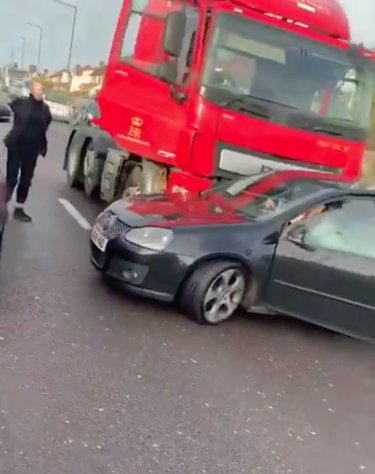 The car scrapes along the tarmac at the front of the truck as the driver of an adjacent Range Rover desperately signals for the lorry to stop.
Bizarrely, the driver of the lorry seems to have no idea why he's being asked to stop, asking: "Hey what's wrong?"
After realising, the astonished driver claims that he hadn't noticed the Volkswagen. He can be heard yelling: "I didn't see him, I honestly didn't see him."
As if the situation couldn't get any more remarkable, the man at the wheel of the Range Rover turned out to be the driver of Ellie Goulding, both of whom stepped out to check on the two men in the Volkswagen - who appeared to be miraculously unharmed.
The 32-year-old singer took to Instagram to confirm that the woman in the video was indeed her.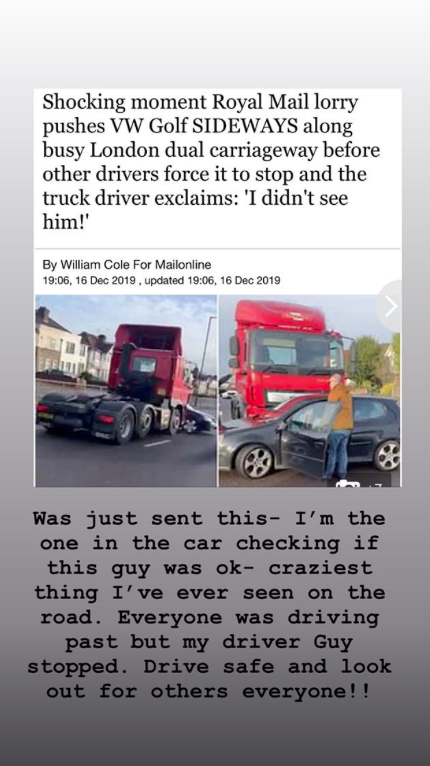 "On a side note, I can't believe the first instinct of the other drivers who got out was to instantly start filming on their phones and shout abuse at the poor shocked driver, not even checking the other driver was okay," she wrote.
"What on earth."
Royal Mail have said they are investigating the incident, with a spokesman saying: "We are very concerned about this incident. We sincerely hope that no one was hurt. We are investigating as a matter of urgency."
Metropolitan Police have said that no injuries have been reported and that no arrests have been made.
https://www.youtube.com/watch?v=eNvd_3VDygk