A FLIGHT ATTENDANT has gone viral after revealing she stepped in to breastfeed a passenger's crying baby mid-flight.
Patrisha Organo earned praise online after stepping into the breach when the child's mother ran out of formula after take-off.
The 24-year-old was working as an Assistant Line Administrator on a flight in the Philippines last Tuesday (November 6th) when the incident occurred.
"Everything went smoothly until after take-off, I heard an infant's cry, a cry that will make you want to do anything to help," Organo wrote in an emotional Facebook post.
"I approached the mother and asked if everything's okay, I tried to tell her to feed her hungry child. Teary-eyed, she told me that she ran out of formula milk.
Advertisement
"Passengers started looking and staring at the tiny, fragile crying infant."
The mother of the child had been at the airport since 9pm the previous night and had run out of formula in the process.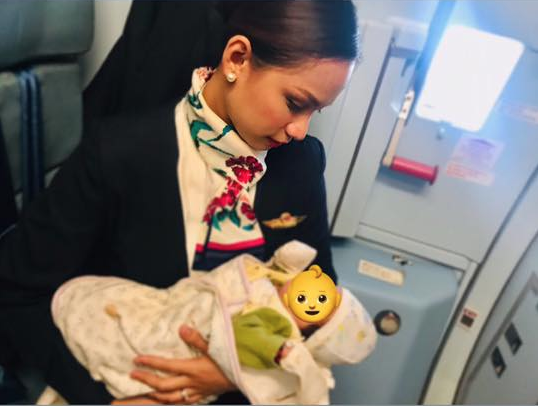 A mother-of-one herself, Organo understood the sense of helplessness felt by a new mother unable to feed their child and stress such a predicament generates.
"I felt a pinch in my heart. There's no formula milk onboard. I thought to myself, there's only one thing I could offer and that's my own milk. And so I offered," Organo continued.
"[My] Line Administrator on my flight, immediately assisted the mother to the galley where I breastfed the baby. The baby started rooting, she was so hungry.
"I saw the relief on her mother's eyes. I continued to feed the baby until she fell asleep. I escorted her back to her seat and just before I left, the mother sincerely thanked me."
Advertisement
A self-confessed breastfeeding advocate, Organo's Facebook post earned widespread online with many admitting it brought them close to tears.
Others were simply thankful that such kind and considerate people exist.