HANK AZARIA has apologised to "every single Indian person" for his portrayal of Apu on The Simpsons.
The actor, who is white, had voiced the character of the Indian convenience store worker from the beginning of the hit animated series back in 1989.
However, he opted to stand down from the role amid accusations that he was guilty of racial stereotyping with his characterisation of the Asian shopkeeper.
At the time, Azaria was he was prepared to suffer the "negative consequences" of his work on the character.
Speaking during an appearance on the Armchair Expert podcast with actors Dax Shepard and Monica Padman, Azaria said that while he felt The Simpsons was founded on good intentions it had contributed to "structural racism" in the US.
Azaria told Shepard and Padman, who is Indian American, said it had taken time for him to come to terms with the fact his portrayal of Apu Nahasapeemapetilon was ultimately offensive to the Indian American community.
"I really didn't know any better," he said. "I didn't think about it. I was unaware how much relative advantage I had received in this country as a white kid from Queens.
"Just because there were good intentions it doesn't mean there weren't real negative consequences to the thing that I am accountable for."
Addressing Padman directly, Azaria said: "I really do apologise. I know you weren't asking for that but it's important. I apologise for my part in creating that and participating in that.
"Part of me feels I need to go round to every single Indian person in this country and personally apologise."
Azaria told the Armchair Podcast that he had developed a better understanding of the issue after talking it through with his son Hal.
"I was speaking at my son's school, I was talking to the Indian kids there because I wanted to get their input," he said. "[There was] a 17-year-old, he's never even seen The Simpsons but knows what Apu means. It's practically a slur at this point."
Azaria said he "read, spoke to people who knew a lot about racism, spoke to lots of Indian people and went to seminars. I realised I have had a date with destiny with this thing for 31 years."
Indian American comedian Hari Kondabolu was one of the first people to shine a light on the troubling characterisation of Apu on The Simpsons in his 2017 documentary The Problem with Apu.
The film saw Kondabolu take a closer look at how western culture depicts south-east Asian communities with a particular focus on Azaria's voicing of Apu on the animated series.
Commenting on Azaria's apology, Kondabolu said: "The 'Apu Controversy' is not real. Racism isn't 'controversial', it's a constant."
"Unless you think People of Color finally standing up for themselves is 'controversial'. However, I suppose a word like 'controversy' is more clickable than 'comeuppance'."
Kondabolu did praise Azaria for his response though, describing the actor as "kind and thoughtful" and saying that his remarks proved "people are not simply 'products of their time' but have the ability to learn and grow".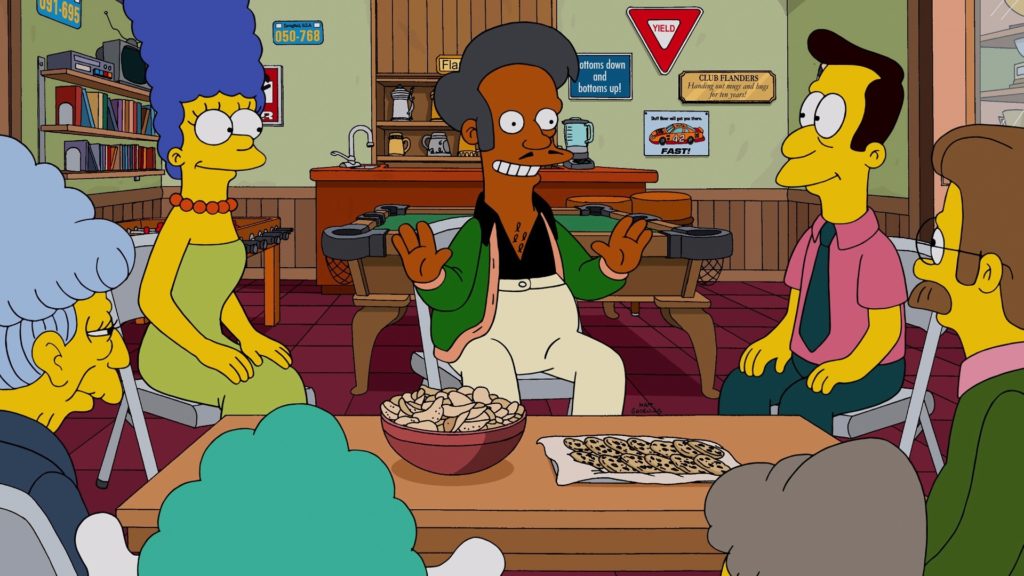 The Simpsons made several significant changes to promote more inclusivity on the show in the wake of the complaints.
Last year it was announced that that non-white characters would no longer be voiced by white actors on the animated series.
As recently as February it was confirmed that Black actor Kevin Michael Richardson had been hired to take on the role of Julius Hibbert, an African American doctor, replacing white actor Harry Shearer.