On his way to his first gig in 17 Months, Nathan Carter is looking forward to the Craic by the Creek in Manchester.
Flying out from Belfast airport yesterday morning, Nathan Carter posted on social media his delight at being back, and looking forward to the Craic by the Creek.
Boomerang taken from @iamNATHANCARTER Instagram story here he was earlier looking extra hot 😍 at Belfast Airport heading off to do a gig #nathancarter #lovehim pic.twitter.com/7wg9H0H0Px

— NCfan4ever (@NathanCfan4ever) July 22, 2021
Craic by the Creek is a music festival bringing some of the biggest names in traditional and contemporary Irish music to the Greater Manchester Countryside, at Whitebottom Farm from 23rd to 25th July.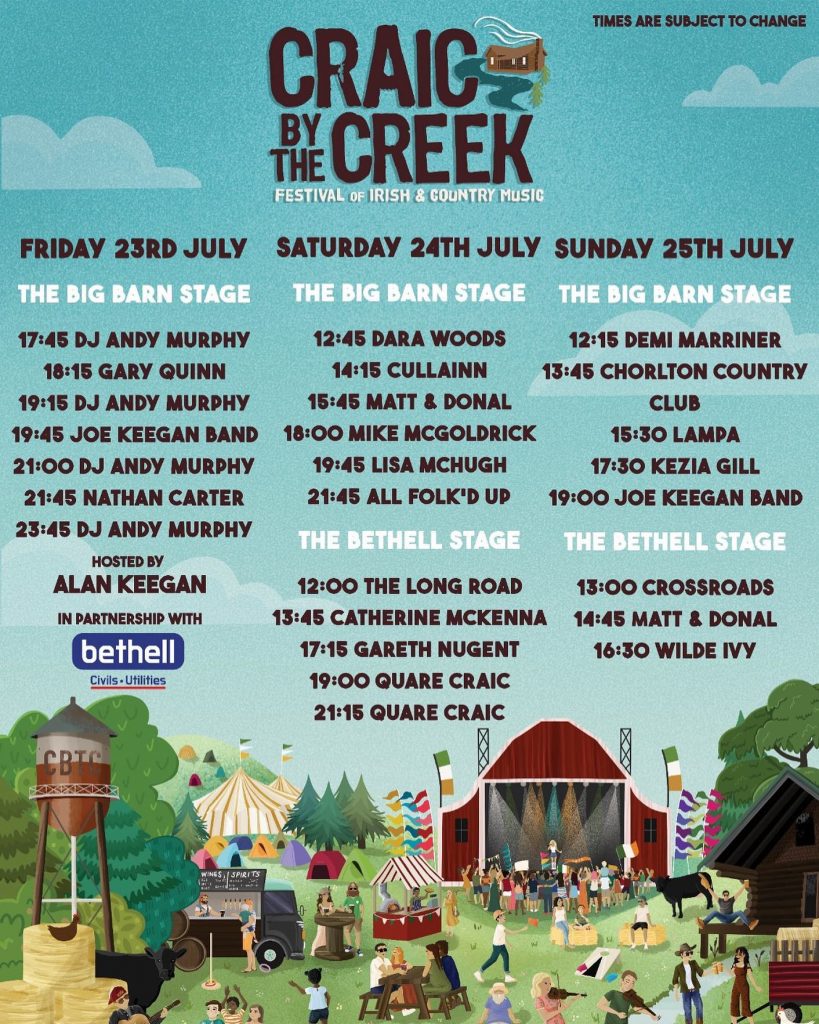 The 2021 line up include the likes of All Folk'd Up, Lisa McHugh, Mike McGoldrick & Kezia Gill, as well as Nathan Carter.
First and last entry are the earliest and latest times you can enter the festival site. These times are when the ticketing team will be able to check you in and exchange your ticket for a wristband.
Friday – Midday – 9pm
Saturday – 10am – 9pm
Sunday – 10am – 6pm
Nathan Carter will be live on stage at 21:45 tonight, Friday.
Nathan Carter is a sensational Irish Singer who crosses Music genres and Age groups from teen followers to senior Country Music lovers!
In Ireland he outsold One Direction, Pharrell Williams and Michael Buble, and became the first country act to reach number one in the Irish charts in 2013 after Garth Brooks, six years before.
He is an exciting feature on the UK Country scene, and once again tops the Irish charts with his fifth album 'Where I Wanna Be' which features his unique blend of Celtic, country and pop! Not bad for the cherubic former head choir boy who sang for Pope John Paul ll in Rome.
Nathan was born on 28th May 1990, growing up in Liverpool. His family originate from Newry in County Down. He soon leaned to play the accordion and trips to Ireland to compete in Fleadh Ceoil's became a regular feature of young Nathan's life, and by the age of 12 he won All Ireland medals for singing, and the accordion. Nathan soon became a member of the Liverpool Ceili band, playing accordion and piano, and solo performances soon followed in Liverpool and Ireland.
On a trip to Donegal in 2009, Nathan was appearing in concert in Buncrana, where he met with songwriter John Farry. So impressed was Farry that representation soon followed and the rest, as they say, is history.
Nathan's recordings include WHERE I WANNA BE (no. 1), BEAUTIFUL LIFE (no. 1), 'STAYIN' UP ALL NIGHT' which topped the Irish chart and reached the top 20 in the UK. THE WAY THAT YOU LOVE ME, TIME OF MY LIFE, THE LIVE SHOW, Audio CD & DVD. WAGON WHEEL CD, which saw him sign with Decca Records. The video single to 'Wagon Wheel', has generated more than a million hits on YouTube.