ONE OF Dublin's most famous pubs is celebrating after receiving its first Guinness delivery in over a year.
Grogan's Castle Lounge needs little in the way of an introduction to anyone familiar with the world-famous nightlife of the Irish capital.
A popular fixture on South William Street, like many pubs across Ireland, Grogan's has been through one of its most difficult periods during the pandemic.
Back in March 2020, the arrival of Covid-19 left the owners with little choice but to close its doors until the pandemic passed.
Those doors have remained closed ever since, with Grogan's one of many venues to remain shut even when lockdown measures eased.
Like many traditional bars, the pub does not serve food, meaning it was not able to resume trading in the way other venues were.
However, with outdoor hospitality due to reopen finally on Monday, June 7, staff at Grogan's have been busy preparing for the pub's imminent return.
Taking to Instagram, the pub shared a post marking the long-awaiting arrival of some fresh kegs of Guinness.
"A picture 15 months in the making," they captioned the heartwarming image.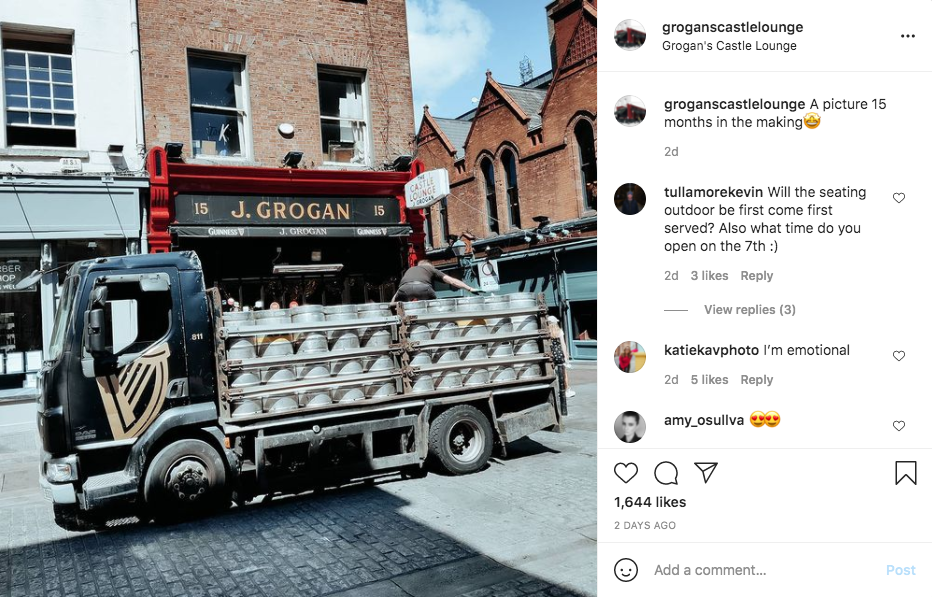 It was a post that drew an emotional response from fans of the iconic boozer.
"Enough to bring a tear to a glass eye," one wrote.
"You'll be loved back to life in no time, lads," another added. "Order another lorry load!"
A third declared: "This gave me goosebumps. Emotional sight" while a fourth simply said: "I'm emotional."
Others simply wanted to lowdown on when they could return.
They asked: "Will the seating outdoor be first come first served? Also, what time do you open on the 7th?"
Grogan's Castle Lounge responded: "First come first served indeed and 10.30!"
That first pint is going to be glorious.