LIAM NEESON is being tipped as a potential Oscar contender, months after telling an interviewer he once walked streets looking for "black b*****d" to kill as an act of "revenge" for a friend's rape.
The Irish actor's new drama, Ordinary Love, is one of the Special Presentations being screened at the 55th annual Chicago International Film Festival.
Films screened on the Galas and Special Presentations programs often end up being among the top contenders for Oscars and Golden Globes later in the year.
Ordinary Love stars Neeson as Tom, one half of an everyday couple forced to contend with emotional adversity after his wife Joan (Lesley Manville) is diagnosed with a serious illness.
Directed by Lisa Barros D'Sa and Glenn Leyburn from a script by Owen McCafferty, it marks the first time Liam Neeson has worked on a film in Northern Ireland for over a decade.
The Irishman only agreed to star after he was sent the script by his friend Bono but was immediately taken by it - no pun intended.
"I knew it was special," he told Deadline. "The subject matter is heavy but it's a beautiful love story. It's invested with Irish humour and it made me cry a little. I knew I had to do it."
Tipped for Awards glory, Travis Bean, of Forbes, is full of praise for the film: "Subtle, sophisticated and sweet, Ordinary Love is a deceptively simple story about love, survival and the epic challenges that life throws at each and every one of us."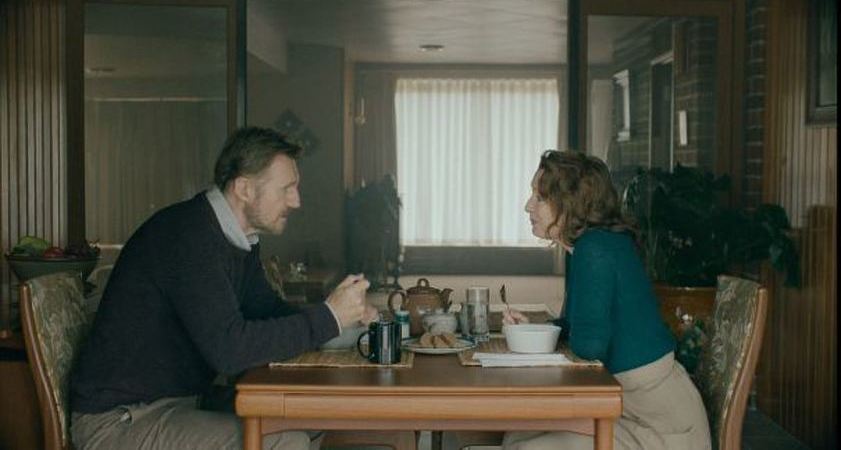 Neeson's newfound acclaim comes despite a difficult 12 months for Neeson, who courted controversy last February after describing to The Independent how, in his younger years, he once went looking for a "black b*****d" to kill following the sexual assault of a loved one.
"There's something primal – God forbid you've ever had a member of your family hurt under criminal conditions," he said.
"She handled the situation of the rape in the most extraordinary way," Neeson continued.
"But my immediate reaction was... I asked, did she know who it was? No. What colour were they? She said it was a black person.
"I went up and down areas with a cosh (a crowbar), hoping I'd be approached by somebody – I'm ashamed to say that – and I did it for maybe a week, hoping some [he gestured air quotes] 'black b*****d' would come out of a pub and have a go at me about something, you know? So that I could -- kill him."
Neeson later apologised for the remarks.
An accomplished actor, Neeson was previously nominated for an Oscar  in 1993 for his role in Schindler's List, but ultimately lost out to Anthony Hopkins.