AN initiative has been launched to help support construction workers and their families in times of need.
The Lighthouse Construction Industry Charity and the Considerate Constructors Scheme have joined forces to allow companies to provide their workforce with wallet-sized Construction Industry Helpline cards.
The Construction Industry Helpline also provides a free 24/7 confidential employee assistance programme.
From highway and railway construction, to steel fixers and ground worker, the helpline offers a free portfolio of welfare and support services including access to emergency financial aid,  advice on occupational health and mental wellbeing and support on legal, tax and debt management matters.
So far this year, the helpline has received 661 requests for help, of which 456 calls related to mental health or well-being issues and advice on legal and debt management.
There were also 205 new cases of construction families seeking emergency financial assistance.
Scroll down for more...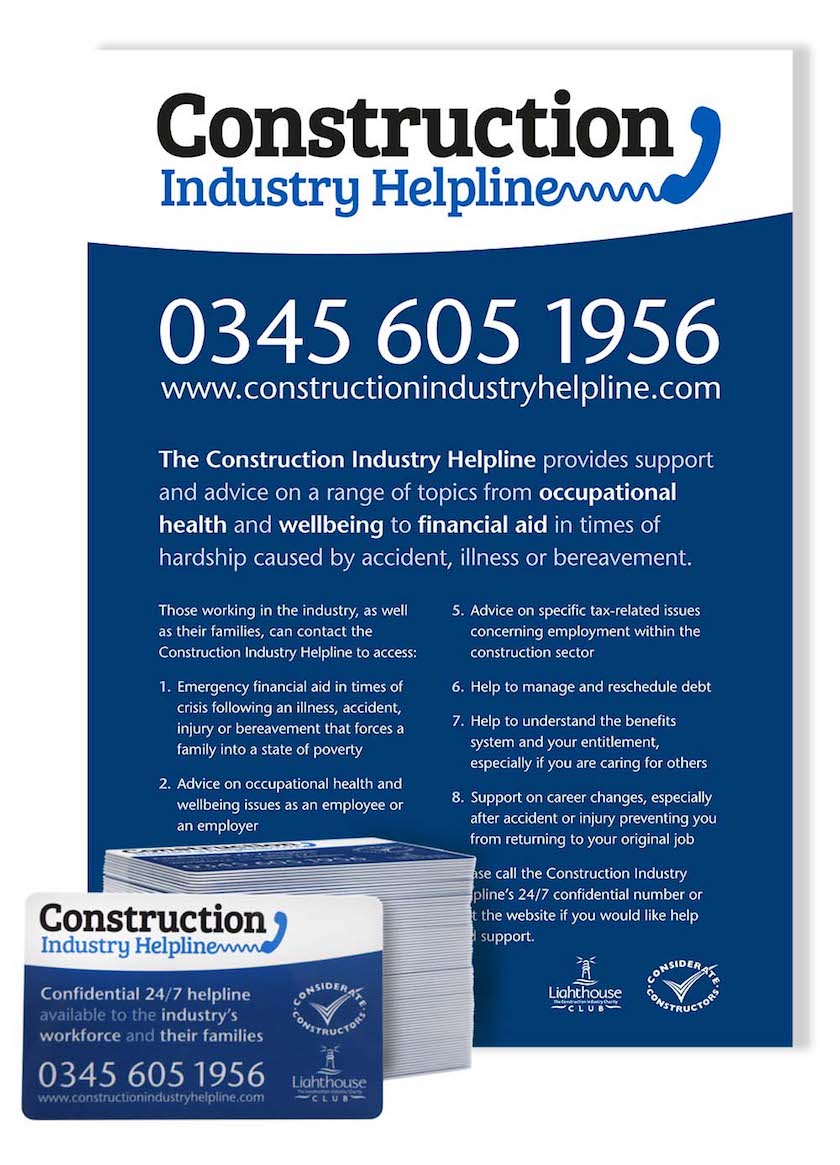 This year alone, The Lighthouse Club has granted over £275,000 to directly support construction families in crisis.
According to the charity there have also been more suicides in construction than in any other profession in the last decade, with around 40 deaths and hundreds of major injuries on British construction sites each year.
"As well as delivering emergency financial aid to those in our industry suffering hardship, we have augmented our helpline services to support callers suffering from anxiety, stress, addictive behaviours and depression in support of the recent research into the mental health of the industry," said Bill Hill, Chief Executive of the Lighthouse Construction Industry Charity.
"There were more suicides in construction than in any other profession in the first half of this decade and almost half of reported occupational cancer cases relate to workers in this industry.
"Every year there are around 40 fatalities on UK construction sites and more than 2,000 major injuries that leave workers incapacitated.
He added: "It is now imperative that we put the Helpline Card in the hands of every construction worker in the industry, so they will always have a safety net to catch them at their time of need.
"The Considerate Constructors Scheme has fully embraced this initiative right from the start and we cannot thank them enough for their enthusiastic support."
The helpline is operated by the Lighthouse Construction Industry Charity - also known as the Lighthouse Club - and is funded by the construction industry itself.
The helpline has been launched a new range of packs. Each pack contains wallet sized Helpline cards for distribution and A2 posters to promote the helpline on site.
There are nine packs in total, which are suitable for sites, companies and suppliers of different contract values and annual turnover.
By purchasing a helpline pack, the site, company or supplier is also making a commitment to undertake a Lighthouse Day, which can be any event or any day in the calendar year that a company chooses to raise much-needed funds for the Lighthouse Construction Industry Charity.
The Lighthouse Construction Industry Charity has been providing emergency financial assistance to the construction community since 1956.
It has granted over £16million to more than 15,500 families in Britain and Ireland.