A RETIRED butler has been saved from spending Christmas alone for the tenth year in a row after two good Samaritans responded to a newspaper advert he took out to find company.
James Gray, 85, has touched the world with his heart-breaking story of isolation.
Thousands have been touched by the London-based Cork man's desperate plea for a Christmas companion.
But yesterday James' prayers were answered when he broke his lonely streak with a kind couple who volunteered to spend the day with him.
"To me this is like a Christmas miracle come true," James told The Irish Post.
"I thought I was going to be by myself yet again this year because I didn't think anyone would be so touched by my story to put themselves out like this.
"But these people are good Samaritans for giving up their Christmas to be with someone like me."
He added: "After spending so many Christmases alone, I thought that was it, I would have no company for all the other Christmases for the rest of my life.
"Being here today with people makes me wish I had taken out a newspaper advert years ago, when I had no company at all on Christmas."
James explained that he was "very pleased" to avoid repeating the fate that befell him last year, when he dined alone on smoked salmon and prawns before turning to his TV for company.
The Irishman's recent years have been in stark contrast to his days as a butler, when he was in the company of tens of people every day and served the world's high and mighty, including US Presidents and British Prime Ministers.
But yesterday, he and his Christmas pals tucked into a free turkey dinner with all the trimmings at The Holiday Inn in Sutton.
The people who selflessly gave up their time to spend Christmas Day with the pensioner are John and Marian Cunningham, an Irish couple also living in London.
Marian said she was inspired to help by the "bravery" James showed in taking out his advert in The Irish Post.
But she rejected the "good Samaritan" label.
Instead, the 52-year-old Galway-native insisted that James was helping her and John to deal with what is normally a difficult time of year for them too.
"Even though we have each other, we have not got any children and I find Christmas quite lonely myself because I had miscarriages in the past," she said.
"At Christmas you think about these miscarriages when you see other people having a lovely time with their children.
"That just brings it home to you that if you had had a child, that child would be maybe 20-years-old now and you might one day be having grandchildren."
John, 69, said he knew they had to do something after James' story was featured on the front page of The Irish Post.
"Every Christmas there are so many charity appeals and you hear the statistics about all these thousands of lonely people, but you never hear their stories," John explained.
"So we thought it was very powerful when we saw James' picture in a newspaper and we were heartbroken to read his story.
"All he was saying was, 'Look, I am lonely and I do not want to spend another Christmas alone at home. I just want to find someone to come around and have a chat with me."
Marian added: "The fact he was alone in the first place shows how little people care about older people these days.
"In our society people become anonymous the minute they turn 50."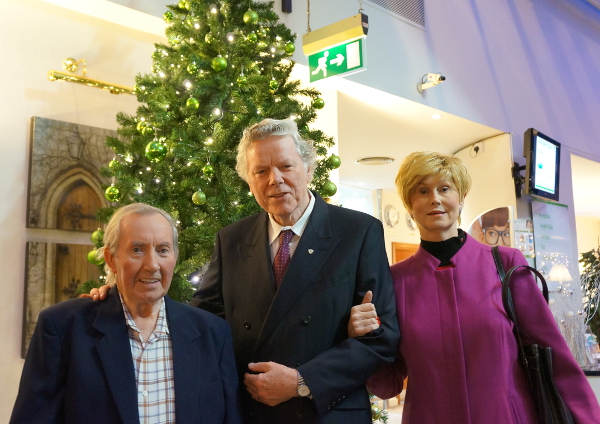 John and Marian are just two of thousands who felt compelled to do something after James' story of tragic isolation became international news.
Without any family to call on and with all his friends having either passed away or moved on, loneliness has become an everyday experience for James.
When he took out his newspaper advert earlier this month, he had not had company on Christmas Day since the early 2000s – when he went to see his accountant.
He couldn't even remember the last time someone visited his London flat on December 25 and received no cards to mark his 85th birthday in August.
James hoped that taking out an advert would end his lonely streak. But he was devastated when only one person responded.
His spirits were then crushed when she told him she would be spending the day with someone else.
"This time of year is so hard if you are old and alone because it feels like everybody else around you is enjoying themselves," James said at the time.
The Irish Post then took on the challenge of finding James a Christmas companion. It also launched a campaign to collect Christmas cards for him from those who had been touched by his story.
Since then the paper has been inundated with responses.
It has received more than 1,700 cards from as far afield as Japan, Chile, Hawaii and Australia.
The paper also received dozens of invites from those offering to open up their home to James on Christmas Day.
But only Marian and John were willing to go the extra mile and travel to meet him at a venue near his home.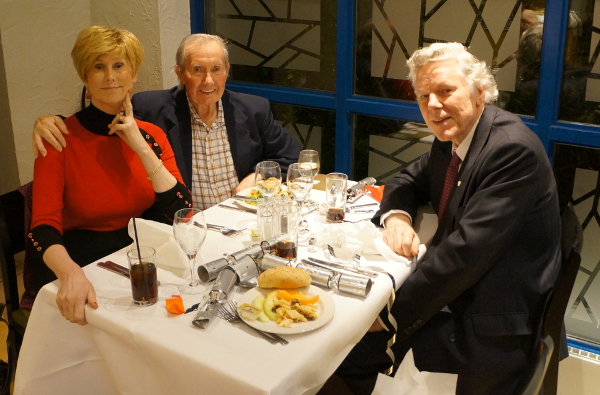 James has been left "overwhelmed" by the response to his call for company.
"All I was looking for with my advert was half-a-dozen pensioners to have Christmas dinner with so I would not be lonely once again this year," he said.
"I even would have paid for the company if it meant I could sit around a table with people.
"So for someone like me, who has not had company in years and did not get a single card for my birthday, this response has been very hard to take in.
"I am so amazed people have taken the time to do this. I'm so appreciative and just wish I did this years ago."
James reserved special thanks for his "good Samaritans" – Marian and John.
"If it was not for them coming forward I would have been on my own again," he said.
"Loneliness is like cancer. You just have to grin and bear it and hope things will get better next year.
"I think it is so sad that there must be so many more Irish people in Britain alone on Christmas like me, with no relations here and nobody else to call on."