NETFLIX HAS apologised for an 'unacceptable' tweet one of their show's Twitter accounts posted earlier this week.
The account in question, The Chilling Adventures of Sabrina, which is currently filming series 4 of the popular Netflix show, came under fire for making a light-hearted 'Bloody Sunday' tweet.
The account posted several images of the show's cast members covered in fake blood alongside the caption 'Sunday Bloody Sunday'.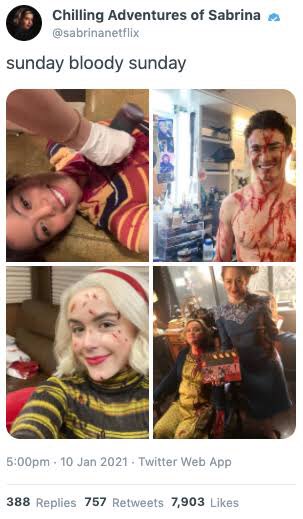 The now-deleted Tweet attracted dozens of comments from people who were angered that the show would use one of the darkest moments in Ireland's history as a light-hearted caption, although it was accepted that it was likely ignorance rather than malice which led to the phrase being used.
The Tweet remained on the page for over 13 hours before it was deleted, and Netflix issued statements to multiple news outlets following the controversy apologising for any hurt caused.
In a statement issued to outlets including Deadline and Joe.ie, a spokesperson for the streaming site said "Our tweet was unacceptable and has since been removed. We are very sorry for the hurt and distress it caused."
Ireland suffered from two 'Bloody Sunday's' in the 20th century: the first in 1920, when Auxillaries and the Black and Tans opened fire on the crowd at a Gaelic Football match in Dublin, killing more than 30 people.
The 100 year anniversary of this atrocity was marked in a sombre moment of reflection during a match between Dublin and Tipperary-- the two teams who were playing on that day in November, 1920-- last year.
The second Bloody Sunday occurred in January 1972 in Derry, when British forces opened fire on a civil rights march, killing 14 people.