MICHAELLA McCollum Connolly and Melissa Reid have been taken to one of Peru's toughest jails - Lima's Virgen de Fatima women's jail - housing some of Peru's most notorious criminals.
The drug-charge pair had hoped to be placed in the country's modern Ancon 2 prison whilst awaiting a trial date for alleged drug trafficking allegations to be set.
Instead they spent their first nights in their temporary home surrounded by convicted drug dealers, killers and terrorists.
Both women deny the  allegations against them and claim they were forced to carry bags containing £1.5m worth of cocaine by armed men.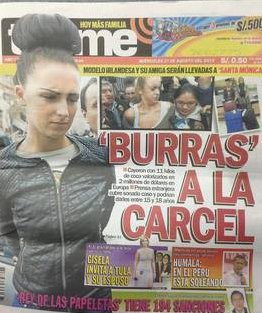 Prison conditions facing the women – both 20-years-old – are dire and former inmates have said that bullying and prostitution are commonplace as a means of survival for the poorer women.
Overcrowding is the main problem with Peru's prison system, and according to the charity Prisoners Abroad it is "at over 200 per cent capacity."
The charity added : "People often have to sleep on floors, in corridors, or even in the toilet areas."
More worryingly the charity state: "Because of the overcrowding, infectious diseases such as tuberculosis and HIV are constant concerns."
The two women will undoubtedly face a challenging transition into life in prison, more so because of the language barrier.
Not only will the proceedings be difficult to understand, but navigating around the jail will be a daunting prospect.
Furthermore,  Prisoners Abroad said: "The diet is extremely poor and rations are meagre. Without being able to buy other food to supplement their diet people are lost.  Clean water is a rarity and has to be purchased, often at inflated prices."
The Virgen de Fatima jail that Ms Connolly and Ms Reid will call home for the duration leading up to their trial has was the centre of controversy in 2010.
It became public knowledge that seven former military chiefs convicted of murder and secret abductions were imprisoned in the women's jail rather than a maximum-security prison.
The most recent high-profile inmate that may be a neighbour to the pair is ex-congresswoman Nancy Obregon. She was accused of ties to the Shining Path guerrillas in Peru.
The penalty for drug trafficking in Peru carries an average prison sentence of between eight and nine years, but lengthier sentences of up to 15 years may face the young women if they are found guilty and found to be members of a criminal organisation.