A PETITION is calling for the Irish government to make St. Brigid's Day a national holiday in Ireland.
Every February St. Brigid's Day, or Imbolc as it is also known, marks the start of the pagan festival of spring and the arrival of longer, warmer days.
One of Irish mythology's four major "fire" festivals alongside Beltane, Lughnasadh, and Samhain, the Feast of Brigid is also a celebration of one of Ireland's patron saints.
Known also as a fertility goddess in Celtic mythology - the word Imbolc literally means "in the belly" in the old Irish Neolithic language - 'Brigit of Kildare' was said to be the founder of several monasteries of nuns, including that of Kildare.
Born at Fochart (or Fothairt), near Dundalk in Co Louth, St Brigid is associated with perpetual, sacred flames, and there is a shrine dedicated to her in Kildare.
"In light of the many astounding achievements of women in Irish society and in our nation's history, we believe it is time to honour Brigid, Ireland's triple goddess and matron Saint, by making February 1st a national holiday," the petition, directed to the Minister for Business, Enterprise, Innovation, Heather Humphries TD, reads.
"Brigid embodies the ancient triple goddess archetype: goddess of healing, fire and the Arts. Our matron Saint also represents true Christianity, renowned for her compassionate care for the poor and animals."
"Ireland is 2-4 days behind the rest of Europe when it comes to public holidays, currently with 9 public holidays in the year, where most European countries have 11 -13 days," the petition notes.
"The period between December and March is acknowledged to be one of the most depressing of the calendar year, with Christmas passed, celebrations over, still in the shortened daylight hours.
"With increased pressure on our emotional wellbeing, we believe the 1st February is a perfect day to celebrate, marking Brigid's Day as the day to welcome the Spring and return of the Light."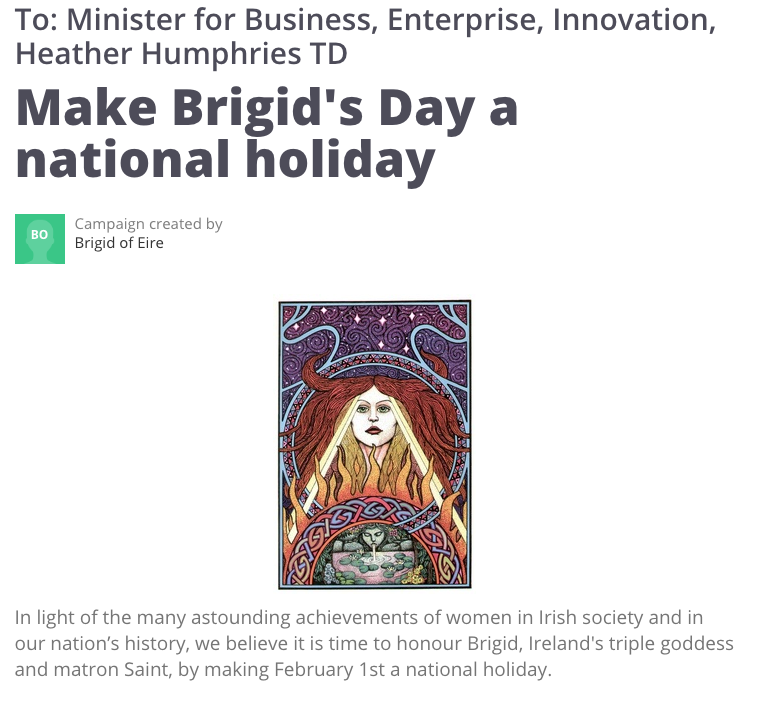 A significant day on the Irish calendar, one of the most common traditions of St. Brigid's Day involved the making of a Saint Brigid's Cross.
Usually constructed on Brigid's Eve, January 31, they are usually made from fresh rushes or alternatively straws.
Made in a cross shape with a square in the middle and four arms along each side, it is widely believed that Saint Brigid's Crosses have the power to protect the owner's home from harm.
St. Brigid is the patron saint of babies, blacksmiths, boatmen, cattle farmers, children whose parents are not married and children whose mothers are mistreated by the children's fathers.
She is also the patron saint of Clan Douglas, dairymaids, dairy workers, fugitives, Ireland, Leinster, mariners, midwives, milkmaids, nuns, poets, the poor, poultry farmers, poultry raisers, printing presses, sailors, scholars, travellers, and watermen.
Those wishing to lend their support to the petition can do so via this link.