A PETITION offering the Republic of Ireland full membership to the United Kingdom has already racked up more than 2,000 signatures.
The online petition, which has been set up by Scott Packer, requires 10,000 signatures before it will be granted an official response from the government.
In the event it amasses 100,000 signatures or more, the petition will be "considered" for debate in the UK parliament.
Presented under the title Offer the Republic of Ireland full UK membership so they can rejoin the Union it offers up a fairly unique solution to the problems posed by Brexit.
"The RoI left our Union in 1922 after 121 years of being part of the family," it reads.
"We should now ask them to reconsider their position within both the UK & EU as a way of solving the current impasse over the Irish border issue that is holding up the Withdrawal Agreement.
"Britain & Ireland stronger together."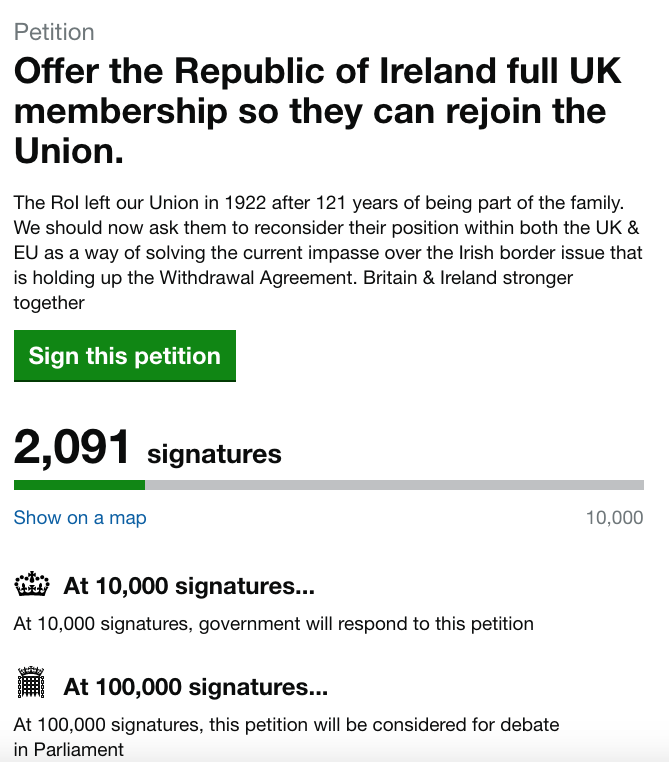 At the time of writing, the petition had amassed 2,091 signatures in the space of just a few short days.
There's still plenty of time left for the petition to hit its initial target of 10,000 signatures though.
According to the UK parliament petition website, it will remain open until July, giving people plenty of time to show their support for this bold proposal.
Will you be lending your name to it? You can access the petition here.