THE COMMITMENTS ranks as one of the best and most beloved films to ever come out of Ireland - but for one of the film's stars it remains a source of some discontent.
Glen Hansard was best known as the lead singer of his indie band, The Frames, when he was cast as pony-tailed guitarist Outspan Foster in the much-anticipated movie.
Most would have, perhaps understandably, set their musical ambitions to one side once filming began but Hansard felt differently.
It was a decision that would lead to a major bust-up with late director Alan Parker and a confrontation in which the filmmaker took Hansard aside to tell him "something awful."
The ugly exchange was precipitated by Hansard's decision to move ahead with plans to perform with The Frames at a gig in Dublin despite the fact it clashed with the schedule for filming on The Commitments.
"The first Frames gig was in The Purty Loft on June 15th," Hansard explained in a new interview filmed as part of the RTE documentary Back to Barrytown.
"Unfortunately, there was a simple clash of dates, and I was like, 'I'm not skipping this gig.'"
"So everybody came out to the Purty Loft. We had a night off and they all came to the gig, and the next day we were all back at work shooting the film."
Initially the rejig of filming dates appeared to go off without incident.
However, unbeknownst to Hansard, Parker was privately seething at the hold up in production.
He eventually let his feelings be known to the musician as they were wrapping up work on the movie.
As Hansard recalls, Parker took him aside towards the end of their time together on the film and told him "something awful."
"I was shocked . .  Alan said to me, 'There's always one on every movie I do', and he said a word, an awful word I won't repeat, it was something very rude, and he said, 'I didn't think it would be you'."
Parker passed away  in London on July 31 2020 at age 76, following a lengthy illness.
While many spoke fondly of the director in the time since, Hansard remains upset by the exchange.
"That did kind of sour the experience for me," the 51-year-old.
Hansard wasn't the only one left unhappy by his experience working on The Commitments.
Roddy Doyle, the author of the book the film is based on, also revealed on the documentary how he initially struggled to earn a credit as one of the film's writers.
Ian Le Frenais and Dick Clement, the writers behind TV shows like The Likely Lads, Lovejoy and Auf Wiedersehen, Pet, were originally credited with producing the screenplay, having been drafted in by producers to rework Doyle's original effort.
"There was a disappointment with The Commitments," Doyle said.
"It was the way the 'co-written' aspect of it was handled. When I looked at the final script it had Dick and Ian's names on it but not mine.
"But when I read it, I realised I wrote a considerable part of this. And I had to fight for my right — not for too long — but it could have been embittering.
"It wasn't, but it was a lesson learned. I just thought, 'I never want to learn something that way again', and certainly I don't want to read a script and realise, actually something wrong is happening here."
Doyle eventually got the credit his work merited and remains proud of the finished film.
La Frenais and Clement, for their part, were huge fans of Doyle's novel and had already explored the idea of turning it into a film.
"I read it and rang Dick and said, 'Somehow we have to make this'," La Frenais recalled on the documentary.
"But we were warned it would be very low budget, hand-held cameras — but we said that doesn't matter."
He added: "We were quite instrumental in getting this film made, it was Dick and I who brought in Alan Parker who made an enormous difference."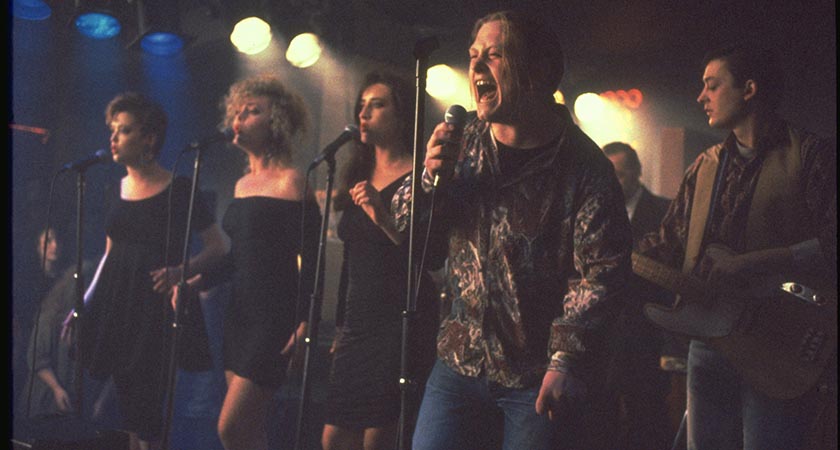 Looking back at The Commitments, Doyle remains immensely proud of film - even if he wasn't entirely happy with the finished product.
"I never bought into the Wilson Pickett ending, will he come, wont he? I don't think it mattered, they were going break up anyway," he said.
"There's also a moment where Joey's mum is playing the violin and there is a holy statue there. I thought, 'That's not the Ireland I know or want to depict'.
"There's another gag where the piano player goes to confession. The punchline is funny but he would never have gone to confession."