GOVERNMENT will allow 100 guests to attend weddings from August 5 in what will come as a huge relief for would-be married couples.
The update comes following a protest in Dublin on Tuesday, where a number of brides-to-be marched from the Department of Health on Baggot Street to the Department of the Taoiseach at Government Buildings on Merrion Street.
They wanted the government to allow more than 50 guests to attend, which is the current limit, and offered up a number of health and safety guidelines they believed would allow 100 guests to attend safely.
The march was organised by the Wedding International Professionals Association (WIPA), who presented 40 pages of guidelines to make their case, with over 50 recommendations on how things could be changed, covering everything from photographers and staff to venues and floor plans.
In response, ministers met to discuss the issue, and agreed to the limit change, which will apply for both the wedding ceremony and the reception.
Minister Simon Coveney said the decision was made at Cabinet "in principle" and that Minister for Health Stephen Donnelly will now look at the detail.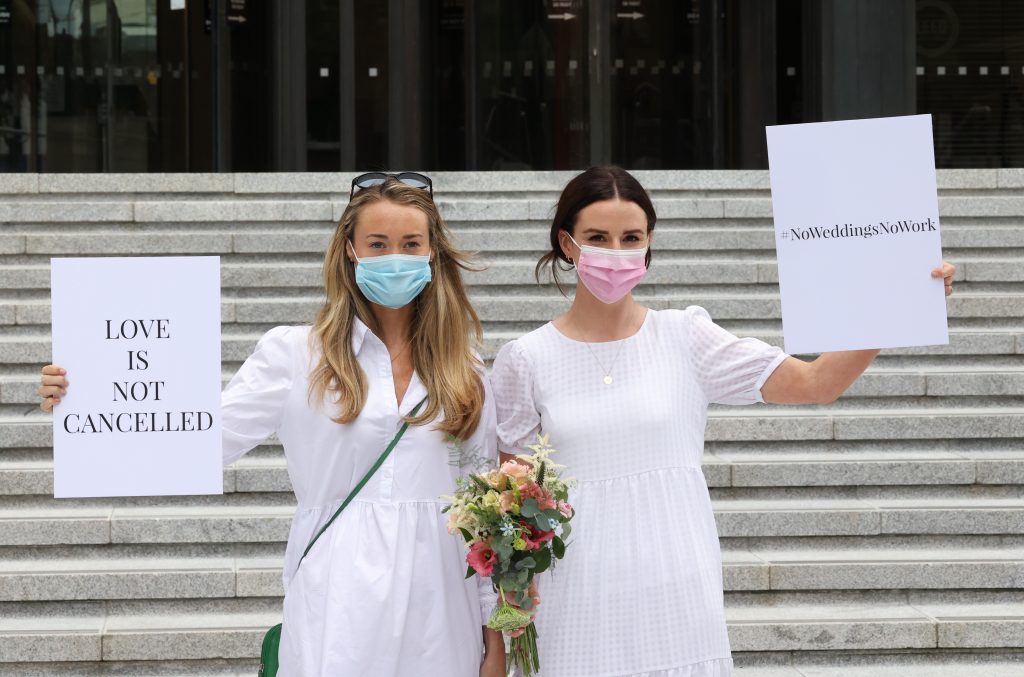 Speaking to RTÉ's News at One, he said: "Minister Donnelly will now work to produce clarity around everything from indoor, outdoor, music or not, receptions numbers and so on, so that there's clarity before the 5th, and that will be in a regulation to ensure that it's law."
Coveney added that "there is cause for optimism" given that the number of cases related to the Delta variant is dropping in other countries such as Scotland, England and the Netherlands.
He added: "We want to make sure that Delta doesn't have a nasty tail still in it. And that's why people need to be cautious but at the same time, there is I think cause for optimism."