TAOISEACH MICHEÁL Martin has been under pressure to secure extra vaccines for Ireland as the roll-out of vaccinations continues to hit bumps in the road.
Mr Martin has in the past been urged to ask British Prime Minister Boris Johnson for extra vaccines, as AstraZeneca consistently fell short of its promised supply to the European Union-- these issues were exacerbated when multiple EU countries, including Ireland, deferred the administration of the AstraZeneca vaccine while the EMA investigated reports of blood clotting in some patients.
The EMA is expected to give the green light for AstraZeneca to resume later this week, but the issues have not helped with public frustration at how slowly the roll-out of vaccinations in Ireland is perceived to be.
Did Micheál Martin ask Boris Johnson to share vaccines with Ireland?
Mr Martin did bring up the possibility of the UK sharing vaccines with Ireland, The Irish Examiner reports, but was told the UK is not in a position to give surplus vaccines and "his first priority is to vaccinate his [own] people".
"It would be helpful to Ireland if the situation arose, but right now he has to concentrate on vaccinating his own people.
"Until then he won't be in a position to give vaccines to anybody and he has made that point to me, which I thought was fairly obvious at the outset."
Did Micheál Martin ask Joe Biden to share vaccines with Ireland?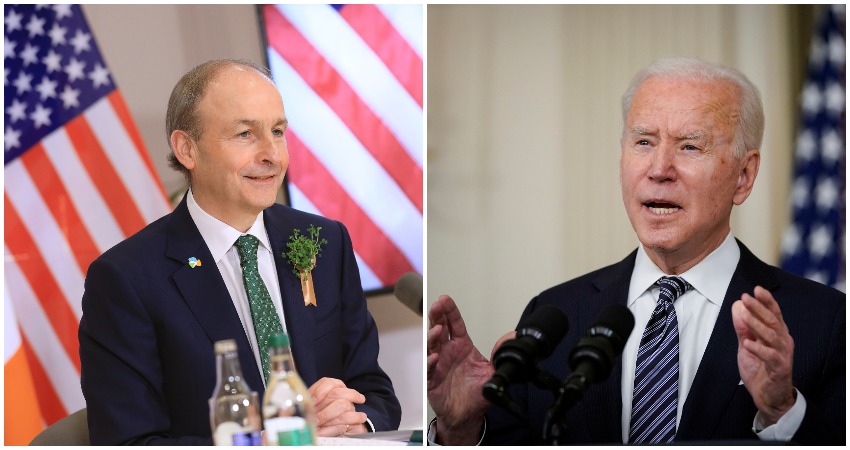 Yesterday Mr Martin met virtually with US President Joe Biden as part of the St Patrick's Day tradition between the two countries.
The Taoiseach and the President discussed a number of topics-- including, of course, the ongoing Coronavirus crisis.
Mr Martin had faced pressure to ask Joe Biden about the possibility of the United States sharing vaccines with Ireland, as the US roll-out is proving quick and efficient-- and has 30 million AstraZeneca vaccines stockpiled, despite not yet being approved in the US.
However, Mr Martin had indicated he would not be asking Mr Biden about this, dismissing the idea on an interview with US news outlet CBS.
When will we know if the United States share its vaccines with Ireland?
While we don't yet know for sure if the US would be willing to share its vaccine supply with Ireland, it is likely we will have a clearer picture of what to expect in the coming months.
Taoiseach Micheál Martin spoke to reporters yesterday after his virtual meeting with Mr Biden, and said the US might know by the summer months if it will be in a position to share its vaccines with the Emerald Isle.
"The US is facing similar logistical challenges to what we are all facing in terms of getting vaccinations, getting a Covid vaccination programme in play," Mr Martin said.
He continued that Joe Biden is "very anxious to get as many of his people vaccinated as possible" before they consider sharing the jabs with other countries-- but repeated that "towards the summer" the US will know where they stand with regards to sufficiency of the vaccines.