IRISH TV presenter Angela Scanlon has hit back in hilarious style at an online troll.
Over the weekend, the Ratoath star found herself the target of unwanted attention from a social media user who decided to target the Robot Wars host's fashion sense.
The popular TV host came in for particularly harsh scrutiny over her appearance on the most recent episode of Saturday Kitchen on BBC One in the UK.
In a now-deleted tweet, the social media user, known only as Peter, attacked Scanlon over her choice of outfit on the cookery show and urged her to "smart up."
"Tell Angela Scanlon to smarten herself up," the tweet began.
"Hair is a mess and God knows whats shes wearing, looks like Andy Pandy [sic]," it continued.
"Hope shes not getting an appearance fee… but im not paying my licence fee but feel sorry for those who are."
But if Peter thought Scanlon was going to take that kind of criticism lying down, he was sorely mistaken.
Firing back, Angela said: "No fee darling Peter, that's not how it works.
"Also I think your hair looks like s*** too but I generally keep those thoughts to myself. Have a good one sweet man."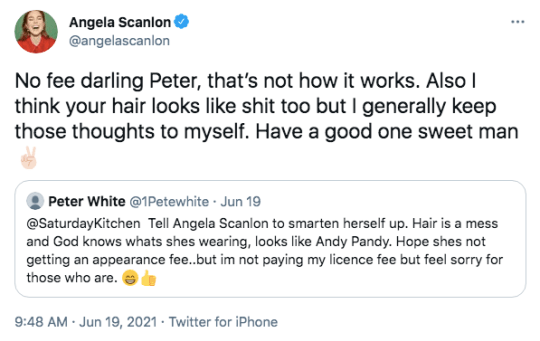 The 37-year-old's decision to give as good as she got won her plenty of plaudits among fans online, who were only too happy to see her hit back at the haters.
"I'm not going to waste my words on a response to that idiot but rather to say you are a breath of fresh air and adored by many. Don't ever change (I know you won't)," one said.
"I personally thought you looked stunning on Saturday breakfast. As you always do," another added.
In a telling move, "Peter" has since deleted the tweet, having evidently rethought his approach.
Known for her work with both RTÉ and the BBC, Scanlon has become something of a household name in the UK thanks to regular stints as a guest host on The One Show.
She also co-presented Robot Wars with Dara Ó Briain in 2016.
More recently, she has hosted the home renovation series Your Home Made Perfect, and the new spin-off show Your Garden Made Perfect.