***Geordan Murphy today (May 7) announced his full retirement from rugby at the age of 34.  Last year, I travelled to Leicester to meet the former Irish international and long-time fan favourite.  This interview was originally published in the Irish Post on January 25, 2012***
GEORDAN MURPHY remembers the day he shot to stardom. It was January 4, 1998 and Leicester Tigers were playing Coventry in the Cheltenham and Gloucester Cup. The competition felt like a big deal back then and Murphy was on the road to becoming one.
He got the call up to the first team as a late replacement. He was only 19-years old and "built like a racing snake."
He had lined out for the Leicester first XV already, but this promotion represented another significant career step. This time he was in esteemed company.
Watching from the sidelines that night were names like Will Greenwood, Graham Rowntree and some of the rest of Leicester's contingent of British and Irish Lions, the same guys who humbled South Africa only months before.
Advertisement
On the pitch were others like Austin Healy, Joel Stranksy and Neil Back.
Murphy remembers standing a few yards inside his own half when a loose clearance kick bounced into his hands.
"Will Greenwood was injured and on the bench that night," he says.
"He was standing beside Bob Dwyer when the ball was kicked to me. I shaped to line up a drop-goal and Bob let out this shout… 'F****N HELL'… and just as he said that, I hit the ball really sweet. It flew off my foot cleared the crossbar from 50 metres and was still rising as it past the posts. Bob turned around to the guys and said 'F**K ME he's got it!'."
After the game Will Greenwood walked across to Murphy as he was leaving the pitch: "The moment a star was born," he joked. Murphy was staggered by the compliment.
"As a 19-year-old I was just made up to have all these guys from the Lions congratulating me and talking to me," he says. "It is my first big memory of playing for Leicester."
****
Advertisement
Murphy stands in queue of the canteen at Leicester's Oval training facility in Oadby on the Wigston Road just outside the city. It has just turned 12pm and the morning weight and ball-work sessions are complete. Now it's time for a lunch of fruit, fish, chicken, potatoes, steamed vegetables, berries and natural yoghurt.
"Are the lads all right for everything Geordan?" comes a shout from the kitchen.
Murphy pauses, looks at the buffet and rattles off a short list of extras.
He is the club captain now and has been since 2008.
After 15 years he describes his appointment as "probably more of a natural thing to happen." But the position feels like an easy fit; just like the atmosphere in the canteen.
A stack of 'Tigers Times' magazines sit by the door. Inside there's a portrait of a very slight and very young Murphy in an oversize Leicester jersey.
"Wasn't much to me then," he laughs, looking at the picture.
Advertisement
"But the year before I came, I was playing for Waterpark on Saturdays in the All-Ireland League [AIL], Naas in the Leinster League on a Sunday and I used to play for the WIT [Waterford Institute of Technology] as well. I was a rugby geek."
Murphy took an untypical route from talented schools player and Kildare minor footballer to club captain at one of the powerhouses of European rugby.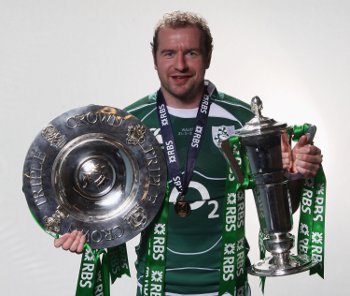 The out-half left Newbridge College in June 1996 after a string of acclaimed performances in the Leinster Senior Cup and the offers arrived thick and fast.
The AIL was the main event back then and Murphy would have been expected to serve a quick apprenticeship, maybe collecting a McCorry U20 Cup medal along the way, before graduating to the senior team in a Bective Rangers or a Blackrock College.
Instead he chose to move to Naas, the club of his family. His brother Ross was then senior captain, older sibling Etienne was an ex-Irish schools full-back seeing out his career with the junior team, while his other older brothers Nicky and Brian had both lined out in the green and white jersey long before Murphy was introduced to the game by Father Connie Murphy in Newbridge College.
That alone didn't swing it. Kevin West, a slightly built New Zealander, coached Murphy at schools level. He was also coach at Naas and had led the club to Provincial Town's Cup success two years previous against Enniscorthy. The majority of that team remained and West told Murphy, and Newbridge College scrum-half James Ferris, that they would be better off playing adult rugby with Naas than competing in the U20 McCorry Cup.
Advertisement
"He explained that we played against all these guys in school for the last five years and what was the point doing it again for another year in a different system?
"To be fair, he was just trying to get myself and Jimmy to play for Naas but he sold it well. My brother Ross was the captain that year and Naas had a great pack. They had guys like Richard Caulfield, Ray Lawlor, Mark Cuddihy, Mick Dempsey and David Nevin. All these player could have had deals in the AIL."
Murphy quickly learned that it wasn't just a case of arriving down and assuming the out-half's position. That jersey belonged to a rangy Englishman with a black mop of hair and a great pair of hands.
"When I rocked up to Naas, John Corbett was playing 10," Murphy says. Westie told me: 'Geordie, you are going to play full-back.'
"I said I didn't know how to play full-back and he told me not to worry: 'You are going to enjoy it there.'
"I wasn't sold to it at all, but I could see that John Corbett was a very good 10. He threw the ball around. He was ahead of his time and a bit of an entertainer in Junior Rugby in Ireland then.
"I was quick, but my first impression of full-back was you didn't get the ball much. When you did though, there was loads of room and I started to love it."
Advertisement
On his League debut Murphy ran Seapoint ragged. He proved a game-breaker and a play-maker with searing pace. He was "skinny as hell" but he proved durable through the season too.
Naas narrowly missed out on promotion to the AIL that year but Murphy's horizons continued to broaden.
"By the middle of the summer I was thinking about my repeats in Waterford," he says. "And Westie calls me to tell me he has got myself and Jimmy a three-week trial with Leicester.
"I had played for the Ireland U19s in the World Cup in Argentina that summer, but my first thought was this is a top pro-rugby club and I'm not at that level."
Kevin West helped organise the passage and Dave and Hillary Johnson provided the accommodation in Leicester. Geordan couldn't believe it either … Martin Johnson's parents!
"I didn't know who it was at first," he smiles. "I mean how many people in England are called Johnson? It's like Murphy in Ireland. But when I got into the house, I saw all these rugby shirts on the wall and pictures of Martin, Will and Andrew.
"Dave Johnson was showing myself and Jimmy around the house, saying: 'This is Martin's old room and this one here is Will's and our jaws were on the floor.
Advertisement
Training started the next morning and Murphy says he performed "reasonably well" in a trial match at the end of week one.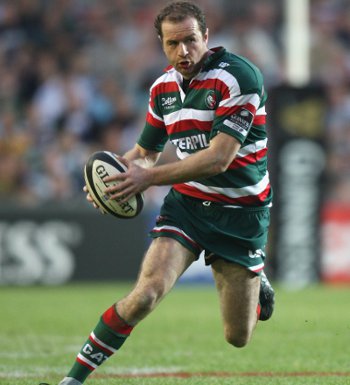 By the end of week two he was asked to play for the seconds and when he saw the teamsheet, his jaw dropped again.
"There were full internationals on it," he says wide eyed.
"Dean Richards, John Wells, Dorian West and guys who were coming up through the England U21s … it felt like a huge step up."
The 19-year-old Murphy proved himself to be sure, as well as fleet-footed, even if he felt the steps both he and Ferris had taken weren't big enough to win a contract.
"I never thought I'd be staying here," he says waving his arm at the canteen of the Oval.
Advertisement
"Westie said it would be three weeks. He said we'd learn a lot from it. I don't think he even thought we'd end up staying."
"I remember the day before we were leaving, we had a night out with the academy lads as a kind of goodbye. But Mrs Johnson had told us the coaches had been impressed.
"Mrs Johnson brought us in to see Bob Dwyer the day we were leaving and he ended up offering us student contracts – looking back, Hillary Johnson was our first agent."
Murphy was made up. He had secured a three-year deal from his three week sojourn and returned to Naas and participated in summer training and already his skills had improved considerably.
He remembers nothing but good feeling from his teammates – there would be a part of Naas RFC in Leicester.
Murphy believes if he went somewhere like Blackrock he might still be playing out-half, or worse, he might have faded out of rugby.
So Naas and Kevin West – "I still get a text from him before big games" – remains an important staging post.
Advertisement
In the past he has worn the club's socks when lining out for the Barbarians and some of his old teammates were in the stands in 1999, the day Leicester secured the league against main rivals Bath. It was Murphy's first Premiership title as a regular.
"The whole squad was over," he says. "About 25 of them, Johnny Sheen, Damien Ward, all in the terrace with Naas flags. I got an intercept try and the place went wild. The camera panned to the lads and they were going mad in the terrace. Stuart Barnes mentioned them on Sky Sports and I was going around the pitch afterwards with the club flag."
When Murphy and Ferris returned to Leicester that first summer, they rented a room from hooker Richard Cockerill who would make his debut for England versus the All Blacks that November.
And before long, Martin Johnson was calling over to make sure everything was okay.
"Looking back, I'm sure Hillary was telling him to call around and say hello to us," he says. "She used to tell us: 'Martin will be around tomorrow' and because of that, he was one of the first people I knew at the club.
"We wouldn't have been hanging out with him, but he was always very good to me and I learnt so much from him as a player. He always made the right decisions during games and as a young player you'd find him talking you around the pitch."
****
Advertisement
Fast forward through 15 years, two European Cups and Murphy has graduated to that same steering role. But he'd never try and fill Johnson's boots:
"I'm a pretty laid back captain," he says. "I like a joke and a laugh. Johnno was serious and a forward who led by example. I learnt so much from him, but I wouldn't compare myself to him. No. But you do learn something from different styles."
Perhaps the greatest comparison between the two players now is the years of service and the commitment given to the Tigers and rugby – it's a Leicester thing.
"Through my career there have always been offers of better money elsewhere. But I won European Cups here in 2001 and 2002. I remember at one point I was close to being eligible to play for England and if I hadn't have been capped by Ireland then. Would I have said yes to England? I don't know. I've just always felt that at the end of the day you have to be happy with what you have got. I have been here a long time and I still want to play and be a part of it.
"Last year I got a bad injury and it kept me out for half a season. A lot of people thought I should hang up the boots, but I was the opposite of that. I couldn't wait to get back.
"To play in front of the home crowd in Welford Road is something I would never tire of. When that stadium gets going it's one of the best in the world."
And if there is a sense the full-back found his place in it a long time ago, then Murphy confirms the suspicion.
Advertisement
"There's a saying that wherever your parents live will always be home and I still feel that way," he says. "But I also feel a huge loyalty to Leicester. People have treated me very well here. It has always been that way."