LAST weekend proved to be a significant day at Tynecastle when Fraser Forster achieved a 13th consecutive clean sheet.
In doing so he passed Bobby Clark's Scottish league shut-out record of 1,115 minutes without conceding a goal, set in 1971 while at Aberdeen.
The Celtic keeper, who is hoping for an England World Cup call-up, played down the achievement after the 2-0 victory over Hearts.
"To be honest I have not given it that much thought. It has just been ticking along nicely in the background, but it is something we are very proud of as a club, a team, and a coaching staff. Massive credit needs to go to Stevie Woods (Celtic's goalkeeping coach).
"Me and Woodsy sat down at the start of the season with our goals for the season and where we wanted to get to, but this wasn't one of them.
"It has been a real bonus. It is something that will be nice to look back at. It is one of those where you just want to do the best that you can."
Similarly Neil Lennon couldn't disguise his pride in the player, saying: "I'm delighted, I sit here a very proud manager.
"We've just broke a long-standing record and it's a long standing record for a reason. It's a great feather in the cap for the players and the club and obviously we maintain our unbeaten record in the league too."
Former Celtic and Ireland keeper Pat Bonner also backed Forster for an England call-up after criticism about the quality of the Scottish league from former England No. 1 Peter Shilton.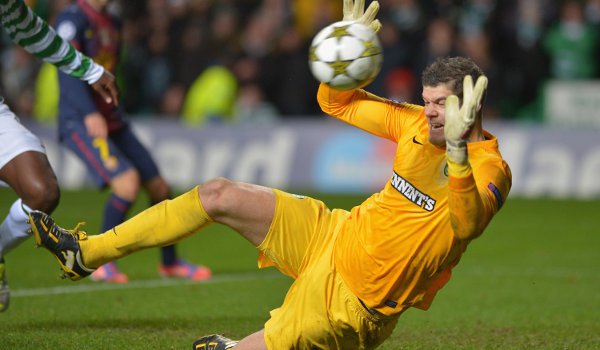 Bonner said: "There is no reason he should not be picked in that England squad to go to the World Cup.
"He's as good as any of the other goalkeepers available."
England manager Roy Hodgson still seems reluctant to back Forster and would prefer to see him playing south of the border.
Martin O'Neill added to the wider debate when — suggesting the possibility of the Hoops playing in another league — he said: "Celtic as a football club, would be better eventually plying their trade elsewhere.
"Without Rangers in the division, Celtic have no competition. They could lose eight games and still win the title by a distance. No competitive element lessens the SPL.
"I can't see them joining the Premier League in my lifetime but there is talk of some [kind of] European league, so that might be a way of the team moving on."
While speculation continues over Lennon's future, he was frank about his ambition to see both himself and Celtic in England.
"The ideal scenario for me would be to manage Celtic in the Premier League but whether that will ever happen or not I don't know," said the manager.
"Maybe one day it will happen, but at the minute we are content to keep going as we are."
Elsewhere Leigh Griffiths hit the headlines for good reasons when finding the net for the first goal in a 2-0 victory over Hearts. There was some added incentive for the Hibs supporter scoring at Tynecastle, which was evident as he celebrated in front the home support.
Lennon believes it was a vision of things to come, saying: "It's a big step up in his career and you saw the relief and what it meant to him to get the goal.
"We are hoping there's plenty more to come from him.
"He has that accuracy with both feet, he hits the ball with great control and hits it so hard, it's difficult for keepers to get down that quickly.
"He seems to find the corner of the net with great regularity. His goal scoring record is very good, and that's the reason we brought him in."
Finally, there's a Celtic twist to the Euro qualifiers as ex-Celtic managers O'Neill and Gordon Strachan will face each other when representing Ireland and Scotland. O'Neill said: "They will be great occasions, I hope. And I'm sure he's (Strachan) looking forward to it. I'm sure he'll be as excited as I am myself."