SLEEVES rolled up, muddied Hoops, white socks around the ankles and wild red unkempt hair.
This is just one image we have of the inimitable Jimmy Johnstone. He was named Celtic's greatest ever player in 2002 by fans and it's unlikely anyone will supersede that honour.
Nicky Allt, writer of Celtic The Musical and One Night In Istanbul, explained how Johnstone drew him to the Celtic story as a boy in Liverpool. "Jimmy was such a world class footballer. When I was young Celtic had European credibility that was greater than Liverpool; he was small with red hair and would beat people again and again, he was an entertainer who stood out. He's the kind of player the game is crying out for now."
I enjoyed a memorable interview with the Celtic hero in 2004, two years before his death on March 13, 2006.
On the road from Uddingston station to his house there was a sense of Jimmy's standing among the people in his hometown. After hailing a cab to this mythical man's dwelling place the taxi driver went into raptures about seeing the player in his prime and enthused that he was one of a kind.
Naturally I took him to be a Celtic supporter but perhaps shouldn't have been surprised to discover that he had been observing Johnstone as an opposition fan of another team.
Jimmy exuded warmth and was quick to share a laugh. But he was also reflective, talking about his faith and remained positive when discussing the illness he was suffering from – motor neurone disease.
He said: "I think everything that has happened to me has been God-given from my success with Celtic to my illness today. I think that part of my purpose in life is to raise awareness for this illness and who more than me can do that?"
It's often said that when Sir Alex Ferguson quizzed Jock Stein about key masterstrokes, tactics and decisions during his Celtic years, the Big Man's habit was to shift the focus from his own abilities while downplaying Ferguson's analysis; the spotlight was always turned on his players.
Similarly, Jimmy remained modest about his achievements with Celtic. There were two moments that were particularly memorable, when asking about his time as as player at Dundee, the atmosphere in the room literally sank.
"My heart was never in it," he offered. "I only ever wanted to play for Celtic."
You've never believed that statement more. The other instance concerned events which took place as the afternoon melted into the early evening – 25th May 1967.
"I can still smell it yet; I can see it… feel it." His eyes sparked up again, for a second or two at the very least, he was back there.
"Lisbon was strange; we knew we were going to play a team that had won two World Championships. I still look at the tape and I can't believe the amount of chances we made. We started the game at a fair pace and they were waiting on us collapsing but we just kept going at them. People forget it was over 80 degrees on that pitch."
I could hear Jimmy's voice utter these words again when I visited the Estádio Nacional in the summer of 2011, going on something of a personal pilgrimage.
Today Celtic players feel less knowable; they are not accessible in the way that yesterday's heroes were. Even to utter the name "Jinky" summons great humanity balanced with what my granny used to call "devilment".
Jimmy Johnstone was also a ground-breaking player in a team that changed European football forever. He had undeniable conviction and as Billy McNeill has suggested it's often overlooked how strong Jimmy was; he suffered endless brutal assaults on the pitch.
His response was not to capitalise on it but to get back up and attack – and then do it again and again until that beautiful, wondrous, exquisite moment of breakthrough. The relationship with Jock Stein is often described as father and son; there was frustrations but ultimately their rapport has produced more shoulder-heaving laugh-out-loud moments than any other in the Celtic story.
You would need to have been in the position to sample it. It was a family back then and Big Jock was very much like the father figure. He was held in complete respect and we all looked at him in awe – if he gave you a hug, then it meant something. It worked both ways because he knew how to get the best out of us, he was a motivator and he didn't just talk to us about football. He would ask how things were at home and how our family life was. Jock used to hunt us to go home at night because we didn't want to leave the ground after training; we were having such a laugh. There was always a carry on, be it nailing someone's shoes to the floor after a game or telling the waiter in a restaurant that Mr Stein ordered a certain player to avoid chips and then watching that player's face when he found out – there was a million different things going on.

Jimmy Johnstone
Not long after hearing of Jimmy's passing in 2006 I arrived in New York for the city's 246th St Patrick's Day Parade. It was exactly two years after that interview, he was just 61 years old.
On my way to meet a gathering of New York's Celtic supporters' clubs I watched the clans march down 44th Street being led by Hilary Clinton, but the most memorable moment of the trip was a one-minute silence outside St Patrick's Cathedral for Jimmy Johnstone.
For the League Cup final I headed to The Parlour bar, the home of New York's Celtic supporters on the Upper West Side. There were further emotional scenes being screened of Jimmy being laid to rest on his final journey through Paradise.
After a trip to Celtic's former training ground Barrowfield, I told my son Ryan stories of the legends, including Jinky, that had played at our destination. After a good kick-about we headed to Celtic Park.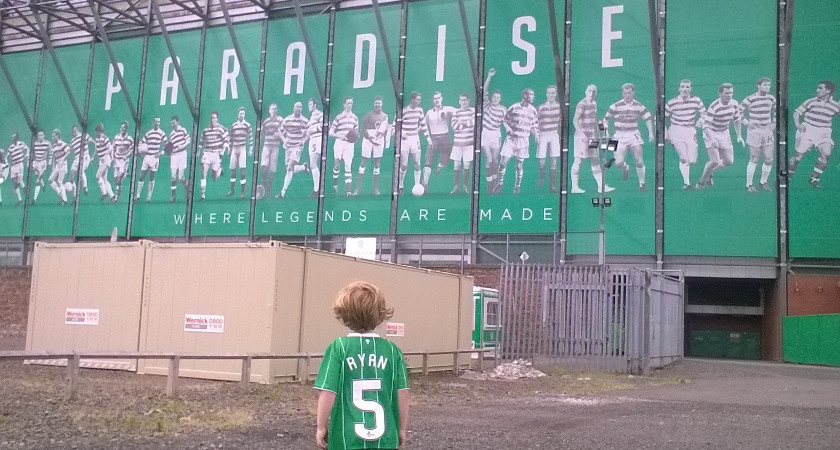 Ryan stood and looked in wonder at the stadium banner – 'Paradise: Where Legends Are Made'. On reaching Jimmy's statue I realised that the wee man had completed his first Celtic pilgrimage.