IT'S 1986 and Manchester United are flying back from a trip to Bahrain.
Alex Ferguson has recently succeeded Ron Atkinson as manager and the club is on the cusp of major change.
This is the United of Bryan Robson, Paul McGrath, Frank Stapleton and Kevin Moran and there's another Irish international on the plane.
He's a product of the Cambridge Boys club in Dublin; a midfielder who graduated from the football university that is Stella Maris to win three League of Ireland titles with Shamrock Rovers, before leaving for England.
To his then Irish team-mates, Liam O'Brien was the part-timer unexpectedly called into Jack Charlton's Ireland squad for a midfield role against Uruguay in a 1986 friendly.
Now, months later, he's at the club of Busby, Best, Charlton and Law.
So with the plane engines humming, Alex Ferguson turns and calls to O'Brien, who crosses to sit beside his manager. Ferguson is working out his starting XI for Saturday's game at home to Leicester City.
He tells O'Brien that he's fast-tracking him from the reserves; that he'll debut in front of a packed Old Trafford and to ready himself.
It was to be the first of 36 appearances for the Dubliner at United; the start of a professional career that would take him from one of the world's biggest clubs, to Newcastle Utd, Tranmere Rovers, Cork City, Bohemians and later to another life working on his Pro licence and living in Co. Kildare.
Back then he knew Alex Ferguson from his achievements at Aberdeen. What O'Brien didn't know was that Ferguson wanted to bring him to Aberdeen.
The Dubliner remembers the anxiety that followed Ron Atkinson's exit out of Old Trafford because it was Atkinson who had brought him from Shamrock Rovers, and he wondered what might happen now Big Ron was gone.
"The first thing you say to yourself as a player when a new manager comes in is 'I hope he likes me or 'I hope he fancies me as a player,' he says. "But he came to me and he said: 'Liam, I tried to sign you when I was the manager of Aberdeen!'
"I had signed in the October and he came in the November. I was doing quite well in the reserve team, scored a few goals, got a few good performances and I made my debut in December.
"I thought it would be longer before I'd get a sniff at the first team with full-time football and stuff so I was elated.
"I've so many memories of the place. Making my debut was fantastic because as a young boy growing up in Dublin, it was Manchester United, Liverpool, or even Leeds in the '70s. I aspired to play for and to make my debut for Manchester United at their home ground."
CAREER PATH
IT'S Wednesday morning in Maynooth, Co. Kildare and Liam O'Brien is in good form talking about work on his professional coaching licence.
For much of the last 16 years he's been based 11 miles away in the small village of Kill outside Naas.
He returned from England to play and coach in the League of Ireland where he returned four trophies as part of the Bohemians backroom team. "Then I went to Hibernian in 2010 [where he was assistant to Pat Fenlon before being appointed first team coach for 2012-13] and came home two years later."
To United anoraks, O'Brien is Atkinson's last signing before Alex Ferguson took over the Red Devils. His name is still sung on the terraces of St James Park where the Newcastle faithful recall his never to be forgotten winning strike against bitter rivals Sunderland in 1992.
And to Irish fans of a certain generation he's the committed professional who was on the periphery of great Ireland teams through some of the country's greatest days.
Liam O'Brien grew up in Ringsend, "a stones throw from Lansdowne Road". He says the old stadium dominated the skyline of his youth and dreams of playing for a big club in England filled his horizon.
But somewhat untypically his graduation to international footballer came via the League of Ireland.
"There was always good coaching, good people with good knowledge of the game," he says. "I was lucky enough to play under good managers at Bohemians and Shamrock Rovers and I got my first cap when I was playing for Shamrock Rovers.
"Jack Charlton had come in as the new manager of the Republic. They played Wales in a friendly and the next game was Uruguay. I was getting great exposure with the press and I don't know whether Jack was under pressure but to get his foot in the door or to make people happy but he picked a few League of Ireland players to be involved in that squad.
"That was the start of it for me. Players like Ruben Paz were playing and Uruguay we're on their way to the World Cup in Mexico. That more or less just kicked me on after that."
GREATEST NIGHT
We are the boys in green,
the best you've ever seen,
we just made history,
we're off to Germany,
you've had to wait til now
Big Jack has showed us how,
you'll wonder where you've been,
when you see the Boys in Green.
IT'S June 1988 in Stuttgart, Germany.
Ireland's greatest ever victory over England is only hours old, and players and supporters are singing in one joyous voice from the bar of the team hotel.
Jack Charlton has granted the players yet another curfew extension and the party has the legs to steam through to breakfast.
"By early morning we were saying 'we better go to bed, we've training in a few hours,'" laughs O'Brien. "It was fantastic."
During quieter moments in north Kildare, it is these moments that dominate his Euro '88 memory bank above all others.
"The thing for me was the Irish fans," he says. "The amount of people, I couldn't believe. It was the first major championships and everywhere you went was just full of Irish.
"The fun they had... the fun we had!"
"Even after the England game, fans going back to the hotel. You wouldn't hear about it these days. But the fans would be there and we'd be mingling with them, having a few drinks with them. I remember Jack put a curfew on us and when the curfew would come around, we'd be saying 'just another hour Jack, another hour?'"
O'Brien loved every minute of his 16 international caps; all the hours he sat on the Ireland bench; all the days and years he was selected as one of the privileged few to represent his country through a magical era.
"I was involved in that squad for ten years on and off and to be picked in a squad of 22, 24, 20 players; to be picked in that squad was an absolute honour for me. I knew I was up against top players and I knew I wasn't going to be getting a game most of the time, that I'd be on the bench. We had fantastic footballers who played for top clubs. The likes of Manchester United, the likes of Arsenal, the likes of Liverpool. It was very hard for me to get in there because they were all top established international players. But it was an honour to be there."
Yet he doesn't deny that some penance was attached to the privilege.
"Ah yeah, I wanted to play football," he says. "I was a midfielder, a football man. I wanted to get on the ball, pass the ball and Jack knew that as well. He knew that if he put me in there I probably couldn't do what he wanted me to do. There were times [in training] that if I went back to the back four looking for the ball, Jack would be screaming 'don't be looking for it, get the ball forward, support the front men.'
"That would be all he'd want. People knew that was Jack's style, but we got success from it."
THESE DAYS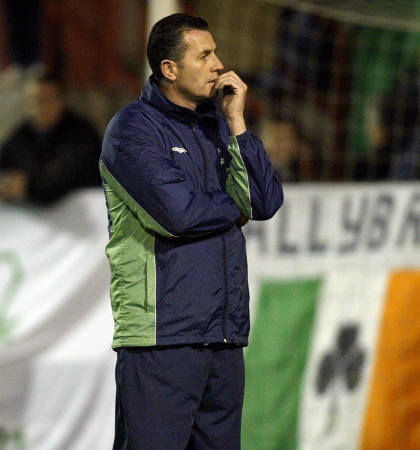 IT'S a weekday, a working day, and living in Kildare can feel like another life for O'Brien.
He decided to settle there after returning from England, a transition he says he found extremely difficult. "Because I knew the life I'd just left behind," he says.
He has worked with and played under some of the seminal managers in football and through some of the seminal years in Irish sport.
He says he was struck by the determination of Alex Ferguson as he watched him bend Manchester United to his will. "He had to break up some of the players who were out drinking but to be fair to the lads they drank at the right times!"
That the passion which rolled from the terraces in St James Park was something he couldn't close the front door on after the final whistle blew on Saturday evening.
"You'd walk into the centre of Newcastle and most people were wearing the Newcastle jersey."
That he was first on the plane for every Ireland squad and his 16 caps were speckled across a stop-start 10-year career with his last appearance coming against Macedonia in 1996, and that Bryan Robson – his one time midfield partner – is the player he rates above all others he played with.
He achieved in management in the League of Ireland in the years after he returned and has a CV that suggests he'll achieve again when another opportunity in football lands upon his road.
"Someone said to me you had a good run at it and, look, I played at a time when we had a good living but you knew you were going to have to work again," he says.
"An awful lot of players I played with in my career are doing nothing now and that's the other side of football. We don't all get top jobs. We don't all get jobs that are £40K or £50K a week like they do now."
So he wanders into conversation about the Irish football writers awards taking place in Dublin later that week, of his enthusiasm to attend, to be involved; and hopefully make good on that experience with the FAI; hopefully one day winning some coaching caps with the Boys In Green.