Good things come to those who wait.
As Kurt Kitayama broke through with his first PGA Tour win at the Arnold Palmer Invitational, World No. 3 Rory McIlroy wore a smile looking on from the sidelines.
The Holywood man had waited for nearly half an hour to learn his fate after his 12 foot birdie putt on the 18th hole grazed the hole to miss on the low side. Despite a finishing 70 for eight-under-par, it wasn't enough as he was left to rue on what might have been after a dramatic final round saw the Northern Irishman finish tied second at the Bay Hill Club & Lodge in Orlando last week.
To miss out on the title by one shot was a feeling Kitayama knew only too well.
After being beaten by Jon Rahm in Mexico, Xander Schauffele in the Scottish Open and by McIlroy in the CJ Cup in South Carolina last year - all by one shot, the 30-year-old American finally had his moment in the sun with a red cardigan sweater to show for it.
It wasn't without adversity though. A triple bogey on the ninth hole after finding a bunker squandered his two-shot lead but pulled ahead with a birdie putt on the par-3 17th hole for the lead. He eventually made a par on the last hole to finish with an even-par 72 for nine-under.
"I've been dreaming of this for a while," he said after bagging $3.6 million. "I've been close and to finally get it done feels amazing."
For McIlroy, who shared the same aggregate as Harris English, the turning point came at the 14th hole after an error in judgement and a glance at the leaderboard caused him to make back-to-back bogeys.
"Bad start, really good middle and not a bad finish," he assessed the final round when he mixed five bogeys and seven birdies.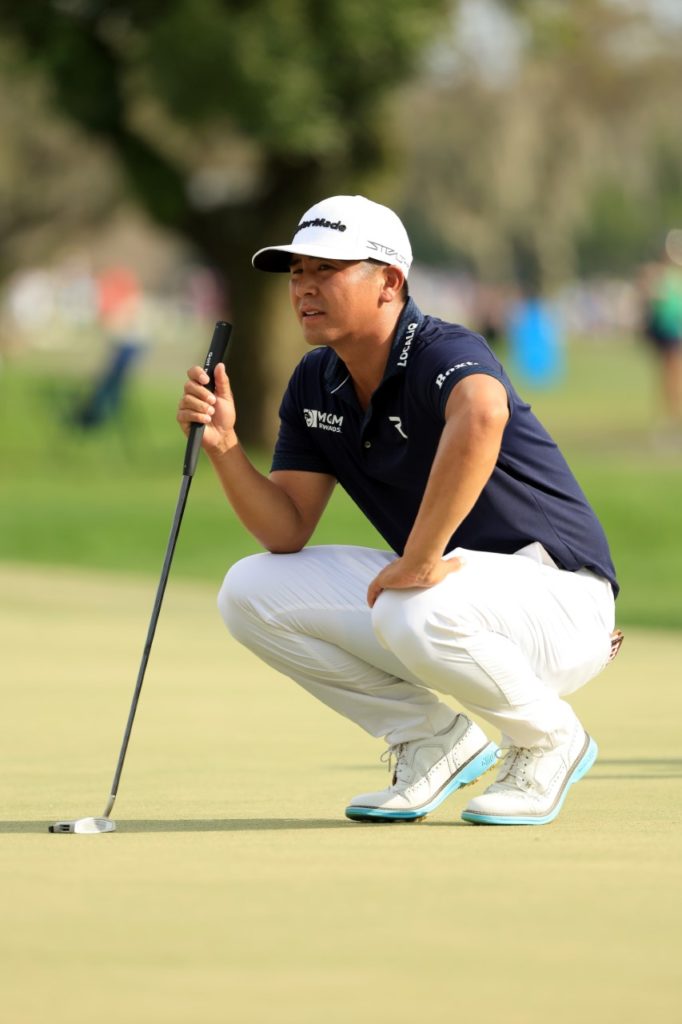 "If I look back, the one thing I will rue is the tee shot on 14th. I birdied 13th and when I got on the 14th tee, I honestly thought I was one or two behind the lead. I was walking to the 14th green and I looked behind at the scoreboard to see I was leading by one. If I hadn't known that I wouldn't have played the shot I played, which was unfortunate."
He roared back into the contention with four birdies but missed out narrowly by one shot. A win would have seen him reclaim his World No. 1 ranking.
"I still wish I could have had a couple of shots back today but, I guess, everyone would say the same thing. It's one of those days and one of those courses where you are going to rue missed opportunities and a couple of missed putts here and there but it was a good week. I saw some positive signs. Game's rounding into form for the bulk of the season."
It was a particularly encouraging week after a T-29 at the Genesis Invitational and T-32 at the WM Phoenix Open last month where he also lost his World No. 1 ranking. McIlroy hopes to carry the momentum into this week's Players Championship at TPC Sawgrass.
"It's getting better," McIlroy said when asked about the improvements in his game. "I feel like I figured out the driver a little bit more this week. Yeah, it's getting there. I think there are still a couple little things to tidy up and try to get more comfortable with. But, yeah, I mean with Players, Match Play, and then the Masters, so two tournaments between now and then and plenty of time to feel a bit more comfortable with where everything is."
Deep into the final round, as many as five players were tied for the lead, including McIlroy, to set up a thrilling finish. American Jordan Spieth briefly held the lead but produced four bogeys when it mattered the most to card a 70 and finish on seven under. Viktor Hovland putted into the water on the 16th and defending champion Scottie Scheffler and Tyrrell Hatton scuppered their advantage too to finish tied-4th.
"I certainly felt it on the golf course, so I'm sure it was pretty good to watch," McIlroy said. "It's hard because the lead was changing hands with guys making bogeys, not really making birdies.
"But it was a great back nine. It was great to be involved with," he said. "I'm really happy for Kurt. He's been playing well for a while now and I'm happy to see him get his first win."
As for the other three Irishmen, Pádraig Harrington finished with a two-over-par for tied-53rd while Shane Lowry bowed out with a five-over-par. Séamus Power had the most disappointing finish with a twelve-over-par languishing at the bottom after being seven shots off the lead heading into the second round.
"I'm still trying to figure out Bay Hill," Lowry, who carded an 80 in the third round, tweeted.
All four Irish players will be in action at the PGA Tour's $25 million Players Championship which runs March 9-12.