IN 1982, seven brothers were inducted into the Irish Sports Hall of Fame, the only family ever to receive that honour.
The Casey brothers, from Sneem in Co. Kerry, starred as Olympic-class oarsmen, Tug-of-War champions, professional wrestlers and boxers who won fame throughout the sporting world during the 1930s.
Note the term 'Olympic-class oarsmen', for these fine athletes were denied the right to compete in the 1936 Olympics in Berlin when at the height of their incredible powers.
Much has been made of the number of professionals who are allowed to compete at the Games this year, but, back when sport was yet to become overrun by capitalism, anyone who had made money from competing was automatically ineligible to compete at the Olympics.
No one told the Casey brothers that, though. Tom, Mick, Steve and Paddy Casey had each qualified for the 1936 Games with a clear conscience after winning the All-England Rowing Championships with London's Ace Rowing Club during their time together in England's capital.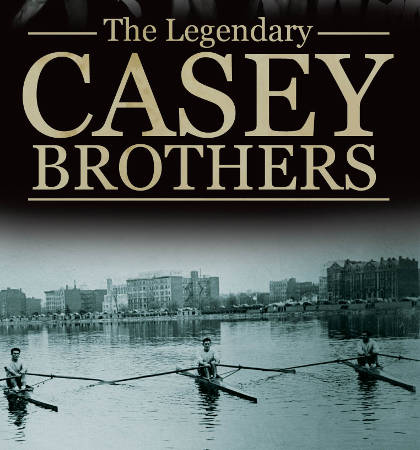 It was a sickening shock to the system when the authorities came knocking. As it transpired, someone alerted the powers that be of Steve and Paddy's professional background in wrestling.
The pair had been across Europe and beaten all before them as amateurs in 1935, but earlier in 1936 they had both received payment to compete, thereby disqualifying them from the Olympics.
That meant their rowing club was disqualified altogether too, with their beaten opponents in the All-England Rowing Championships advancing to Berlin at their expense.
Incidentally, despite Ace Rowing Club being a predominantly Irish team, the Caseys would have had to represent Great Britain at the Games as they had qualified with an English club.
Perhaps it was a blessing in disguise, one might argue, but with so many Irish having represented Team GB whilst under British rule before them, it may not have been deemed all that controversial at the time.
There has never been any doubt in the minds of any of the Casey brothers what the result would have been had they been allowed to compete; they would have won all six rowing events – single scull, double scull, two-oar sweeps, four-oar sweeps, quads and eight-oar sweeps – a feat not yet achieved in Olympic history.
In 1983 at a family reunion in Sneem, five of the brothers – all in their seventies – climbed into the four-oar boat they used to win championships in the 1930s. Although they had not rowed together in fifty years, they still moved with their former natural unity.
Sports people from Kerry have achieved fame in many fields, but the success of the Caseys rivals any, despite their Olympic heartache.