PRE-SEASON at London Irish and it feels strange that we're not in Sunbury. The old ground awaits the bulldozer and the wrecking ball where once muscle and bone collided.
Now the collisions are happening down the road at Hazelwood, Irish's box-fresh new home.
We're down at the end of the first pitch, just behind the in-goal area marveling at the ferocity of hits taking place in a bruising scrummaging session and also wondering whether the groundsman is quite as exited about it all.
His surface looks like an Augusta fairway, save for the few square metres at the fringe where this destruction is happening.
At the front line as the packs crouch and wallop over and again is new signing Tom Court. We're here to chat with him, wondering, as we always do with professional sportsmen, if it will have been worth the trip and the time. In the age of media training and presentation over substance, an honest interviewee is becoming hard to find.
Thankfully, Court is that rare thing: engaging not evasive.
A little later he pads into the canteen in his bare feet, still in his training gear but wearing specs and an open, friendly expression at odds with the furrowed intensity of his game face.
Who is Tom Court? Well, to the casual fan he is the loosehead who found himself in a horrendously tight spot against England at Twickenham in 2012, the out-of-position man who shouldered most of the blame for Ireland's most miserable day this side of 2007.
To the more informed supporter he's a stand-up guy, second generation Irish via Queensland Australia, a shot-putter who only started playing rugby seriously aged 24, found his way to Ulster where he stayed for eight years, chalking up 150-plus appearances, forcing himself into Ireland reckoning, then forcing himself into the Lions party with his post-Twickenham form.
Talk to Ulster fans and you will seldom hear a cross word. He never let us down. Gives everything. A pure competitor.
To Exiles fans he is the biggest arrival this summer, so far at least. Perhaps he is not the A-lister some crave but the more you think about it, the more you see that this player and this club could be right for each other. Both have the fresh start of a new base, and both have much to gain.
For Court and his family, there is London life, settling into nearby Teddington. On the pitch, he arrives in a hardcore scrummaging league, eager to show that he can boss things week after week against the best of the bosh merchants.
London Irish can benefit from his winning mentality. As a senior player, it comes down to Court and his peers to instil a winning habit at Irish, something that hasn't been present in recent years.
The last time the club won more Premiership games than they lost was 2009/10. Last season they lost twice as many games as they won in the League.
Court was a key member of a team that was scrapping it out at the top end of the Heineken Cup, making the final in 2012 and, quite possibly, one contentious call from advancing to glory last season.
Court was at Ulster when they were a long way from such elite status and climbed every step with the club. Now he wants to do the same with Irish. Here he talks to us about his ambition, his disgust for losing, that day in Twickenham, recovering from adversary, his Ireland ambitions… and Garth Brooks.
When did you decide to come to London Irish?
We chatted with Brian [Smith] and Glenn [Delaney] early on last season about the possibility. Being at Ulster for so long I said, 'We'll let them have a say in the matter and see if they're interested in me staying'. As the season progressed and I talked more to Brian and Bob [Casey], more and more it seemed like too good an offer to refuse.
The opportunity to come over here, with them building a new facility, new players coming in, new coaches – it just felt like a great time to get involved ... Everything's been so good since we moved here, you just stop and wonder whether it was just meant to be.
It must have been hard to leave Ulster…
It was, it was. I was there for eight seasons, we'd done a lot there, unfortunately, never won anything. A lot of my great friends, lifelong friends, are there. It was really tough. I got married in Belfast. My kids were born in Belfast. We'd lived there so long, I didn't really remember what it was like to live outside of Northern Ireland.
But you could just feel change was coming at Ulster, after chatting to Brian and Bob and the opportunity here it just became a no-brainer the longer I thought about it.
Why was that?
A big point for me to come in and try and help out as a senior player, help to build something here. I came in at Ulster when I'd only been playing rugby about 18 months and I worked and worked for years to learn how to play really, and get into the first team.
It was always a bit of a slog I guess, being from outside of Northern Ireland, outside of Ireland, but being Irish, but you're almost a bit in purgatory there where you're not a local, you're not a big name, not a big earner, a foreigner, so… I felt it got to the point where I was old enough, had enough experience to probably offer something more.
The plans at London Irish are not only optimistic, they really want to push themselves right back up to where they were. I think they're building a foundation to do that. To come in and help them get back to where they should be was a big thing for me.
Obviously you can't deny the fact that at my age to get offered a three-year contract was a massive point.
Did Ulster have an offer on the table?
There was chat, they said they wanted to keep me. They were probably only talking two years but it seems to be all a fairly slow process over there. Once you talk to the director of rugby say, then it has to go back through the Board at Ulster, then the Board of the IRFU. Nothing ever happens very quickly.
I just felt sometimes maybe you're taken for granted a little bit. I played pretty much every game for Ulster for the last five, six years, other than ones I missed through being away at Irish camp so… I clocked up 150 games there just before I finished up.
I'd played a lot of games for a long time. It was just one of those things where I needed a fresh start… Once you get past 30 you start worrying about how long it's going to last. The opportunity was here for a fresh start, to reinvigorate things a bit.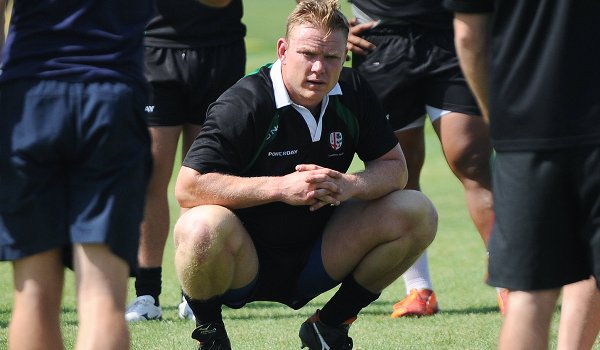 Did you feel more wanted here?
Yeah. Yeah, I guess that's one way to put it. I guess the problem with contract negotiations that I'd experienced with Ulster was that they're always going to talk it down. Obviously they want to keep you but do it as economically as they can.
It's one of those things, they've had a lot of world class players for a long time and it's hard to keep everyone at the top of the list. Obviously they have priorities with playmakers and current internationals.
You started playing late, does that mean you can keep playing longer?
I'd like to think so. I'm feeling a lot fresher now than I have been for 12 to 18 months.
What's that down to?
It could be the mental side of things, the fresh start, or it's the training. It's focused here more on short, intense hits — try and replicate the way rugby is rather than longer fitness sessions.
The scrum session out there looked fairly intense.
Yeah, it's always going to be. It's mano-a-mano I guess, a chance for guys to get stuck in and exert themselves.
How important is the mental side of the game?
I think it's the most important part. All the teams are out training, everyone is working hard, doing their fitness, their skills, the technical side, everyone is there or thereabouts… but teams have to get into that habit of winning, being in the mental state that it doesn't matter if you are one or two tries down, you will still win the game.
You've seen Munster and Leinster doing that for years. In recent years Ulster have got a lot better at it.
How do you go about establishing that winning culture at a club? 
Last year at Ulster, even a few of the games we won, you would have thought we lost the way the changing room was. You need to set the bar high enough so that boys can't be happy with a scrappy win. You need to be always trying to improve and then you get a couple of times a season when you say, 'That was the perfect performance, the complete performance'. It is fairly rare, but that's what you've got to aspire to. If you set the bar where you're happy enough with a scrappy win or a losing bonus point then you need to reset your goals. Or you probably shouldn't be here.
How do you react to defeat?
I hate losing. I always have. Some boys are gracious and friendly afterwards but I'm always fairly miserable after we lose. Even if we win and the scrum doesn't go perfectly or you have a bit of an off game then I'm pretty annoyed and pissed off with myself. You see sometimes boys laughing and joking after a loss, that would wind me up. If you're happy enough losing then you're not the right sort of person to be here and I wouldn't be happy with them in my team.
I've read before that you are motivated by proving people wrong, is that true?
It's been a driving force for me, the cliché of a chip on the shoulder. It's more for me rather than anybody else. I don't really care what other people think. But, saying that, it's also nice to prove other people wrong.
One example of you being written off was after that game in Twickenham, how did that affect you?
It affected me for a good while. You could say you hadn't played tighthead all year, you shouldn't have been in that position or they should have taken you off. Long story short, they were saying 'Do you want to come off?' And I was saying, 'No I don't want to'.
I said in not overly polite terms that I was staying on and whatever happened happened… Playing both sides [of the front row] was what got me into the Irish team to start with so it's hard to sit there and say I shouldn't have been there, that was how I got my first cap.
It's just one of those things where the rulemakers have come to their senses now and realised that it's unrealistic for a guy to be a specialist tighthead and loosehead prop.
You still get guys that do it in the southern hemisphere a bit, Super 15, but you could say the scrums over there aren't as hotly contested… But the way I look at it is, there's nothing that's going to happen to me on a rugby pitch that's worse than that.
How do you pick up the pieces after a game like that?
(Rueful chuckle) Well, Declan Kidney gave me a call and said all the right things, but obviously it didn't really make much difference. We went to Portugal for a few days just to get away and get the head right, but I probably said five or six words to my wife for the whole three or four days.
It's just one of those things where you're really disappointed in yourself for letting the team down rather than what everyone else in the public thinks. The realistic fans know how hard people work and if they know me then they know that I would never purposefully do anything to let the team down…
I've played with a  popped cartilage against France, I've played a Heineken Cup final with a fractured thumb, I'll keep playing regardless of what's happening. I always give 100 per cent. The most painful part was that we got beaten by England and they beat us well, so it was just a renewal phase and trying to get your confidence back.
Saying that, playing loosehead there haven't been too many bad days for a long time. Every now and again there will be penalties or you'll come up against a very good scrum who will push you around a little bit but I've been really happy, the last three or four years have been very consistent for me.
If my form started dropping like that [England game] as a loosehead then you'd have to question yourself but that's yet to happen and I don't plan on letting it happen.
Can you still play for Ireland?
Look, I'd love to play with them tomorrow if I could, I'll always be available for it but it came down to: I got picked in the November squad last year, I was playing fairly well coming into the squad.
I'd heard from a journalist down south that they were going to release that I'd signed with London Irish so I thought it was fitting that I tell Joe [Schmidt] straight up, 'Look this is what's happening, so you don't get surprised by it in a media conference or something'.
I let him know and I think that was pretty much the last nail in the coffin. It's obviously a very competitive position anyway. Guys like Cian Healy, when he's fit, are second to none and you've guys like Jack McGrath coming through, Dave Kilcoyne's been there or thereabouts and there's a couple of young guys doing well.
Somebody at my age, moving to the Premiership… He (Schmidt) is looking to the World Cup. It's hard to argue sometimes to be honest. I'd love to play for Ireland, I'm going to pushing for as long as I can but I think while the situation is the way it is it's probably a done deal.
I knew that when I came here. It'll be nice to focus on London Irish and focus on the family. It's been a long four to five years being away in camps it's six to eight weeks at a time for the Six Nations. November is a month. There are also camps at Christmas, camps in the middle of the year.
That must be hard when you have kids [He has two, five-year-old Maddie and three-year-old Theo].
Extremely hard. The older they get the harder it gets. The camps are so intense, fair play to the guys that can do it. The Paul O'Connells, the Brian O'Driscolls, that's why they are who they are. There's a lot of other guys who probably struggle a bit.
If we spoke again in 12 months' time, what would you regard as a successful first year at London Irish?
Cementing the One jersey. Helping the London Irish scrum to kick on. Getting in the top half so we look at the higher echelons of Europe next year. I think they're all very realistic goals.
Final question: you Tweeted your dismay at the Garth Brooks concerts being cancelled a while back. Are you a fan, or were you joking?
No, I am a fan actually, coming from Australia everyone's got a bit of country hick in them I guess. Me and my wife had tickets to go with a group of friends ... Ah, it's a bit of a schmozzle, so much information out there, you don't know who's side to believe in. Bottom line is obviously it's not happening.
Only in Ireland
Yeah … only in Ireland.