AFTER Paul Coggins' statement confirming his decision to step down as manager of London was read out at September's County Board meeting, a round of applause engulfed the room.
On a night when London GAA created history by affiliating a team representing an Irish regiment of the British Army, Coggins' decision to rule himself out of the running for 2016 almost slipped under the radar.
The Roscommon native would probably have taken comfort from that. A modest, mild-mannered sort of character, Coggins is the type of man who would take exception to a full article being dedicated to his achievements.
He would deem it unnecessary, but, after five of the most successful years in the history of London's senior football panel – three Championship wins and a Connacht final appearance – it is most certainly called for.
Before Coggins' arrival, London had only ever registered one Championship win, and in his first term in charge he almost produced the shock of the season, forcing Mayo to extra-time in a quarter-final tie before marginally succumbing to the dominant Connacht force.
"That was our first season," he told The Irish Post. "I remember we had 50 or 60 players out training in the first night or two in Greenford, so there was a great interest straight away.
"So many people wanted to play for London – that was a huge positive for me and we just progressed from there. But we were getting better towards the end of the league, that was clear to see.
COGGINS' MEMORABLE GAMES:


London 2-10 Mayo 0-19 AET, May 2011
London 0-15 Fermanagh 0-09, June 2011
London 1-12 Sligo 0-14, Mayo 2013
Leitrim 0-13 London 2-07, June 2013
London 2-11 Leitrim 1-13, June 2013
Mayo 5-11 London 0-10, July 2013
"A lot of people were hugely surprised by our performance, but I honestly felt as though we'd give them a really tough game because it was a great bunch of players who worked very hard. It was a great day except for the final result, which was heartbreaking to be honest."
Despite the devastating nature of that 0-19 to 2-10 defeat in Ruislip, the foundations of Coggins' reign were laid, with relieved former Mayo boss James Horan saying "it's only a matter of time before someone gets caught here" after the game. He wasn't wrong.
"We kicked on from that," continued Coggins. "We didn't concede a goal against Mayo, who went on the All-Ireland semi-final that year. So that was the start of it and then we went on to Fermanagh after the Mayo game, and I suppose, because of the way we had played and the confidence it gave us, we played very, very well again.
"That was the first qualifier that London had won [it was also their first GAA Championship win since 1977] and it was a brilliant afternoon in Ruislip. I remember after that match – win, lose or draw – we had a bus organised for a bit of a get together. We had a great night and the players thoroughly deserved it."
A one-point defeat to Leitrim in the Connacht Championship in 2012 failed to stop London's momentum as they re-grouped for the 2013 campaign intent on re-writing the history books.
"The first game of 2013 was Sligo over here in Ruislip," reflects Coggins. "A lot happened in that match – we won by a point, we didn't concede a goal, but we had a man sent off and we missed a penalty.
"Sligo gave us everything they had that day, but we were on top throughout. The thing about that campaign was that, at times, we got a bit of luck, but I'm a firm believer that you'll only get luck if you work ferociously hard for it.
"A team that works ferociously hard ends up getting a bit of luck here and there. It wasn't a fluke season, that was a really great set of hard-working players. I had a strong set of 30 to 35 guys. There were some really good players who didn't make the 26 at times, but they all had that ambition and drive to get into the final squad.
"People like Martin Carroll, who was captain of our team this year. Martin didn't make that 26 and a lesser man may have gotten annoyed or walked away. But what did that man do? He came back and became one of the best players I had last season and led the team.
"They're the type of guys we had in that squad. It was a great team, with a great bench and we even had great back-up to the bench. It was a pity, in a way, that we couldn't build on that and hold it together and even add to it."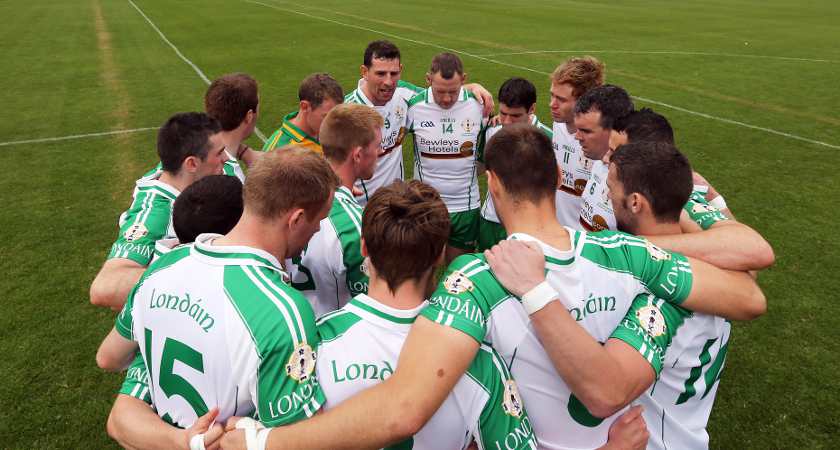 London fended off a late Sligo fightback to knock them out with a 1-12 to 0-14 win, securing their first victory in the Connacht Championship for 36 years, and it set up two almighty battles with Leitrim in the semi-final.
"We went on to Leitrim then in Carrick-on-Shannon and there was a great atmosphere. It was great to see London in the semi-final, and again we gave it everything.
"I felt, on the day, we should have won that first game. We were two points up with a couple of minutes to go, but we went back to the dressing room afterwards and said 'it's only half-time'.
"And so we came back to Dr Hyde Park in my own county a week later and that first-half performance was the finest I've seen from a London side – I think we were 2-10 to 0-02 up by half-time. Leitrim came back into and nearly caught us but we saw it out and made the Connacht final and I suppose the rest is history."
It wasn't all doom and gloom in the final – a 5-11 to 0-10 loss to Mayo – as Coggins chooses to remember the positives, and he still reflects fondly on the sheer volume of supporters who turned out in MacHale Park, where over 21,000 were in attendance.
"What I'll remember most about that day in Castlebar is the reception we got from everybody. The amount of people that were there wishing us well – all the reporters, fans, friends and people who travelled from London – it still gives me goosebumps.
"The attention from the media back home and over here was great for London GAA. We had all sorts turning up. People that had emigrated many years ago, spent some time in London, or who had even played for London many years ago – it was great for them to be able to turn up in Mayo. No one ever forgets their time in London.
"We created four or five goal-scoring opportunities and we also had a good goal ruled out, so it may have been different on the day."
London went on to lose to Cavan in Croke Park in the qualifiers after losing the Connacht final, but Coggins insists there was more to the 2013 season, and indeed his entire time in charge, than results.
"It wasn't just about football, it was about friendship, sticking together and making friends and never forgetting – that's what Gaelic football does for you, it has an impact on the rest of your life."
Although, at a push, Coggins eventually opened up about his time with London, you'll notice the constant references to 'we' and rather than 'I'. For the outgoing manager, the five-year stint was one huge team effort, for which he is eternally grateful.
He concluded: "I want to thank all the players and backroom staff who worked with me. Some have gone back home, some have gone to Australia, but they all know who they are. I'm very thankful for their contribution, it's not all about me."
Perhaps not, but he is without doubt a difficult cog to replace.