Babbacombe's only real brush with fame came in the 19th century with the celebrated incident of the Man They Couldn't Hang.
John "Babbacombe" Lee had been sentenced to death - on fairly flimsy, circumstantial evidence - for the murder of a local. However, at his intended execution, fate lent a hand.
Three times the hangman tried to get JBL to take the long drop, and three times he failed. Apparently the rule back then was three abortive attempts and down you come.
The Devon man had his sentence commuted to life in prison, although he walked free a few years later and dined out on the experience thereafter.
After all that excitement, Babbacombe returned to its former tranquillity, and has more or less stayed that way ever since.
Advertisement
I cogitated on this odd affair while overlooking the rippling water of Babbacombe Bay - and there can be few places better for a spot of musing on life's vicissitudes than the veranda of the Carey Arms.
Perched on the decidedly pretty, red, sandstone crags overlooking Babbacombe Bay, the Carey Arms is a small boutique hotel which has been given a very thorough modern and maritime makeover.
The five star hotel - with eight luxurious rooms all with sea views - was originally an early 19th traditional inn in a long-established holiday area visited by the likes of Queen Victoria and Oscar Wilde (although not together).
A resonance of times past still cloaks the building -you might even imagine a doleful hangman sitting in a corner of the bar trying to cheer himself up here. But everything you could want from a boutique hotel is box-tickable: Italian bed linen, bespoke fabrics, elegant furniture, private balconies, spacious bathrooms filled with Elemis Spa products.
All rooms have 32 inch flat screen TVs, DVD/CD players, LCD stuff - but speaking as someone who's still deciding on whether to upgrade their record player from mono to stereo, some of this technical wizardry is lost on me. All the same, it looks pretty impressive.
If you're interested you can probably downcast a podload from the Cary Arms tweetbook site all about it. Fluffy dressing gowns - that was much more my area, and a carafe of sloe gin for a complimentary nightcap quaffed out on the balcony.
Plus tea-making facilities if you want to let your inner caravanner free. I didn't. I just rang for room service.
Advertisement
Oh and by the way, the hotel is dog-friendly. My spaniel Bernie will shortly be writing a review for his local dog magazine - The Bones of the Matter I think it's called. Not terribly sure what he's going to write, but he seemed well satisfied with the personal bowl and dog bed (in the bedroom) and communal lamppost (outside on the street).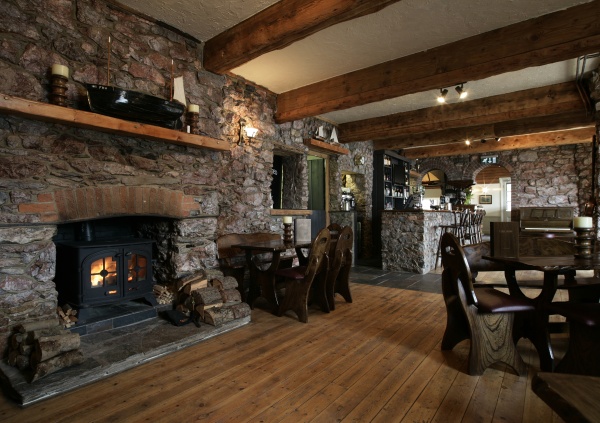 Downstairs, the cosy and creaky Inn on the Beach serves the very best of seaside gastro-pub food and real ales, plus a fine selection of wines. Local produce is to the fore: Devon beef, Lyme Bay lobster and line-caught seafood. Manna from Devon.
Mind you, I've always wondered about 'line-caught' fish. From my angling experience, fishing is largely a matter of timing. You have to get there yesterday, so not sure how that's factored into a restaurant schedule.
You can, of course, dine al fresco. A dinky little glass pod in the garden is ideal for really blustery days - of which they have a few here. As far as I could make out, there's only one gorse bush between the Carey Arms and the Bay of Biscay - so the waves have about 1,000 miles to pick up momentum before they crash into the rocks.
But snug inside the pod, which looks like a cable-car that's lost its way, you might even wish for a spot of heavy weather.
As it happens, the weekend I visited the sunshine would not have disgraced the Amalfi coast. Which meant that I had to at least attempt one of the many walks recommended in the hotel's helpful booklet Walks Along the English Riviera. Churlish not to, really.
Advertisement
Just below the hotel, beyond the extraordinary number of palm trees that grow hereabouts, there's a promenade affair which leading to a catwalk taking you across the rocks.
A further beach path then leads to the foot of the singularly idiosyncratic Babbacombe Cliff Railway. This funicular contraption will whisk you from Oddicombe Beach to Babbacombe Downs in about five minutes.
Soon it was time to brave the arduous half mile tramp back to the hotel and dinner - would it be the Devon stake and Otter Ale pie or the Carey Arms gourmet burger? Hmmmm. The young, bubbly staff were only too happy to advise.
By the way, there's   a bell on the veranda which is rung if dolphins show up in the bay. Sadly, I visited on a cetacean-free weekend. Life without a porpoise. Ah well, it was the only notable absence in what was otherwise a five star weekend.
[colored_box color="green"]The Carey Arms
Babbacombe Beach
South Devon
Advertisement
TQ1 3LX
01803 327110
www.careyarms.co.uk
Prices: April - October
Rooms (plus full English) from £230
Captain's suite (sleeps 4) £310
[/colored_box]
Advertisement