These islands have some of the finest beaches in the world - some remote, with miles of surf and turf set against the most spectacular backdrops of cliffs and mountains, others with attached resorts providing everything from crazy golf to candyfloss.
In Co. Louth, there's even a beach, Laytown, which hosts a first class race meeting when the tide goes out – the only such horse race meeting in Europe.
In Britain, Wales now has a coastal path which stretches right round its coastline, encompassing an area the size of, well now I come to think of it, Wales.  The Lonely Planet Guide has named the coastline number one in their Top 10 Regions for 2012. This 870 miles of walkable Welsh seaside is up there with a stroll in the Alps, a dander in Dolomites — and rightly so.
The likes of Whitesands Bay — where, according to local legend, St Patrick had his vision to convert the Irish — are dotted with silvery sands and secluded rocky coves. England's beaches range from Cornwall's dramatic coves and cliffs, to delightful, traditional seaside haunts such as Cromer or Whitby.
A harbour at a beach is another nice touch – Ballintoy in Co. Antrim is a quintessential example, surrounded by intriguing black rocks, steep cliffs and a restless ocean. Killary Harbour in Connemara is such a singular place to stare out at, the sea that the philosopher Ludwig Wittgenstein came to live and write here after the Second World War. It's probably where he came up with the line, "Whereof one cannot speak, thereof one must be silent."
Wittgenstein had many views on life and the meaning if it all, but even he would have agreed that a good seaside resort has to have a few shops selling traditional beach accoutrements such as ice cream cones, bucket-and-spades and plastic boats.
As an island race we are drawn to the seaside. The tang of brine and kelp in the air, the surge of the ocean – and a long walk in winter or summer alongside the crashing waves.
That's what a seaside resort is all about.
The Best Beaches
Barleycove, Co. Cork
This beautiful sandy beach looks as if it could easily have escaped from the Adriatic — albeit with a slightly more invigorating sea temperature. But otherwise this is a beach-fanciers paradise, with miles of pristine strand, dunes bound together with marram grass, and a babbling river to paddle in. The beach, on the Mizen Head peninsula, is a designated 'special area of conservation', so expect to see plenty of avian A-listers.
The nearest towns are the picturesque fishing villages of Crookhaven and Goleen, both so old-fashioned a visit there is like stepping into one of those old sepia postcards.
For a memorable stay, Marconi House has four luxury apartments. It was the home of Gugliamo Marconi – pioneer of the wireless. Marconi came here first in 1901 to experiment on sending transatlantic messages from the house and then moved his apparatus to the higher ground of nearby Brow Head. And before you ask — yes they do have Wi-Fi. A Marconi House without wireless would be unthinkable. www.marconihousecrookhaven.com
Northey Island, Essex
This is a real gem of a beach set in the Blackwater Estuary, more like a secret garden than a public beach. You reach the island by heading through South House Farm towards a causeway - check tide times; the causeway is covered twice a day. But the wait is well worth it; this part farm, part nature reserve in Essex is equipped with hides from which to view your fellow visitors - herons, curlew, oyster-catchers, pintails, and so on.
A lovely house in the form of a tower stands on the island and is available for holiday lets. The caretaker lives in the only other house on the Island.
Northey Island makes it into the epic poem The Battle of Maldon, which recounts handbags between the Danes and the Saxons back in AD 991.
Northey Cottage, Mundon Road, Maldon, CM9 6PP. Tel: 01621 853 142. To get a permit from the warden contact 01621 853142.
Brittas Bay, Co. Wicklow
Brittas Bay Beach in Co. Wicklow is reckoned to be one of the finest beaches on the east coast of Ireland. With a 5km stretch of golden sand it's a haven for any watersports enthusiasts; also perfect for walking, swimming or just taking in the sea fresh air.
The dunes are home to many wildlife species and plants, including a number of rare species of snail and marram grass. Because of its proximity to Dublin however, it's not the loneliest beach in Ireland. This is the Bondi Beach of Dublin – day-tripping Dubliners fill the strand of a good weekend.
Corsewell Point, Wigtownshire
Stranraer is known to most of our (northerly) readers as the ferry port where you catch the ro-ro for Larne in Co. Antrim. But the whole area of Galloway is dotted with dozens of dramatic, secret beaches for those with enough spirit of adventure to stray off the main road south, and conquer the twisty coastal laneways.
The landscape is almost indistinguishable from Co. Down and Co. Antrim. Unsurprisingly, many centuries ago, Galloway was part of Dalriada, a Gaelic Irish colony in Scotland.
Corsewell Point is an invigorating peninsula, jutting out into a sea that tends to be big and angry, and makes the air tastes of salt. Deep fissures in the rocks cause the rollers from the Irish Sea to shoot upwards in plumes of spray.
The best place to stay in such surroundings is probably a lighthouse, and luckily there's one on hand. Corsewell Point Lighthouse is now a four-star luxury hotel with a romantic, award-winning restaurant. Bleak chic — what more could you want?
Corsewall Point  Stranraer, Kirkcolm, Stranraer, Wigtownshire DG9 0QG, United Kingdom
01776 853 220
www.lighthousehotel.co.uk
Benone Strand, Derry
For summertime outings the beach at Benone Strand in Derry, lying between Castlerock and Magilligan Peninsula, provides fantastic seaside facilities, natural and organised. Just beside the village of Downhill, Benone is a seven-mile strip of sand with a magnificent backdrop of mountain and cliff scenery on Derry's Atlantic coast. Washed by huge breakers it overlooks Donegal's Inishowen Peninsula.
While the children build sand castles or attempt to scale the gigantic dunes, you can reflect that it's not all sand, surf and turf. History abounds, you'll be unsurprised to hear, in this neck of the woods. To the westerly end of the Strand stands a Martello Tower, built to help see off Napoleon should he have expressed designs on Derry.
But back to the beach. Benone is a multiple recipient of the European Blue Flag and Seaside Award - the clean, firm, golden sands of Benone Strand are without rocks, shingle or seaweed.
Stay at nearby Derry Farm Cottages (Mussenden)
www.derryfarmcottages.com
Blakeney Point, Norfolk
Part of Blakeney Nature Reserve, this beach is a remote shingle spit jutting into the North Sea. You really do feel you're in an ethereal place here. Norfolk has been described as three quarters sky, with a landscape that's so flat you could fax it. You truly get a feeling of that here at Blakeney Point.
Most (human) visitors arrive here by boat from Morston or Cley Eye. Avian visitors fly in — depending on the time of year they might arrive from destinatinations as disparate as Greenland and South Africa.
Newcastle Beach, Co. Down
The Main Street in Newcastle is almost lapped by the waters of the Irish Sea; above the town the Mountains of Mourne provide a spellbinding backdrop. It's a view, you could imagine, which might support an entire postcard industry. Walk, cycle or trot on your horse far enough along the six mile strand bordering Dundrum Bay and you pass ancient sand-dunes, enticing rock pools, and one of the most famous golf courses in the world, the Royal County Down.
It was along this beach that Harry Ferguson – the Co. Down pioneer of the modern tractor – made the very first aeroplane flight in Ireland. In 1909 he took off from the sands in a monoplane he built himself. A large inscribed stone on Newcastle Promenade commemorates the event.
The northerly extremity of Dundrum Bay is guarded by St. John's Point lighthouse. This is the site of the alleged encounter between Brendan Behan and his employer from Irish Lights. Brendan was employed to paint the lighthouse but after a liquid lunch he bedded down for a snooze.
The foreman addressed the almost comatose Dublin man saying, "Ah, sleep on Behan. For when you awake ye'll have no job."  The Slieve Donard Hotel is an excellent place to have afternoon tea and contemplate the view across Dundrum Bay to the eponymous mountain.
Shell Beach, Isle of Purbeck, Dorset
The Isle of Purbeck isn't really an island, but a peninsula. But it might as well be, because it has that other-worldliness of an island; islands truly are the character actors of geography. A huge expanse of sand is backed by miles of dunes. The English Channel lies to the south and east, with steep cliffs falling into the sea.
And if you're idea of a holiday is merely lounging in your deck chair, there's always plenty to watch out at sea, with marine traffic frequenting the port of Poole. If you're up to something a little more energetic, try a walk around the peninsula. The Isle has the highest number of species of native and anciently introduced wild flowers of any area of comparable size in Britain.
Keem, Achill, Mayo
Mayo, with its many clean, sheltered beaches is ideal for swimming, sailing, surfing and wandering along the strand. The headlands, however, can be blowy.
Achill Island has its fair share of heavy weather, but it's possible to find sheltered areas here, and when the sun shines it really is paradise. Keem Beach, on the very edge of Europe, is surrounded by historic sites  - there's a Spanish Armada memorial, and Captain Boycott's Corrymore House - the very house which gave the English language a new word – is nearby.
Rhossili Beach, South Wales
Many would insist that Rhossili Bay on the Gower Peninsula – a dazzling, three-mile crescent of golden sand that makes the lists of Best Beaches in the World with tedious regularity – is the Gower's chief glory. Rhossili is the most westerly bay on the peninsula, bearing the full might of the Atlantic swells, the biggest waves being at the north end at Llangennith; no surprise that it's year-round surfer nirvana here.
But if surfing sounds just a little on the energetic side, then just stroll along these lovely sands, whose surface is broken only by the skeletal remains of the odd wrecked ship fallen foul of the crashing surf  – including the Norwegian barque Helvetia, which was driven onto the beach in a gale in 1887, and whose jagged remnants stick out from the sand today like dragon's teeth.
For a great beach stay — or afternoon tea —  Hurst House (West Marsh Farm, Laughanrne, SA33 4RS, 00-44-1994-427417 laugharne, hurst-house.co.uk) couldn't be bettered. Meals come with home-baked bread, afternoon tea is served with traditional Welsh cakes, there's a sing-song at the piano at night, and dancing in the bar goes on till half past eejit in the morning, with let's say, an atmosphere of conviviality.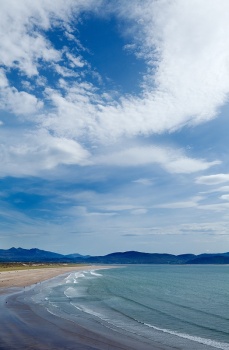 Inch, Co. Kerry
Inch is some three miles of glorious strand just off the main Killarney to Dingle Road. The beach is basically a huge sand pit jutting into the sea between Dingle Harbour and Castlemaine Harbour, a fitting place for the film set location for Ryan's Daughter.
Parking is on the sand, but you need to be careful of the tides. Facilities are sparse, although there's a good restaurant and pub, The Strand Bar, located at the top of the beach. Also Sammy's Store and Bar should be able to fix you up with other beach necessities.
Rosses Point, Sligo
Rosses Point is located 8km from Sligo town. From the beach there are beautiful views of Knocknarea to the south and Benbulben to the north.
The area boasts several unique features including an 18-hole championship golf course, two magnificent sandy blue flag beaches, a yacht club and a fully equipped sea angling boat for hire. The village is set against the backdrop of the spectacular Dartry mountain range and the beauty of Sligo Bay. The bay is ideal for windsurfing, sailing and surfing.
Portstewart Strand, Co. Derry
Another of the Causeway Coast's fine beaches, bounded at one end by cliffs sweeping into the Atlantic, and at the other by the River Bann. The dunes that back the two-mile-long Strand reach heights of 100ft and more, lending it an air of wildness and mystery, and the waves that crash on to the beach provide first class surfing.
In neighbouring Portrush, where Jimmy Kennedy saw his Red Sails in the Sunset, you can marvel at the ethereal shapes sculpted in the limestone cliffs.
Morar Sands, Highlands and Islands
The Silver Sands of Morar are a celebrated series of beautiful sandy beaches which pepper the coastline from Arisaig to Morar on the north-westerly coast of Scotland. Most are easily accessible from the roadside. Morar Beach itself, close to Morar village, featured prominently in the film Local Hero.
Nearby Loch Morar is the deepest freshwater body in these islands, but you'll find it hard to tear yourself away from the stunning beaches that look out towards the Hebrides.