WHEN the sudden death of her father thrust her into a position of responsibility within the family business at the age of 17, Jacqueline O'Donovan had little understanding of the industry she found herself within.
Nonetheless she and her three siblings were left to run O'Donovan Waste Disposal, which was founded by their Co. Cork father Joe O'Donovan roughly 20 years before he died at the age of 51.
And despite her age and inexperience of the industry, Jacqueline was determined to find her way in the world of construction and keep the family firm going strong.
Now, more than 30 years later, O'Donovan Waste is one of the leading independent waste management companies in London, with more than 100 employees, a £13milion turnover and a raft of industry awards on its mantelpiece.
To add to those many accolades 2014 sees Managing Director Jacqueline shortlisted for a Natwest Everywoman Award — in recognition of her consistent commitment to and achievements within the firm and the industry at large.
Widely regarded for her commitment to sustainability in the workplace, Jacqueline is recognised as one of the industry's environmental champions and O'Donovan Waste currently recycles an average of 97 per cent of all waste collected from its clients each month.
Additionally, the 47-year-old's dedication to improving health and safety standards across workplaces has seen her help develop national occupational standards for the waste industry, while continuing to encourage her own staff to upskill.
And as a Gold member of Transport for London's Fleet Operators Recognition Scheme, through Jacqueline's leadership O'Donovan Waste continues to work closely with CLOCS, the Exchanging Places scheme and the Met's Cycle Taskforce to raise awareness of the dangers of accidents between trucks and other vulnerable road users on London's streets.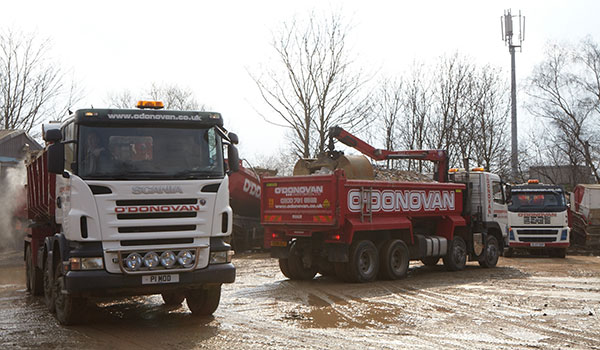 Chosen as a finalist in the Natwest Athena category, for women running a business aged from 36 to 49, Jacqueline is one of 16 women selected from hundreds of entries to go forward for this prestigious national award.
Regarding the finalists, Everywoman co-founder Maxine Benson MBE said: "Britain's economy has come through challenging times and is now recognised as one of the strongest in Europe. This year's finalists have steered their businesses through rough waters and are poised to reap the benefits of the burgeoning conditions, recognising as they do the long term opportunity for enterprise."
She added: "The Awards prove that entrepreneurship remains the career of choice for women and, with the youngest ever finalist still at school, they demonstrate that age is no barrier to ideas and initiative. These Awards are an opportunity to celebrate the finalists' meteoric success."
The NatWest Everywoman Awards were launched 12 years ago to "celebrate British entrepreneurship and create female role models to highlight the benefits and rewards of business ownership," added Anne McPherson, Managing Director, Enterprise at NatWest.
The NatWest Awards 2014 ceremony will take place at The Dorchester hotel on London's Park Lane on December 3.