Ten years on from his impressive debut single, Take Me to Church, Hozier has a new album in the offing.
TONY CLAYTON-LEA reports
Almost ten years ago, this writer sat down opposite a tall, soft-spoken, well-mannered, level-headed, and bookish 24-year-old songwriter and singer.
Unusually for an emerging pop/rock music act, he went by the mononym Hozier (taken from his surname Hozier-Byrne; his first name is Andrew), and also unusually, he had none of the airs and graces that seem to be automatically grafted onto up-and-coming musicians.
"I'm still getting the hang of it," he told me of his (then) recent rise in profile, "especially the fuss in the dressing room beforehand – meeting label people, music industry people, media people. All of that takes a while to acclimatise to because you don't fully realise how busy you can be right up until you're walking onto the stage. I'm new to all of this, but I know the more I carry on the more I know how much I enjoy performing."
So it has been proven. Back in autumn of 2013, Hozier released his debut single Take Me to Church, the song that catapulted him from relative obscurity to an international name. Before the writing and release of the song, Hozier's backstory amounted to relatively familiar tropes of childhood (being influenced, musically, by his father, who was a drummer in a blues band), teenagerhood (he lost interest in secondary school but didn't want to disappoint his parents, so he went on to study music at Trinity College Dublin), a passion for music (open-mic nights, playing in covers bands, soaking up his father's record collection of soul, blues, and jazz albums), and sensing from blues music that it is borne out of suffering and displacement.
"Blues is the music of a disenfranchised people," he informed me, "music that comes out of one of the worst atrocities in the history of the Western world: human trafficking of such enormity, when – based on the colour of their skin – people were robbed of identity, history, religion, humanity, and then placed in another part of the planet in order to be a slave. Everything that has sprung from that is unique."
Music, he said, was key to his creative ambitions and personal aspirations, and gazumped his academic studies. "In my heart, I knew I couldn't stick four years of academic music study. It was obviously a huge help towards understanding music structure, and so on, but all I wanted to do was write songs."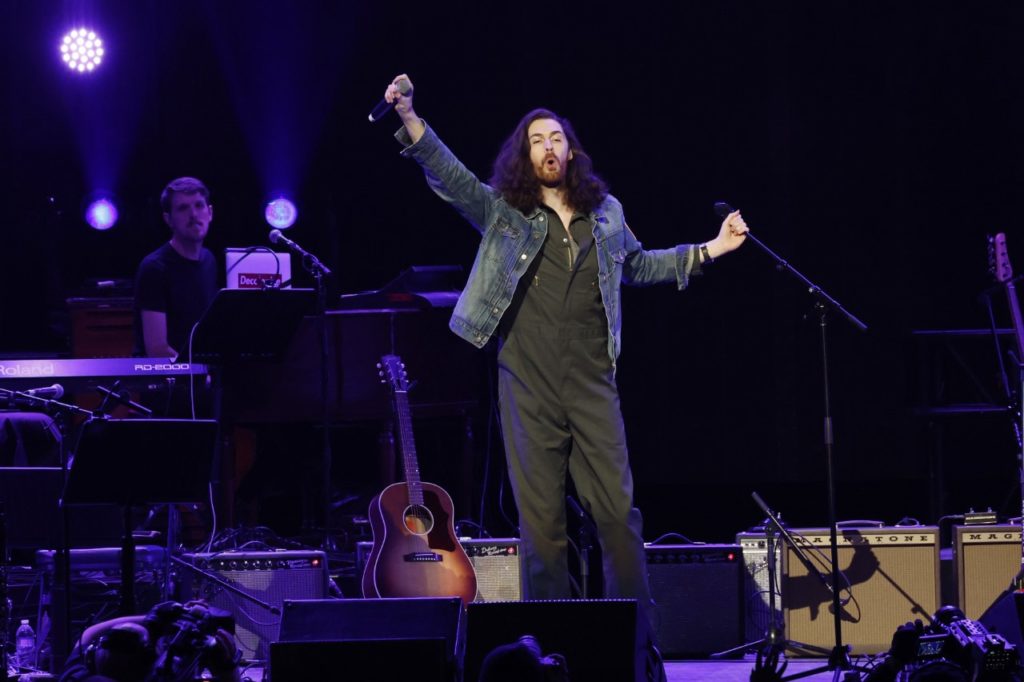 To no one's surprise, Hozier hasn't stopped, and while he hasn't been the most prolific of artists (he has to date released two albums – 2014's self-titled debut, and 2019's Wasteland, Baby!), he has swapped production
for quality. You may well be asking what comes next, and in these post-pandemic times you won't be surprised to know that what comes next is a lot. The first shot across the bows, so to speak, is the recently released EP, Eat Your Young, the three tracks on which - the title song, All Things End, Through Me (The Flood) - highlight not only how advanced a songwriter Hozier has become over the past few years but also how much he remains so politicised. Frankly, we can't think of any other musician whose songs (prompted by Dante's Inferno), reflect on two of the nine circles of Hell: heresy and gluttony.
Politics has always been at the forefront for him. From Take Me to Church (which focuses on the prejudices and violence committed against the LGBTQ+ community) onwards, Hozier has worn his activist colours on his sleeves via songs such as Cherry Wine — raising awareness of domestic violence, tellingly so in the video, which features Saoirse Ronan; Nina Cried Power, celebrating artistic stances against political and social inequalities; Be, highlighting refugee crises; Jackboot Jump, alluding to worldwide anti-authoritarian demonstrations; and, most recently, last year's Swan Upon Leda, showing solidarity with those fighting for reproductive rights).
All royalties from Jackboot Jump went to the NAACP (National Association for the Advancement of Coloured People) and the Black Lives Matter movement following the George Floyd protests, but in a curious creative twist that not many artists can deliver, the song lyrics neither berate nor condescend. Hozier's use of language is meticulous and is probably the cause of his lack of prolificacy, but it is also instructive and protective. He has said that by the time someone hears a song, he can uphold any idea in it because he has put the words through a linguistic assault course.
He is, however, aware that with the advancement of his political sensibilities he might be unfairly regarded as an off-the-rack mouthpiece that will speak on or perform for every credible cause. "I have a lot of resistance with people regarding my music as – quote, unquote – political music, or that there is a political message to it. First of all, I know you can be pinned down for it, but that isn't the intention of the music. Instead, the objective is to create something that is an honest reflection of the times we live in." So much music made today, he adds, is immensely popular, but he doesn't view it as an authentic manifestation of what shared human experience really is. "The aim is not for my music to carry some sort of political message but to credit elements of our common experiences."
There will be enough shared encounters at Hozier's recently announced 'rehearsal' gigs at Dublin's intimate Academy venue. Taking place from next week (April 6-11), if you can't get to them, and believe me, tickets
are proverbial gold dust, then he's playing a major open-air show at Malahide Castle, Co. Dublin, on Friday, June 30. If that isn't enough for you — or a journey home to Ireland isn't on the cards — his new album Unreal Earth is scheduled to be released at the end of summer.
Pressure? What pressure? To stay in the game let alone be ahead of the posse is always something that digs into the skin of successful artists. Knowing that he has already made a mark with such a series of successful songs and albums, he says, is pressure, and the sense that he has to justify what happened the first time around wasn't just luck is a weight of expectation he doesn't necessarily want.
Besides, he ponders, what exactly is success? "Not to be too grand about it, but I would rather just leave behind a good body of work. If we're going to add to the canon of popular music, we should at least make it count."