Author: Abraham Stoker, borm 1845, Dublin.
Dracula plot in three words: Boy meets ghoul.
Storyline: A Transylvanian vampire, weary of the scarcity of succulent necks back home, travels to England to terrorise innocent people, suck their blood and turn 'em into vampires. (Don't try this one at home, folks.) Young Jonathan Harker, in Romania on behalf of Dracula's law firm, escorts the Count on his journey to England.
Setting: Essentially a fiction from Ireland played out in Whitby, London and Transylvania. The first time these four areas had ever been mentioned in the same sentence.
Historical basis for Dracula: The 15th century Vlad Dracul, alias Vlad the Impaler, a bloodthirsty tyrant. Vlad the Lad regularly impaled his enemies on stakes and dined on their blood. He wasn't really what you'd call a people person.
Literary form: Dracula is written in an epistolary form: the story unfolds through a series of diary entries, telegrams, letters, ship's logs, and newspaper clippings. To increase the fear factor, Dracula is never heard from himself; this is a template for most horror movies today — we only get odd glimpses from odd angles of the chief protagonist, thus increasing the fear factor.
Plot development: A young English solicitor, Jonathan Harker takes a weekend break in Transylvania, amongst hills stalked by wolves and bears.  His lodgings leave something to be desired. The front door is locked, three sharp-fanged women stalk the corridors and his host sleeps in a coffin with fresh blood dripping from his lips. (OK, sounds a bit like a B&B I once stayed in Scotland, but all the same. . .)
The English connection: The plot moves to Whitby, a town whose only previous brush with fame was the Synod of Whitby in 664 AD when Irish and British bishops hammered out the date of Easter. But the extravagantly-fanged Count seems to have had little time for Easter bunnies.
Meanwhile, back in Whitby: Harker's fiancée Mina Murray is on holiday with her friend, Lucy Westenra, in Whitby. A schooner, with a dead man lashed to the wheel, appears. As the ship crashes onto the shore, a huge black dog leaps from the deck and disappears in the direction of the local graveyard.
The story continues: In the dead of night Lucy begins to sleepwalk, meeting a tall dark figure at the graveyard who kisses her on the neck. Blood's thicker than water — and far tastier.
The following day a number of coffins are unloaded from the schooner and sent to forwarding address in London.
Real mystery of Stoker's story: How a decent, middle-class, ordinary Dubliner, who never visited the magnificently spooky forests of Transylvania, was able to turn an obscure historical figure into the world's favourite fiend.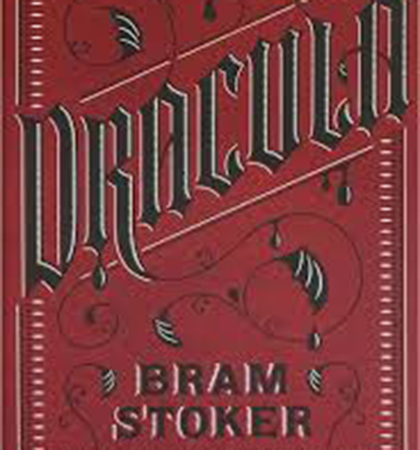 Stoker's qualifications for writing Dracula:
An honours degree in pure mathematics at Trinity College Dublin, then his Civil Service exam. It has also been postulated that Stoker was the eternal outsider: he was from a lower middle-class Protestant background — his father was a clerk in Dublin Castle; so Bram probably never felt entirely Irish, nor even properly Anglo Irish. But when he came to England, of course, he was once again an outsider as an Irish immigrant. Mind how you go now.
The role of Bram's mother: Charlotte Stoker claimed to have heard banshees calling and spirits keening on the night of her mother's death. Your average Irish mammy, then.
Influences: Irish mythology and history largely made up the supernatural cauldron from which Stoker's Dracula sprang. Mrs Stoker (from Sligo) would regale the youngster with stories about the 1832 cholera epidemic in the West of Ireland, rumoured to have originated in an unknown place in central Europe. One stranger, thought to be infected with the disease, was buried alive. Other local victims of the plague were rumoured to have disappeared from their coffins, presumably risen from the dead. She also told her somewhat impressionable son grisly accounts of the Famine, when starving people would drink blood from the veins of cattle.
Early Irish inspiration: These myths were an echo of earlier Irish folklore with its recurring theme of 'the undead' — particularly associated with the Celtic festival of Samhain (now known as Halloween). It's perhaps no coincidence that all the early heavy hitters on the horror genre were Irish: Sheridan le Fanu, Charles Maturin and Stoker.
Other Irish influences: 'Droch fhola' (pronounced 'drak'ola') means bad or evil blood in Irish. It was the custom in some areas of Ireland to drive stakes through the hearts of the those who had died with 'bad blood' — suicide victims for instance. Stopped them from returning to haunt relatives. Significantly, there was a cemetery plot near the Stokers' home in Marino Crescent for burying suicides. It's possible Bram Stoker was indulging in a bit of punning with 'droch fhola'.
The Irish can also, er, stake their claim to the idea of dining on blood. Bram would have known about a 5th century chieftain from Derry, Abhartach, who drank tainted blood. After becoming one of the undead, he rose from his grave and demanded bowls of blood from his subjects.
A further historical dimension: Many experts have interpreted Dracula as an allegory of the history of Ireland itself – the tortured past, heroes and heroines, and the struggle to become liberated from an ancient evil. Other see it as a description of the ailing British Empire, falling before invading alien fiends (ie immigrants).
Verdict: With a dash of Gaelic and garlic added to a Gothic tale, Stoker transformed local literary elements into universal folk mythology.
Bram Stoker's verdict:
 Sadly, Bram never lived to see any significant recognition for Dracula. The book has never been out of print, and has been translated into all the world's major languages.
Pay your respects to Dracula:
Bram Stoker was cremated and his ashes placed in a display urn at Golder's Green Crematorium. To visit his remains visitors must be escorted to the room the urn is housed in, for fear of vandalism.