THE London Irish Centre (LIC) has revealed the line-up for its virtual St Patrick's Day celebrations – which will offer culture, craic and an "electrifying" city-wide traditional music session.
From 4pm on March 17, the LIC will stream a special online event, co-hosted by the office of the Mayor of London, Sadiq Khan, to celebrate the very best of Irish culture and community in London.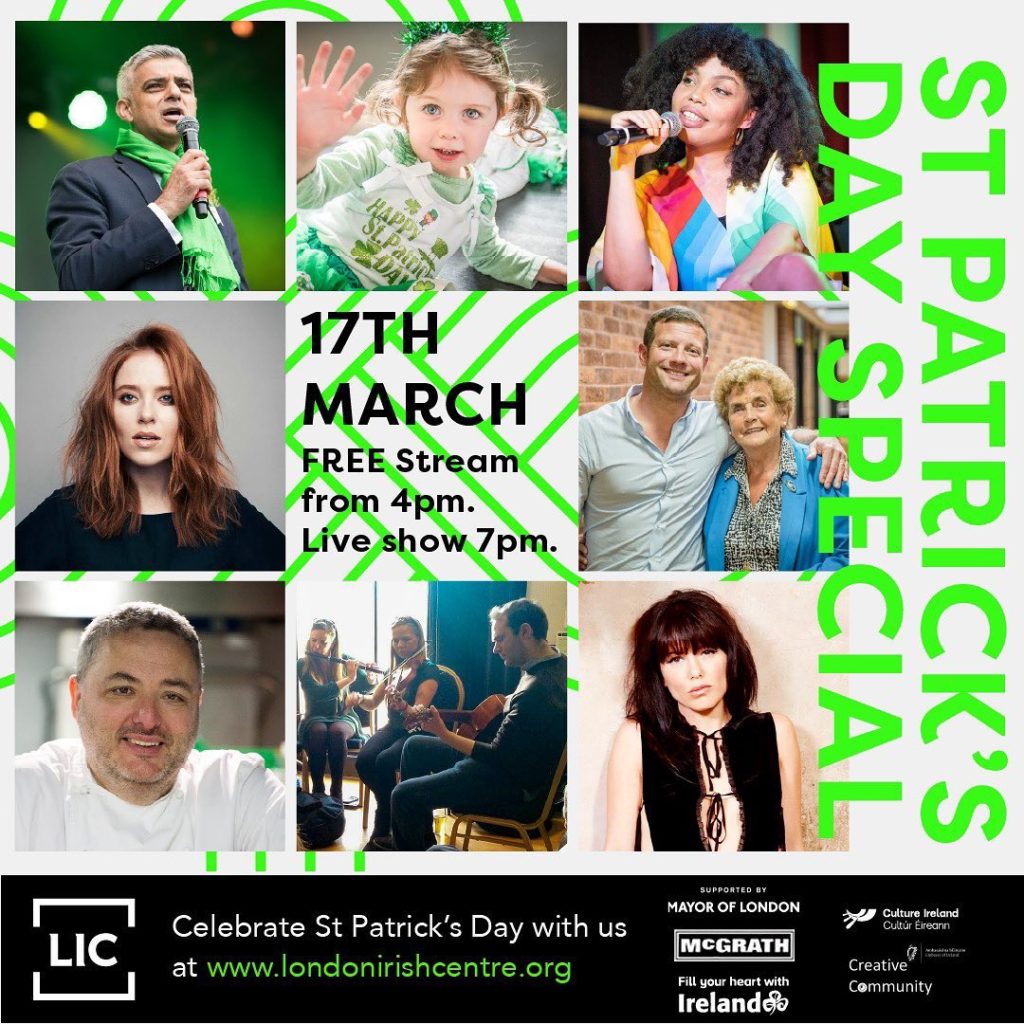 The St Patrick's Day Special - which is free and will be available on the LIC's website and social media – carries the theme 'London Le Chéile', which is the Irish for #LondonTogether,
It has been designed to "capture the spirit of collaboration, creativity, and community shown by the Irish in London through Covid challenges", the organisation confirmed.
The event begins with three hours of Irish culture and heritage, featuring storytelling, film, music, dance, language and fun.
From 7pm it goes fully live with presenter Angela Scanlon, who will host conversations with Imelda May, Richard Corrigan, Emma Dabiri, Siobhán McSweeney and more of the LIC's celebrity friends and supporters.
Viewers will also enjoy exclusive performances from artists including Tom Grennan, Orla Gartland and Eva O'Connor during the evening.
During the night a powerful tribute to Irish frontline workers will be screened, as will a unique film from Trafalgar Square, where the festival would usually take place.
London Mayor Sadiq Khan explained: "It's hugely disappointing that the impact of the pandemic means we are unable to gather on the streets again, however I'm delighted that, together with the London Irish Centre, we are able to host an online celebration that will pay tribute to the huge contribution of our Irish community.
"I urge Londoners to celebrate this year's St Patrick's day from the safety of home and to join together virtually to enjoy the performances."
The night will close with 'The London Irish Trad Session', the LIC confirm, where the cream of Irish traditional musicians across London will perform an electrifying session from their homes.
Rosaleen Blair, London Irish Centre Chair, said: "I am thrilled that we are delivering this flagship virtual event for London and its Irish community. It is yet another wonderful initiative of our team who have been shining lights through these challenging Covid times."
"In any normal year, we would be gathering in Trafalgar Square to celebrate our culture and heritage, so I am delighted that we are keeping that spirit of creativity and togetherness alive through virtual channels."
The event is supported by The Mayor of London, Tourism Ireland, Culture Ireland, the Embassy of Ireland, Bord Bia, and the McGrath Group.
For further information and to view the event click here.