NOEL GALLAGHER'S  new album Chasing Yesterday features a song that dates back to 1992.
Lock All The Doors sounds like the missing link between Nirvana's Nevermind and Oasis' debut Definitely Maybe and is every bit as vital as both.
For the new album he also drafted in fellow second-generation Irish Mancunian Johnny Marr on current single Ballad of the Mighty I.
Significantly the former guitarist of The Smiths, now also enjoying a thriving solo career in his own right, has been a champion of Noel since the very early days of Oasis and the atmospheric cut has the best of both musicians all over it.
In person, Noel Gallagher is open and talkative. At 47 he remains perhaps the last great working rock star to come from these islands.
The former Oasis lynchpin, who scored eight number one British hit singles with the band, continues to write songs that dominate the airwaves, something he simply puts down to a gift for melody. Well, that and being Irish.
"The thing about my songs, you might call it spiritual but I call it joy, even the songs I write that are pessimistic... the sun always come out in the end."
He gives the example of Some Might Say, Oasis's first number one released 20 years ago this April, as "one of the happy/sad anthems" of its time.
"Live Forever has the saddest chords but the most uplifting message and that's being Irish, the Irish can cry while they are drinking. They cry at funerals and then have the best party. It's the Celt in us. You find it in the Scottish, the Irish, Scousers and maybe the Welsh if you look at a band like the Manics.
All the Celtic bands have that thing, these bands have something that the likes of Keane don't have and will never possess. The Libertines are fair enough but they don't have that thing. U2 have got it — there's a rage in Celtic people, not anger... there's a joy that goes with it."
Last year was the 20th anniversary of the influential Definitely Maybe. Recorded by five second-generation Irish Mancunians, it remains arguably the most definitive diaspora album of the last century.
Last year's reissue brought the seminal long-player back into the zeitgeist. If anything the band's legacy has only grown since their demise: "Oasis have got very rabid and loyal fans, they are outside my house most days of the week," Gallagher confirms.
At what point did he feel things shift gear with the band early on? "I was in Detroit in America. We had just brought out Cigarettes and Alcohol as a single which was the fourth of single from Definitely Maybe. It became our biggest hit at the time [reaching number seven in the charts].
I thought at that moment there's something going on at home. We brought out Whatever at Christmas; we decided we'd go for the Christmas number one for a laugh. That would never happen now. We got to number three behind East 17 and Mariah Carey. After that Some Might Say went to number one and it went ballistic."
Noel's mother Peggy, originally from Co. Mayo, still resides in the same Burnage home that the Gallagher brothers once-upon-a-time lived in.
The well-publicised hostilities between the brothers finally resulted in Noel leaving the band in 2009 and the songwriter's relationship with his younger sibling has since been irregular at best: "We exchange texts," he confirms, "but people forget he tried to sue me."
The case for libel was eventually dropped but it's still a sore point. While mum Peggy doesn't get too involved she is still something of a go-between: "It's nothing to do with her; I'm in my 40s now, the days of her saying 'you two sort things' are long gone. I'd be like 'mam it's none of your business' but when I talk to her I ask how the other fella [Liam] is and vice versa."
At present Liam is keeping a low profile. The 42-year-old singer was granted a divorce from his second wife Nicole Appleton after it emerged he fathered a child with an American journalist and is currently making headlines for failing to appear in a New York court concerning the child support case.
When performing some of his last gigs with his band Beady Eye, Liam's heart simply didn't look in it. "Maybe that's why he called it a day," says Noel. "He was one hit single away from getting on. Who knows what they would have done on the third album. I think when Gem [Archer] fractured his skull and then broke his leg they kind of lost momentum."
Noel has admitted that he'd like to see his brother make a solo record and has suggested he would even contribute songs; undoubtedly the music world is a less exhilarating place without him. Paul Weller has also been willing Liam to start work on a solo album for many years.
In their '90s heyday the brothers made for great copy. Their interviews — which were surreal, riotous and hilarious — destroyed the opposition. One thing they weren't was dull, but that's what British mainstream rock music has become.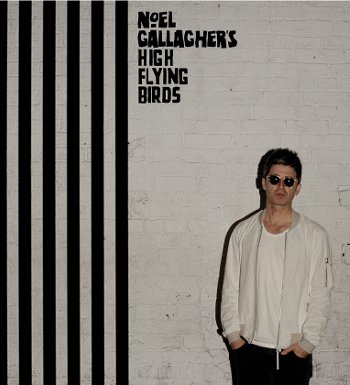 Noel admits Kasabian are "not the most controversial band in the world" and adds that Arctic Monkeys are "invisible, they don't say anything."
Liam and I were up for getting involved, moving to London and shaking things up. Oasis weren't cool. Now everybody is a bit too cool for school. Cool is not standing in a corner with sunglasses, smoking a cigarette, drinking champagne and quoting Jack Kerouac. Cool is not giving a f**k about what you say or what you wear, cool is not being cool."
While Kasabian have complained that "rock 'n' roll is dead", in truth it's probably more a case that they don't have the tunes or character to get to the next level and in that respect Gallagher stands alone. No one has emerged to challenge his dominance as one of the most considerable songwriters of the times.
He places a strong emphasis on how image and attitude were key ingredients for Oasis: "That extra thing when you try to sum up Oasis was almost an afterthought, it was the characters in the band that got them into people's lives."
Ultimately he admits, none of it would have mattered without song-craft: "You can buy the mod look or whatever but you can't buy Live Forever. That belongs to me, it doesn't matter what shoes I'm wearing, what house I live in, what haircut I have, who I'm sh**ging or what champagne I have in the fridge. It's the songs that people keep coming back for."
As part of promotional duties for the release of Chasing Yesterday, Noel made an appearance on the BBC's Match of the Day 2. The keen Manchester City supporter has also made his allegiance to Celtic clear over the years.
We meet in the aftermath of the alleged racist attack by Chelsea supporters on a black commuter in Paris and, like most decent football fans, he is disgusted by the incident. The conversation also turns to the sectarian abuse suffered by former Celtic manager Neil Lennon: "That whole thing with Lennon was f**king mental, so was what you see with these Chelsea fans. Rangers and Celtic take things to another level; I don't think they wanted to blow [Lennon] up, I think they were trying to do his head in — the whole religious politics does my head in."
The Old Firm game a couple of weeks ago was a bit tricky at home, as Noel's wife Sara is a Rangers fan.
"It was a bit of an anti-climax in the end because it was kind of over in 15 minutes but you know what Rangers fans are like, if it's not going their way they just leave the room. Then they claim the moral victory because it was only 2-0.
"My mates who are Scottish want them to go completely out of business. It's difficult for me to get into the politics of it all, if it was Manchester United I'd be loving it, but if I could stand back and be as neutral as possible for a minute — if that was my club — I would be devastated because it's not any old club, it's not Brentford — this is a big institution. The people at the top have mismanaged and cheated their way to nine f*cking league titles in a row so I feel for people like my father-in- law who are proper Rangers fans, he is disgusted with it all.
"But really we're all sniggering a bit", he says with a glint. "[Rangers] have been trying to have a meeting down here but the hotels have been getting death threats. My stage manager is a Rangers fan, he called me and was like 'it's f*cking you [making the death threats] isn't it!'"
What about choosing between supporting England and the Republic of Ireland? Gallagher answers without a hint of hesitation: "Oh, Republic of Ireland; I don't consider myself to be English at all."
Chasing Yesterday is out now.  Noel Gallagher's High Flying Birds are touring Britain throughout March.