IRISH band Kodaline are no strangers to The Irish Post.
Last November, Steve, Mark, Vinny and Jay joined a host of other special guests at the annual Irish Post Awards in The Grosvenor House in London, where they performed their song Language, a collaboration with trad group Beoga.
They then closed the ceremony with their ballad, Love Will Set You Free, alongside Snow Patrol's Johnny McDaid.
Since then, the lads from Dublin have been busy in the studio working on their third album Politics of Living, which will be released on August 10th.
Just last week, the band released the music video for the single Shed A Tear, and lead singer Steve and drummer Vinny joined us in London the morning after their intimate show in Hoxton Bar and Kitchen to chat about the imminent album release and the story so far.
IP: The last time we spoke was at our awards ceremony last November. How was that night for you guys?
Steve: It was deadly. It was our first time there of course and it was great to meet up with so many fellow Irish musicians. We know Damien Dempsey quite well so it was good to catch up with him and we've met Imelda May a few times now and she was lovely as always.
Vinny: Yeah we don't usually go to events like that but since it was an Irish thing we couldn't turn it down.
IP: The video for new single Shed a Tear came out last week. Like all of your videos it has a great story to it. Are music videos very important to the band?
Steve: We are all very hands on as a band when it comes to the videos. We decided from the start we didn't want to be in the videos, and that we wanted to tell short stories with them. A great Irish director named Stevie Russell directed the High Hopes video.
Vinny: Yeah he's an incredibly talented guy. This video was directed by a fellow Dub called James Fitzgerald and stars a great young actor named Ryan McFarlane from up north. We shot it in a barn which was located on a 1,000-acre farm. It was really fun to make.
Steve: We've been blessed with the people we have worked with. For such a small island its incredible how much talent we produce in all different art forms. We punch well above our weight.
IP: You mentioned you don't like to appear in your own videos. That wasn't the case for the Love Will Set You Free video which was directed by Courtney Cox. Did she persuade you guys?
Steve: Ah a little yeah! We've known Johnny McDaid and herself for years. She was with us when we wrote the song with Johnny at their house in LA. She loved the song and really wanted to make a video for it. She insisted. Some of our mates flew over to Malibu to her incredible gaff. For some of them it was their first time in LA and what an introduction it was. She's so down to earth and amazing. It was a pleasure to work with her.
IP: You worked with Johnny McDaid on this album. What is your relationship with him like?
Vinny: Well, we first met him through a friend at a Snow Patrol gig before we had signed to a label. We got chatting and stayed in touch over the years.
Steve: The first time we wrote with him was for Love Will Set You Free in LA. This album was the first time we opened the doors to working with other people so we said if we're going to do that then Johnny is top of the list. He's a great guy. We have a very natural relationship with him. He keeps the peace in the studio amongst the four of us!
IP: You're currently on a week long tour of the UK. Last night you played to a group of lucky fans at Hoxton Bar and Kitchen. How do you find playing in London?
Vinny: We love it! Last night's venue was the first place we played in London. We had just got signed or we were in the process of being signed at the time and it was a big deal for us.
Steve: That's right. I remember walking in and thinking it was massive and being super nervous because there was a lot of industry people there. We walked in this time and I said to myself this place is tiny! It was weird. Its a nice way to come back before the release of this album. Its a way to say thank you to fans who have pre-ordered the album. We're playing Birmingham tonight and Manchester and Edinburgh later this week.
IP: Do you have a favourite venue or standout memory in London?
Vinny: Brixton is a favourite venue of ours. We played there in 2013 for the first time. Its just such an iconic venue. We also played a great festival a few years ago called Hard Rock Calling at Olympic Park. Bruce Springsteen was also on the bill. That was pretty cool.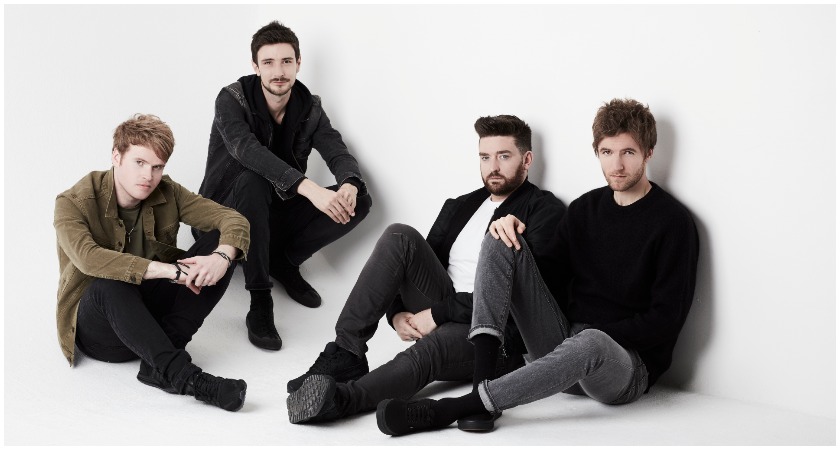 IP: You returned to Dublin last month where you played to a sold out crowd of 21,000 at Malahide Castle. What is it like to play in front of a hometown crowd like that?
Steve: That was bizarre. We're from Swords which is just over the road from Malahide so it felt very much like a hometown gig. You can actually see the school we all went to from the castle. Because it was so close to home and the streets we used to busk on there was something amazing about it. I think I even spotted my teacher from secondary school in the crowd! Our families and a few of our childhood friends were there so it was a special gig.
IP: When did the idea for this new album first begin to formulate in your minds?
Vinny: We came off four years of touring after the first two albums. We all took some time off to go on holidays. Then real life happened and myself and Jay got married. We needed that break to recharge the batteries. After a while of time off we were ready to get back into studio again.
Steve: We opened up to working with other people and learned so much. We introduced different approaches and instruments. For example the electronic elements are the main difference with this album. A great producer called Johnny Coffer brought that to the table. We actually finished the album last November but we decided to go back and re-write almost the entire thing. That wasn't an easy thing to do but we're really happy with what we've ended up with.
IP: There's a song on the album called Angel, which was written for a young fan who tragically passed away at one of your shows. Was it difficult to make the decision to include that song on the album?
Steve: That's right a fan of ours passed away at our concert in Marlay Park a couple of years ago. After the gig - which was the biggest headline show we ever played - our tour manager told us a girl had passed away in the crowd during the show. We didn't know what to do. We were coming off the back of such a high for us with that show, and that brought us straight back down to earth. We were all gathered in a room a few days later and we said to ourselves "lets write a song for Ciara". We never thought we'd put it on the album. It was intended to be just for her family but they wanted it on the album as a way of remembering her. They made the decision for us.
The course of the album takes a turn about halfway through with the track I Wouldn't Be, which has a strong traditional Irish sound to it. Where did that song come from?
Vinny: Mark wrote that song in the shower. He was singing away to himself while having a wash and came up with it.
Steve: It feels like an old Irish trad song from 100 years ago. The four of us sing and harmonise on it. We also brought in an incredibly talented uilleann pipe player which really enhanced the song. It's about family and how that makes you who you are. It works great live. We go to the front of the stage and sing acapella. We actually did it at Malahide Castle. Its hard to get 21,000 people to shut up and listen but it adds variety to our setlist and makes for a better show.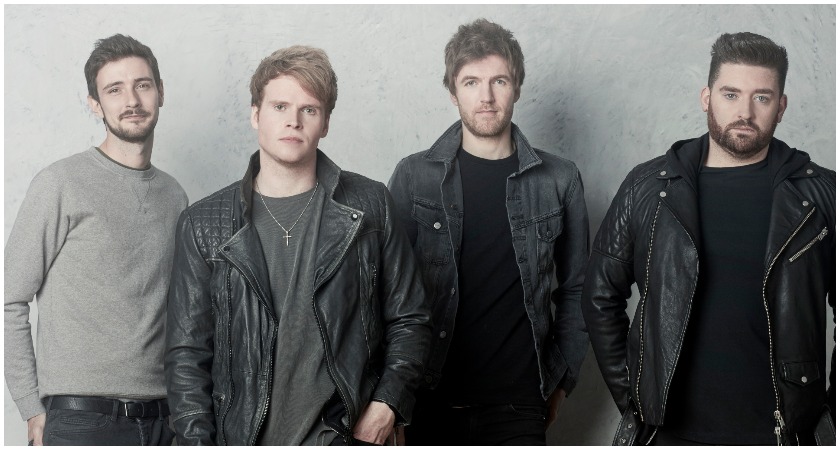 You've built up a really strong worldwide fanbase. Where has been the most surprising place for you to discover a fanbase and where has been the most craic to visit?
Vinny: Portuguese fans are incredible and great craic. They're a lot like the Irish in many ways. The Dutch and Swiss are always amazing. We're very lucky that we can go to most places in the world and do a show.
Steve: We've been most surprised by our fanbase in Singapore and Indonesia. We'll never forget when we went to Indonesia to play a gig and had to drive to the top of a mountain in a dodgy car. We thought we were going to fall off the edge of the mountain on the way up and it was about a 500 foot drop. It was a major culture shock going down windy roads and then we reached a forest in the middle of nowhere were we had 15,000 people singing every word back to us.
Vinny: Headlining a festival in the Phillipines was mad too. We had never been to that country before so being headliners was surreal. We kept asking "is this a pisstake?".
IP: Irish music seems to be in a great place at the moment with a host of emerging talent coming through with a diverse set of talents. Who would you tip as ones to watch for the future?
Vinny: For me its Rejjie Snow. He's a rapper from Dublin who is signed to an American label called 300 Entertainment.
Steve: Yeah there's this exciting new generation of hip-hop artists coming out of Dublin and its really exciting. Rejjie is an incredible artist.
Vinny: There's a great band from Dublin called Versatile. They're really blowing up back home. We're also big fans of  Paul Alwright ( formerly known as Lethal Dialect). He's a great rapper.
Steve: Overall the Irish music industry is in a really healthy place. Dermot Kennedy and James Vincent McMorrow are both incredible vocalists too and are bringing out great music. Hozier is rumoured to be working on anew album. Its good times!
IP: If you could have written one song in the history of Irish music, what would it be and why?
Steve: Oh that's a big question. I'd have to say Van Morrison Crazy Love or Days Like This.
Vinny: Probably U2 Where The Streets Have No Name for me. I was listening to their Greatest Hits album in my car recently and every song that came on was a tune. Basically anything U2 have ever done.
Kodaline will release their third studio album Politics of Living on August 10th.