Titanicdance
Odyssey Arena,
Belfast
★★★★ (out of five)
ON the night that the Eurovision Song Contest was beamed across Europe - and 20 years on from Riverdance stemming from 1994 Eurovision in Cork - it was fitting that an all-new Irish dance sensation was unleashed on the world.
It would only be right for Belfast to host the world premiere of Titanicdance, an all-new stage show featuring former Lord of the Dance star Raymond Sweeney; Manchester born, former world champion James Keegan and Kent native, Louise Hayden.
Titanicdance tells the story of the fateful voyage of the Titanic using an illustrated big screen narrative, while the dancers play out a tale of hope, love and sadness. A five piece, traditional Irish band and the wonderful soloist, Rebecca Winckworth, complete a hugely talented cast.
Advertisement
The performance moves through acts that chronicle the building of the famous ship in Belfast, the first voyage and the forbidden love between two passengers, before the fateful end we all know so well.
Powerful and, at times, combative dancing, as Sweeney plays out a superb fight scene, is complimented by elegant and graceful ballroom scenes.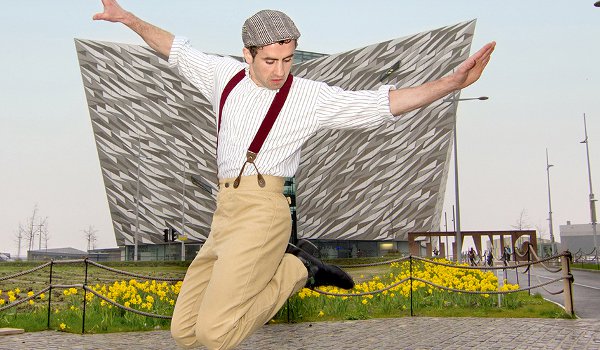 The choreography is excellent, with inch perfect accuracy as the dancers move around the stage and Sweeney and principal dancer Nikita Cassidy both show off the dance skills that have taken them around the world.
Vocal soloist Winckworth's beautifully haunting voice led us across the Atlantic with Water Is Wide, before a lovely version of I Know My Love, famously released by The Chieftains featuring the Corrs. A sorrowful and moving end to her performance comes with a stunning rendition of The Parting Glass.
Along with the superb ceilidh band, the music sets the tone for an exhilarating and sometimes exhausting performance.
With the show encore drawing out a well-deserved standing ovation, there's a sense that this show could be the beginning of something big. The marriage of Irish dance with the epic tale of the Titanic could be a stroke of genius and only time will tell if it will be as successful as it's famous counterparts.
Advertisement
Sweeney should be rightly proud of what he and his team have created and it was a shame that it wasn't played to a full house on opening night. Once word gets out, however, Titanicdance could perhaps be as successful as those shows that have gone before it.