MARTIN Hayes is speaking to me from his native County Clare and keeping one eye on the dinner while we chat. 
Virtuoso fiddler and internationally acclaimed musician who marries the traditional and contemporary with ease and beauty, Hayes spent many years in the US but, for now, is back home.
He's about to embark on a tour with his hand-picked ensemble The Gloaming – featuring  Iarla Ó Lionaird (renowned traditional singer, ex-Afro Celt Sound System),  Dublin-born hardanger/fiddle player Caoimhín Ó Raghallaigh, relative "outsider" Thomas Bartlett from New York on piano and production, and Hayes' long-time collaborator, Chicago guitarist Dennis Cahill.
Last week, the gang took in Glasgow's Celtic Connections festival and London's Union Chapel.
There's been an almost reverential buzz around The Gloaming, heightened by last Monday's release of their self-titled debut album. Press accolades are granting almost 'supergroup' status, with talk about the innovative and experimental approach to traditional and contemporary material.
It's a buzz that is almost in danger of becoming hype, which has in turn sparked debate among traditional Irish musicians about innovation and tradition.
What isn't in doubt is that Hayes has put together a group of fine musicians of the highest calibre who, together, have found artistic freedom and produce some beautiful sounds – "exquisite" according to The Guardian.
Hayes' definition is simple and hype-free. "There are worlds of music and I happen to be an Irish fiddle player with an accent I grew up with and I'm attempting to connect with other musicians and friends on the planet to have a continued good experience  playing music.
"It's like that with other projects. I might be doing The Gloaming and then turn around and do Triúr, which can't be anything more raw.  And I love that. Triúr and The Gloaming are maybe standing at two ends of my spectrum of interest."
Triúr is a project with Ó Raghallaigh and Peadar Ó Riada, of which Hayes has said: "We play with no mission other than to experience the music with as much feeling as possible... the meaning, feeling and content of the melody take preference over note-perfect playing".
Hayes appears to have found feeling and meaning in The Gloaming too.
It's a long way from the delighted boy who received his first fiddle aged seven from Father Christmas. Although he fell on and off the fiddle-learning wagon, within a few years he was "hungry for it. I loved it and realised I'd have to put in some effort in. No-one had to tell me to practice! I was obsessed!"
His father, P. Joe Hayes, fiddler and leader of the Tulla Ceili Band, with whom Hayes performed as a child, profoundly influenced his musical accent and ideas "forever after". And musicians from his East Clare home in Maghera, Feakle and also West Clare were influential –  Brendan McMahon, John Naughton,  Joe Bann,  Paddy Canny, Tony MacMahon, and Junior Crehan and Bobby Casey.
"They were all feeding the Clare style, I guess. The rhythms, keys and tempo, the desire for expression in the melody, I suppose it all crept in!"
To label him 'East Clare' seems insufficient – his playing has been described as lyrical, sparse, sensitive, gentle, sweet, contemplative, and innovative. But his childhood grounding in the tradition formed the foundations of the man's musicality.
Aged 13, he won the first of six All-Ireland titles and numerous awards followed, including the 2000 BBC Radio 2 Folk Instrumentalist of the Year and prestigious TG4 Gradam Ceoil, Musician of the Year in 2008.
Music became a serious career option when he was living in the US in his late twenties.  Odd jobs included work on a construction site in Chicago which, he jokes, was a great motivating factor to pursue music.
Playing in bars put bread and butter on the table, but he wasn't playing the kind of music he wanted to. He also worked as a runner, complete with yellow jacket, on the floor of the Chicago Board of Trade.
"I've just seen The Wolf of Wall Street and I'm glad I avoided that kind of life!" Hayes laughs. "When I had to decide whether to stay in the job or take a gig in Texas, I blew off Chicago. There was a stock market crash a week later!"
The late '80s financial crash was music's gain. Hayes began experimenting musically, "trying to figure out if I could do other things, including a rock'n'roll outfit with Cahill.
He got heavily into fusion-like guitarist John McLaughlin's The Mahavishnu Orchestra, Indian classical/jazz-fusion, and Shakti, featuring jazz violinist Jean-Luc Ponty (Frank Zappa).
"It gave my music another context, another layer of ideas," he says. "It's Irish music, but music is a universal language. And we all have a lot in common that we share, trying to find that kind of universal understanding."
Hayes' musical curiosity was borne out of a desire to break out culturally. "I remember this kind of idea in Irish music, 'Don't collaborate' and 'You can only appreciate it if you know all about Michael Coleman and Willie Clancy etc'.
"If you heard a fiddle player in Clare, you'd measure it against say a Sligo player, not an Italian player. I'm not saying that's wrong but I started to wonder about Irish music in a global sense – what elements make some sense if you come from the outside?
"Oddly, one thing I noticed was that we had to water it down or dress it up to make it connect to the world outside. But my feeling was more that, the closer you got to doing your Crehan and stuff, that form of expression, the more sense it made to people and the more the world could appreciate it."
Can Irish musicians from the 'outside', who have little or no Irish connections, be as good? "Of course they can. I know Irish musicians with no Irish connections who've never set foot in Ireland.
Like American Randall Bayes, a lovely Irish fiddle player, and Dale Russ from Seattle, an equally good player. I accompanied them both on their first visit to Ireland and they were able to sit down in a session with the likes of Bobby Casey, Junior Crehan, and Brendan McGlinchey."
Hayes made three albums in the 1990s with Cahill providing his sparse, empathetic guitar backing, as well as two acclaimed solo albums, and The Shores of Lough Graney with his father. But he hasn't had to compromise the freedom of that mostly solo journey in these recent, bigger collaborations.
"In The Gloaming, I can pretty much be myself. And with Triúr I can be myself. The collaboration process has added a lot of spice to my life and it's been very rewarding and enjoyable to have these different repertoires in these different circumstances."
An international performer, does location affect his playing? "It's fair to say my formative years had a dramatic effect on how I play and shaped the whole thing afterwards. But I close my eyes and play out of myself whether I'm here or in Hong Kong. I play the same gig in Feakle as I do in Tokyo."
If collaborations help rid musicians of tired musical formulas and produce something fresh, then the experience of The Gloaming seems to be doing just that for Hayes. "It's a whole new phase of music for me. I'm really enjoying that process – you're certainly not in a repetitive motion. You don't fall into any patterns."
The Gloaming started two years ago. "We sat in a circle for a week and started firing things into a pot, throwing in music and song. It had a natural kind of feeling.
"I'd toured the Masters of Tradition show in the US which was a gala of really good musicians. I wanted this band to create a unique sound. I didn't want two shows that were similar."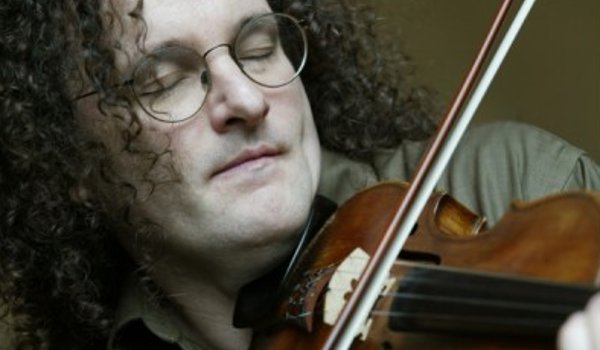 Musical empathy matters most – "We were all really compatible musically and that was the drive for this band." He also appears to have chosen people who are not just respected traditionalists but experimental musicians – think Iarla Ó Lionáird's time in the ground-breaking Afro Celt Sound System, and Caoimhín Ó Raghallaigh's use of hardanger fiddle. Was that a criteria?
"Caoimhín and Iarla are certainly experimental but all three of us could sit down and listen to a recording of Willie Clancy and have a wonderful experience. And we'd be just as happy listening to Tommy Potts as John Coltrane and loving it. The truer and closer to the bone it is, we like it."
It seems the group are traditionalists who share a love of genre-benders, such as the iconic, jazz-influenced Tommy Potts. But while some may regard this approach as innovative, others might criticise for 'messing with the tradition'.
Hayes only takes a moment to reflect on this. "We're all really hard-core traditionalists ourselves," he says with a smile. "I know the tradition and love it and honestly feel like I understand it and can play it. So I don't worry what people would say.
"You can play straight Irish music or be a complete traditionalist and exhibit bad taste in Irish, fusion or anything.  For us it's just music and it's something that's deeply felt and meaningful and has the capacity to communicate and connect. At the end of the day, that's all there is."
His sensitivity as a performer is often remarked upon – feeding a connection which listeners claim to feel when they hear him play. Is this something he's acquired more over the years?
"I think you shed layers. You're a little a little less protected on stage, more vulnerable. If I'm really experiencing a song emotionally, I let myself go. I'll allow myself to fully feel the music and openly share that – make it a real experience in the room."
He mentions songs but actually means tunes. Hayes admires and likes singers because, he says, he thinks and behaves like a singer. "I'm feeling the music inside and kind of singing it out and the fiddle is just the thing it comes out of, not the vocal cords.
"But, because I don't sing, I've never attempted to connect words and songs. I listen to a hell of a lot of instrumental stuff – my collection is 80 per cent instrumental!"
Hayes goes further, saying that when you combine music, song, dance and words, there's a contest. "They compete with each other in a way. That's not to say I don't enjoy it. But I like one voice singing out – fiddle or singer.
"I love singing, even in languages I don't understand, like Pakistani singers I've listened to. That's how I approach music and singing, even singing in English!  I hear this expression and vocalising of sound and feeling, so I lose the lyrics."
With the focus on getting the album launched, Hayes says it feels like the band is only beginning. Are there more albums on the horizon? "I think we'll do some more. We feel we've opened up a box and just taken a peek. We all feel there's a lot that remains to be done."
Fans will be pleased to hear the box holds more treasures. There's fresh ground to be broken and new feelings to be felt.
The Gloaming will return to perform in the UK later this year. Their self-titled debut album is out now.