AS the Christmas break offers time to catch up on a good book, here are ten titles by Irish authors, published in 2019, that could be a perfect fit for your stocking…
Arise And Go - W.B. Yeats and the people and places that inspired him, by Kevin Connolly. O'Brien Press. £15.99.
In Arise and Go, author Kevin Connolly looks at the people and places that inspired W.B. Yeats.
It covers everything – form his first home in Sandymount, to the suburbs of London, to Howth and the Georgian squares of Dublin, the Abbey Theatre and its Celtic revival, to Glendalough, the wilds of County Galway and Coole Park, Thoor Ballylee, Frenchpark, Lough Key in Roscommon, and, of course, Sligo.
Connolly's impressive tome introsuces us to the great poet's family, friends, lovers and cultural icons who helped embroider the cloth of Yeats's poetic gift.
We met poet's father, the artist John Butler Yeats, his mother, Susan, their children: the poet Willie; Lily and Lolly, guiding lights in the Irish Arts and Crafts movement of the early twentieth century; Jack, the renowned painter.
Maud Gonne, William Morris, John O'Leary, Katharine Tynan, Madame Blavatsky, George Moore, Oscar Wilde, Lady Gregory, Douglas Hyde, George Hyde-Lees and other key figures who inspired the great poet on his path all feature too.
The author grew up in Bailieborough, Co. Cavan, where, among the drumlins, he discovered the poetry of W.B. Yeats. He opened The Winding Stair Bookshop and Café on Dublin's quays in 1982, which he owned until 2006. He lived in Indianapolis, Indiana, for twelve years before returning to Ireland where he now lives in Co. Sligo in his own 'bee-loud' glade.
Noel Cunningham's Guide to Modern Irish Manners, by Noel Cunningham. O'Brien Press. £15.99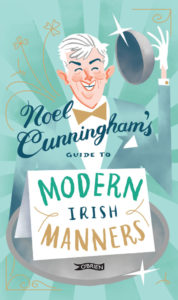 Society has changed dramatically.
We live in an increasingly informal world and we have, in many ways, become disrespectful of rules and have no time for the old order and taboos.
Authority and the grace of age, two important pillars of etiquette, are no longer regarded.
With his infectious charm and sharp wit Noel Cunningham shares with you his tips on sailing through life's events, enabling people to be themselves, while solving the thorny issues of which fork to use, who goes through a door first, how to attend an important interview. The correct way of doing those things will become clear. Thank you, Noel.
Cork Harbour, by Cal McCarthy. Merrion Press. £24.99
Written by esteemed Cork historian Cal McCarthy and colour illustrated throughout with new and archival images, Cork Harbour examines all the interacting aspects of the harbour's history and its diverse activities – the military, commerce, migration and shipbuilding – outlining not only the events that shaped the harbour's rich history, but the complex context in which those events occurred.
The Harbour's association with the ill-fated Titanic and Lusitania ensure its place in world maritime history.
While such tragedies are heavily documented, the story of the modern evolution of the second-largest natural harbour in the world and its trade has received less attention.
From its military role during the French and American Revolutionary eras, to the emigration ships of the 19th century, and the convict transports to the southern hemisphere, Cork Harbour has played a huge role in key national and international events throughout history. The Royal Navy's long and extensive association with Cork – born of the necessity to protect trade in a growing world of ever-expanding ships and increasingly global enterprise – makes it unique among Irish harbours.
McCarthy, who studied history and economics at University College Cork before going on to work as a civil servant, has worked in the Department of Transport, the Department of Arts Heritage and Gaeltacht, and Cork County Council.
Tangled Up in Blue – The Rise and Fall of Rangers FC, by Stephen O'Donnell. Pitch Publishing. £19.99.
If the wider, football-conscious world is aware of just two things about Scottish football, they are surely as follows: firstly, that there is a virulent rivalry in Glasgow between the city's two great teams, Rangers and Celtic, based on a religious divide; and secondly, that Rangers recently suffered a catastrophic financial collapse, which ultimately led to the club's insolvency.
Split into two separate, but closely linked, sections, Tangled Up in Blue: The Rise and Fall of Rangers FC gives the full account of both of these stories.
Author Stephen O'Donnell explores how Rangers first became associated with hard-line Protestantism, dominating Scottish football for decades without ever knowingly signing a Catholic footballer, until the feted arrival of Maurice Johnston at Ibrox in 1989.
He then switches focus to the club's financial affairs, as Rangers' unsustainable spending brought the club to the brink of collapse and, despite the hidden benefits of an illegal tax avoidance scheme, resulted in its liquidation.
O'Donnell was born and lives in Glasgow. His first novel Paradise Road was published by Ringwood in October 2012; his second book, Scotball was published in December 2014. Recently he has turned to non-fiction and Tangled up in Blue; The Rise and Fall of Rangers FC was published by Pitch in August 2019.
Dare to Dream – Irish people who took on the world and won, by Sarah Webb. O'Brien Press. £14.99.
Adventurers, explorers, inventors, dreamers....for a small country Irish people have had a huge impact internationally.
From helping street children in India, to saving Jewish children during World War II and exploring new worlds, their reach has been worldwide.
From Michael Collins to Rosie Hackett, Lady Gregory to Tom Crean, Dare to Dream celebrates the brave and daring Irish.
Prepare to be inspired by some of Ireland's most daring and fearless men and women, as cicurated by author Sarah Webb.
Webb is a children's author who combines writing with schools visits, reading and giving workshops at festivals, and teaching creative writing.
She has won two Irish Book Awards for her children's books as well as the Children's Books Ireland Award for Outstanding Contribution to Children's Books, awarded in 2015.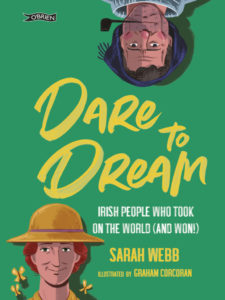 Douglas Hyde – My American Journey, edited by Liam Mac Mathúna, Niall Comer, Cuan Ó Seireadáin, Máire Nic an Bhaird and Brian Ó Conchubhair. UCD Press. £45
First published in Irish in 1937, this collection of journal and diary entries is a compelling first-hand account of Douglas Hyde's eight-month fundraising odyssey through the United States from 1905 to 1906.
Published for the first time in a bilingual edition, complete with newly discovered archival material and extensive illustrations, this book navigates Hyde's thoughts on his journey in their original Irish, accompanied by a faithful English translation. Hyde's work on this tour, undertaken on behalf of the Gaelic League, was both culturally and politically vital.
The finance he raised contributed to the hiring and training of Irish-language teachers and organisers who travelled across Ireland spreading the Gaelic League message.
These funds sustained the cultural revolution, which, in turn, gave rise to the political uprising from which Irish sovereignty would ultimately flow.
This collection is beautifully designed, and colour illustrated with a wide selection of original images and hand-written postcards.
It even features an introduction by President Michael D. Higgins.
Lily at Lissadell, by Judi Curtin. O'Brien Press. £11.99
When Lily is a young teenager, the time comes for her and her friends to leave school and find work; some are emigrating to America, some going to work in shops. Lily is going into service in the Big House – Lissadell.
Lily's employers, the Gore-Booth family, are kind, but life as a young housemaid can be hard: Lily works long days, she has to learn to get along with the staff, particularly her roommate, the sullen and uncommunicative Nellie, and she misses her home and family.
But when Maeve, daughter of Constance Markievicz and niece of the Gore-Booths, comes to visit and decides to paint a portrait of Lily an unusual friendship begins between the two girls from such different worlds.
Best-selling children's author Judi Curtin offers a warm and engaging story about friendship, life in the early 20th century and how the political world affects everyone.
Wild Atlantic Way – light on the water, shadows on the land, photographs by Giles Norman. O'Brien Press. £32
Renowned Irish photographer, Giles Norman, received his first camera forty years ago on his 18th birthday, and it was from his parents' garden in Co. Cork that he first photographed the wild Atlantic tides. His vast portfolio travels beyond the Irish shores, but it was Ireland's dramatic coastline that first inspired Giles to become a photographer, and it's the landscape that continues to drive his artistic passion today.
Through this stunning collection of black and white images, Giles takes you on a journey along Ireland's west coast, travelling from Kinsale in the south up to Donegal in the north. This beautiful hardback edition, featuring over 130 photographs, captures the contrasting textures and tones of this breath-taking coastline.
Discover the spectacular treasures of this 2,500km trail through Giles Norman's lens, from intimate coastal inlets to towering cliffs and windswept beaches, and explore the endless beauty that the Wild Atlantic Way has to offer.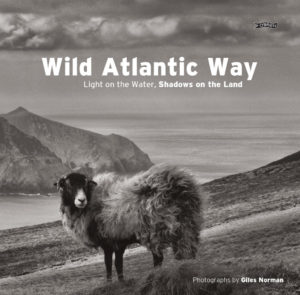 The Metal Mountain, by John Healy. Etruscan Books. £14.95
London is a city of ruins and rubble: in fighting against a police state Britain has become almost a police state itself. Rationing is still in place, the black market is thriving, medical shortages have resulted in antibiotics being watered down. Though Britain was possessed of great decency there was a limit to what it might be expected to bear after suffering six years of war. The barbarities of war had changed peoples' attitudes; nobody thought of foreigners in terms of human beings.
New arrival seventeen-year old Bridget Kelly dreams of a world where everyone is equal. She is courageous and determined and in terrible danger. Her young nephew Michael schemes and plots to win the metal mountain, a gothic edifice, a treacherous Hades, a fabulous kingdom of iron. Meanwhile, his young aunt has come under the scrutiny of the British secret police. Blackmail, betrayal and murder follow. A perverse grand tragedy with an edge of iron, The Metal Mountain is John Healy's second novel, published 30 years after his award-winning autobiography The Grass Arena,
Reindeer Down! An Irish Christmas Tale, by Natasha Mac a'Bháird. O'Brien Press. £13.99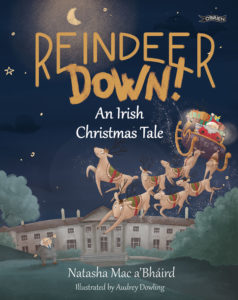 Santa's sleigh is flying over Ireland, delivering presents to all the boys and girls. But then there's a crash! Dancer hurts her leg and can't pull the sleigh. What will Santa do?
Rory, the smallest reindeer, has a great idea. It's full speed ahead to visit the deer in the Phoenix Park. Can they help Santa continue with his journey?
A heart-warming picture book adventure for Christmas, from children's writer Natasha Mac a'Bháird.