A NEW film about a boy's upbringing in an Irish mother and child home is receiving multiple award nominations.
Based on the book Secret Child, written by Gordon Lewis about his own childhood, comes the short film Secret Child: The Bridge, which has been receiving recognition at international film festivals since its release earlier this year.
The book depicts Gordon's upbringing in the Reginia Coeli care home in Dublin and his relationship with his mother Cathleen.
With a cast including Fiona Glascott (Brooklyn), Aaron McClusker (Shameless, Bohemian Rhapsody) and the young Austin Taylor, the film adapts the story of Cathleen's whirlwind romance with a Protestant man named Bill Lewis – described as a "Clark Gable look-alike"- and her subsequent experience raising her child in a north Dublin care home.
Advertisement
Because of their opposing religions, Bill and Cathleen dated in secret for four years.
After the relationship ended, Cathleen was determined to look after her baby and was taken in by the staff at the Regina Coeli home.
Founded by Frank Duff in 1930 in a former military barracks, the home was somewhere homeless women, including women who found themselves pregnant and unmarried, could live and keep their babies in exchange for a weekly contribution.
Speaking about the reception his childhood story has received since its release, Gordon said: "It's like icing on the cake".
"The book was an acknowledgement of all that my mother had done for me. The film, on the other hand, has been incredible for me. I have friends and relatives taken aback by what I have revealed about my own life.
Advertisement
"The film is a refreshing take on the book. Yew Weng Ho, who makes his directorial debut with this short film, stepped in for our original director who fell ill and deserves a lot of the credit for that. He was brilliant."
Ho won the award for Best Debut Film at last weekend's New Renaissance Film Festival in London.
Since its release, the film has been nominated for multiple awards all over the globe, including Hollywood, Italy, Brazil, London and Cork, and it looks as though there are several more to come.
"I've been blown away by the awards nominations and wins," Gordon said.
Advertisement
More recently, a French publishing company has expressed a desire to publish the book in the French language while also using the films trailers.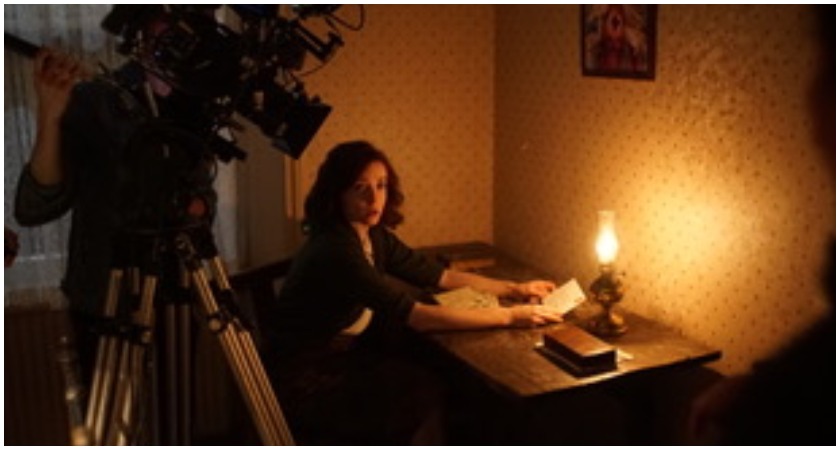 Fiona Glascott on the set of the film. (Picture: Gordon Lewis)Gordon, who has had a long career in television production, suggested that a tv series is very much on the cards and teased the possibility of a second book.
Gordon asked for a message to be included at the end of this piece with the hope of getting some information about the home he grew up in.
It reads: "I would like to hear from anybody who remembers me and my mother, Cathleen when we lived in Regina Coeli on Morning Star Avenue, north side of Dublin.
 "The year was 1962 when we left and the following the Dublin health authorities wanted to close it down.
Advertisement
 "My mother was known as Cathleen and Lady. I was known as Francis but did not like my name and changed it to Gordon, see the film and read the story, Secret Child, Gordon Lewis.
 "Next door was a hostel for homeless men and the famous Grangegorman mental institution, see photo of the Regina Coeli and initiation."