A Tipperary takeaway has rewritten the rules on 'treating yourself' with their new product on the menu.
Aaron's Takeaway of Kilsheelan in Co. Tipperary, a fish and chip restaurant has brought in the new 5 foot long wrap, which boasts 10 kilos and measures 5 inches wide and 5 foot 4 inches in length.
The chipper has announced the good news in a Facebook post, and from the looks of things, the new wrap contains cheese, chicken, sausages, burgers, chicken breasts, ketchup, lettuce, chips and onions. WHAT a mixture.
Don't believe us? Take a look below.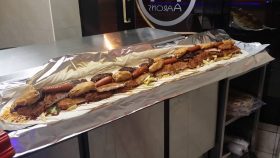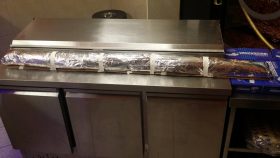 One dedicated fan of the takeaway, Peter Flynn from Co. Waterford made the voyage down to the eatery to have a go at eating the monstrous wrap, and we can only imagine how sore his stomach is today.